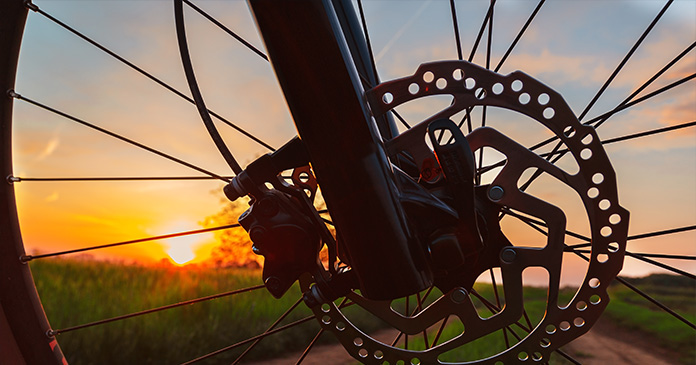 Electric bikes are gaining momentum fast. Why—and how—cities and states are helping more consumers get on board.
In the quest to electrify the transportation sector, some state and city leaders see the future arriving not on four wheels, but two.
As electric bicycles, or e-bikes, grow in popularity, enthusiasts increasingly see them as a tool to reduce traffic and air pollution. States, cities, and utilities have begun offering vouchers or rebates to help residents buy e-bikes. Some places are pairing such programs with a renewed effort to expand bike lanes and connect cycling corridors. That switch, leaders say, is cheaper, faster to implement, and requires fewer resources for manufacturing and charging than electric cars need.
E-bikes have pedals but use an electric motor to help riders accelerate, maintain speed, and climb hills. That makes them easier to use than traditional bicycles, especially in hilly areas and for riders who might not want the intense workout of biking to work or other errands.
Anissa Teslow, a resident of Benton County, Oregon, bought an e-bike with the help of a local rebate program earlier this year. Teslow has a disability that makes riding a conventional bike impossible at times. She says she now uses the e-bike for many short errands, allowing her to maintain a more active lifestyle and join in social outings with friends, improving her mental health.
"An e-bike allows me to ride and have fun and use a different pedal assist based on how much help I need," she says. "I'd like to help people with physical challenges think they could be more active by getting an e-bike too. I was outside more this summer than any other summer."
Many leaders believe stories like Teslow's show how transformative e-bikes can be.
"An e-bike can take you much farther, much faster, and much more comfortably than ever before," says Hawaii state Senator Chris Lee, a Democrat who chairs the Transportation Committee and sponsored a bill to create a rebate program for e-bike purchases. "It's a new means of commuting that's never existed before in terms of range and price."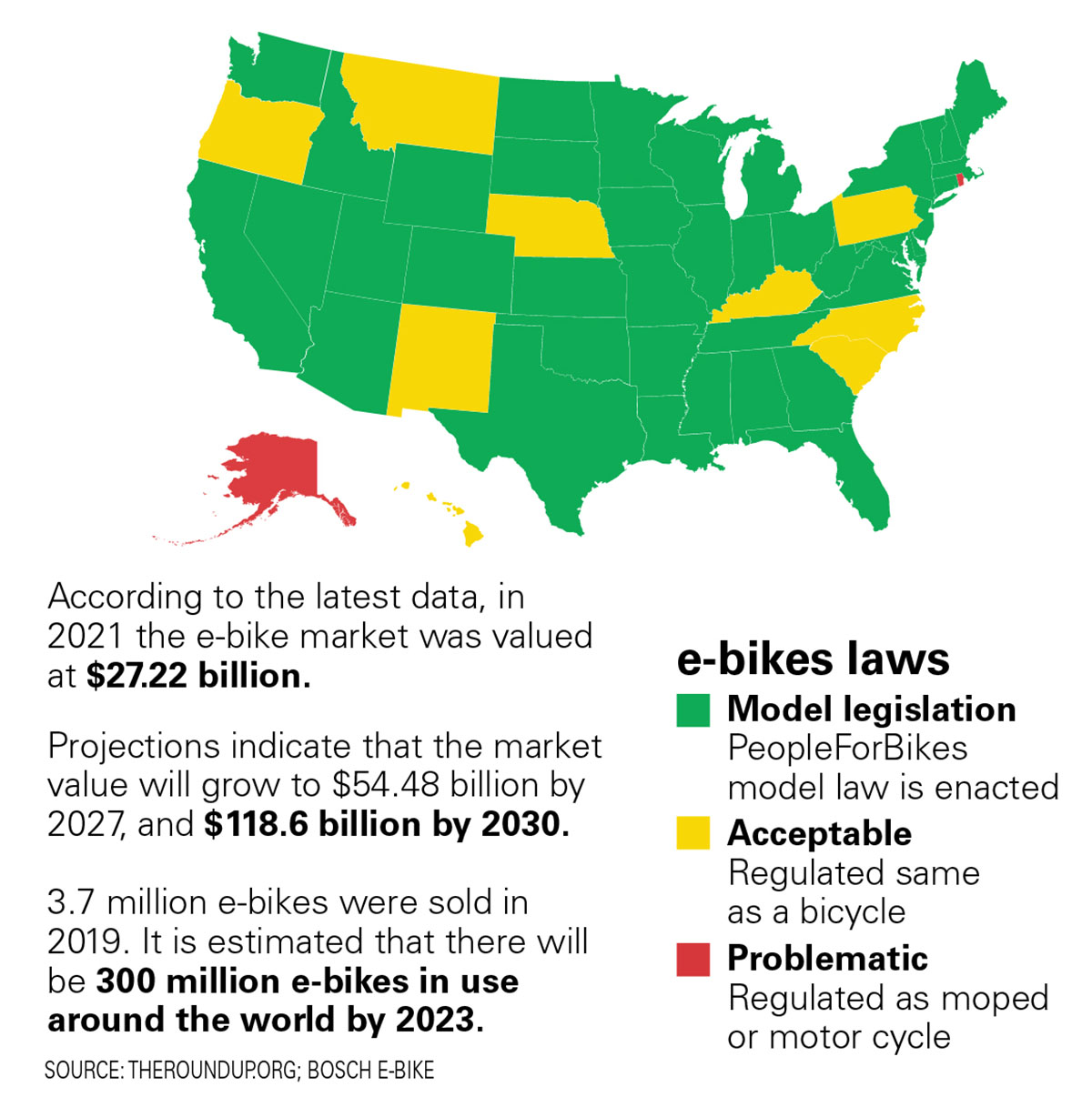 Federal support for electric bikes
Nearly 60 percent of trips in privately owned vehicles are less than six miles, according to 2017 data from the Federal Highway Administration. Advocates see a huge opportunity for e-bikes to become the workhorse for those short outings. Cargo bicycles can even haul groceries or carry kids to school.
Supporters of public incentives point out that widespread adoption of e-bikes for short trips would reduce air pollution in urban areas, cut down on greenhouse gas emissions, and ease traffic and parking woes. E-bikes also could help families with low incomes get places without the cost of owning a car. Many incentive programs offer extra funding for residents with low incomes, often defined as those making a certain percentage of an area's median income. The cheapest e-bikes cost upwards of $1,000, while more expensive models can reach many thousands of dollars.
"You look at how much we're spending on incentives for electric vehicles, and e-bikes are much cheaper and more accessible," says Washington state Representative Sharon Shewmake, a Democrat who co-sponsored a bill this session that would have offered a sales tax exemption for e-bike purchases. The measure passed the House in 2021 but did not advance this year.
Still, some lawmakers—while supportive of e-bikes generally—are wary. "We can't spend money to repair a bridge that's been failing for 10 years, but we're going to spend money on e-bikes?" says Washington state Representative Andrew Barkis, ranking Republican on the House Transportation Committee, who opposed the proposal to exempt e-bikes from sales taxes.
Advocates for public incentives acknowledge that e-bikes won't reach their potential without a simultaneous investment in safe bike lanes and infrastructure. Adoption also could be a challenge in areas with harsh climates, where snow and rain could deter ridership.
Colorado leads on e-bikes
Earlier this year, Denver launched one of the nation's most ambitious programs to encourage e-bike adoption. It offers $400 rebates for e-bike purchases and $1,200 for residents with low incomes, plus an additional $500 for cargo bike models. The program has proved immensely popular, with all vouchers claimed almost as soon as they become available. The latest rebates in September were gone in less than 10 minutes.
More than 4,000 e-bike purchases have been supported by the rebates, according to Grace Rink, chief climate officer for the city and county and executive director of the Office of Climate Action, Sustainability, and Resiliency. Roughly half of the purchases were from income-qualified residents.
Transportation is the number one source of air pollution in Denver, Rink says. The federal Environmental Protection Agency recently labeled that region of the state a "severe" violator of air quality standards.
"For our air quality and quality of life, we need to transition ourselves away from solo car trips when we can," Rink says. "We've had plenty of people tell us that e-bikes are absolutely replacing car trips. Some households choose to get an e-bike rather than a second car."
The success of the Denver program was followed with a statewide model, passed as part of a larger air quality package, that will put $12 million toward e-bike adoption over two years.
"Anything that takes gas-powered vehicles off the road is generally a good thing," says state Representative Alex Valdez, a Democrat who co-sponsored the bill. Valdez points to the role government incentives have played in boosting electric vehicle adoption and production, saying similar policies for e-bikes would help make them affordable on a faster timeline.
The state is planning to put $10 million toward consumer rebates, with the remaining $2 million supporting a grant program to give e-bikes to low-income essential workers. The investment could put as many as 9,000 e-bikes on the road, says Sarah Thorne, who is overseeing the program with the Colorado Energy Office.
"We're trying to encourage people to think about e-bikes as really like a vehicle," says Thorne. "You can go farther; you can carry more cargo. It's easier to take your kids to school, to get to work."
Rebates and roadblocks
Many other states and cities have backed e-bike incentive programs. Some legislatures have passed measures with broad bipartisan support, while others have been part of larger packages that faced opposition. But local programs have taken off regardless of state politics, including utility-led efforts in Iowa and Texas.
The Hawaii measure backed by state Senator Lee will provide $500 rebates for residents with low incomes, students, and people who don't own a car. Lawmakers also instructed the state Department of Transportation to prioritize projects like bikeways rather than defaulting to more highway construction.
Meanwhile, legislators in Massachusetts passed a $1 million program earlier this year to provide e-bike rebates, set at $500 and reaching $750 for residents with low incomes. State Representative Natalie Blais, a Democrat who sponsored the bill, says her rural district stands to benefit, counter to arguments that e-bikes only serve urban areas.
"We have a real first- and last-mile gap when it comes to public transportation," she says. "This is one way that we can help residents who are not near public transportation routes get access to these options."
California lawmakers allocated $10 million for an e-bike incentive program in 2021, which is expected to launch early next year overseen by the California Air Resources Board. Kevin Claxton, interim executive director of the California Bicycle Coalition, a nonprofit advocacy group, says the program is expected to provide about 7,000 vouchers at around $1,000 apiece.
"More and more leaders in California are beginning to understand that e-bikes are a way to address a number of issues—greenhouse gas emissions, air pollution, congestion," he says.
Amid the newfound support, e-bike advocates acknowledge they have much work ahead. Efforts to include a federal e-bike rebate in the climate bill that passed through Congress earlier this year fell short at the last minute. Many regions lack safe biking routes, limiting the prospect of adoption.
Shewmake, the Washington lawmaker, failed to advance her e-bike sales tax exemption but secured funding for a study that will consider a grant program to support community lending libraries of "micro-mobility" options such as e-bikes and scooters.
Still, even some local governments are, like Denver, trying to set an example. Austin Energy, the electrical utility for the Texas capital, has supported an e-bike incentive program for 10 years, with rebates of up to $300 for consumers. The program has supported more than 2,500 e-bike purchases as part of the city's goal of reaching net-zero emissions by 2040.
"It's going to take getting electric vehicles on the road, but it's also going to take a combination of things, such as electric bikes," says Amy Atchley, senior lead with the utility's EV Equity program.
---
Author Alex Brown, Stateline