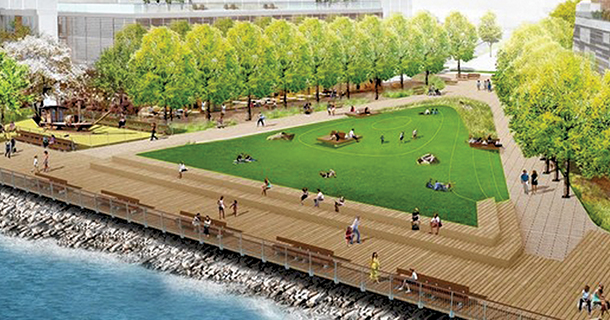 The city has taken its first step toward what may be a wave of new development on Halletts Point peninsula, a long-neglected area south of Astoria Park in Queens. Members of Community Board 1 unanimously approved the plan by New Jersey-based Lincoln Equities Group LLC in May, which would allow the developers to build 11 buildings ranging in height between 11 and 31 stories.
The Halletts Point project would bring 1,921 market-rate units to the area, most of which would be one- or two-bedroom apartments, as well as a few waterfront townhouses. An additional 483 units would be affordable housing geared toward seniors.
There would also be additional parking, parks, and about 65,000 sq. ft. of retail, including a 30,000-sq.-ft. supermarket. "The goal was not just to make a new development, but a new community," said Andrew Moesel, a spokesman for the Halletts Point development. "It took us four years of consensus-building to reach this point."
The majority of residents in the area, named after an early British settler and landowner William Halletts, live in the Astoria Houses, which is operated by the New York City Housing Authority. Many residents have been vocal about the need for a state-of-the-art community center in the area, which the community board said the developer should add to its plans.
"I think it is owed to us," said Claudia Coger, president the Astoria Houses Tenants Association, which supports the new development. "A facility for early education, seniors, job training and the arts is much needed in this community after years of neglect by the city."
In addition to the waterfront, the developers would also construct several new buildings and a school on current housing authority land. The school would be built only after the construction of the third Halletts Point building, explained Robert Schenkel, Lincoln Equities' senior director of development.
After residents have moved into those buildings, a survey will be conducted by the School Construction Authority to determine how many new children moved into the neighborhood to help determine details of the new school for kindergarten through eighth grade, he added.
Some community board members scoffed at this timeline, however. "Some of us on this board have sat here, trying to get a new school built for 20 years," said board member Frances Luhmann-McDonald.
Schenkel estimates that an additional 6,700 people could eventually move into Halletts Point, or Hallets Point as the name is sometimes spelled.
The proposal is now subject to approval by the Queens borough president and the City Council, both slated in the coming months. If approved, construction will likely start later next year and continue to 2022.
The second project on the peninsula may bring in an additional 3,000 residents. Efstathios Valiotis, chief executive of Alma Realty Corp., heads a group of investors that is seeking city approval for its development called Astoria Cove.
This $800 million plan calls for constructing seven new buildings ranging between eight and 30 stories with a total of 1,701 apartment units. The Department of City Planning will hold a community meeting on the proposal end of May.
"We've been working with the city for about two years, and I think it's the right project at the right time to bring life into what is a desolate waterfront area in Queens," said Howard Weiss, an attorney representing Astoria Cove.
Weiss said the developers are looking to bring in a school for kindergarten through fifth grade, additional parking, parkland and a new supermarket. Pending city approval, construction on this project could start in the next three to four years.
City Council Member Peter Vallone Jr., who is running to become the next Queens borough president, said expanding certain services, such as transportation and schools, to accommodate the increase in population was a "no brainer."
"I would prefer the development of Halletts Point not be piecemealed, but rather be a comprehensive, integrated plan for the entire area," he said.
Currently, there are three bus lines that connect the peninsula with the rest of Queens, two of which run to the 30th Avenue N/Q subway station, almost a mile away. The Astoria Cove project calls for expanding transportation options, including a shuttle bus service to nearby subway stations and possibly bringing the East River Ferry to the peninsula, the latter an idea also championed by U.S. Sen. Charles Schumer.
Skeptics of the ferry expansion say it would be difficult to build a new ferry terminal at Halletts Point since the peninsula is close to Hell Gate, a turbulent narrow strait that connects the East River to Long Island Sound.
Author: Kaya Laterman, wsj.com