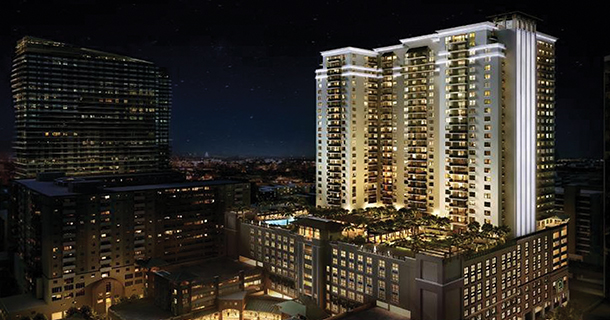 The project, developed by Miami-based Melo Group, exemplifies a new generation of professionally-managed rental apartments emerging in South Florida.
After a long drought in rental construction and the loss of thousands of rental units to condo conversion during the last boom, 13 new rental apartment projects with 3,508 units were completed recently in Miami-Dade and Broward counties and another 31 projects with 9,841 units are under construction, according to a pipeline report from the Hunter Group of Institutional Property Advisors in Ft. Lauderdale.
Eight rental developments with 2,035 units were in the permitting stage and 32 more projects with 10,313 units were planned, as of the July report, as developers rush to capitalize on surging demand for rentals.
Prominent developers like Miami condo king Jorge Perez's Related Group have jumped in big time. Related has 13 "marketrate" or mainstream rental projects with about 4,000 units in the works, 75 percent of it in Miami-Dade and Broward. That is separate from its affordable-housing arm, Related Urban, which has thousands more units in the pipeline.
Many of these new market-rate apartments are packed with amenities from fancy club and fitness facilities to business centers to high-end finishes like granite countertops, upscale kitchen cabinets and stainless-steel appliances. And the rent reflects it: A small, one-bedroom can start around $1,500 a month.
The new rental construction, which is echoed in many places around the nation, signals a big shift in the way Americans live: Since the housing crash, many more people are looking to rent, either because they can't buy or simply prefer the convenience and flexibility.
"I like the freedom of renting, and I don't have to worry about the market fluctuations. I'm happy to be a renter," said Dye, a 43-year-old public health worker who moved to Miami-Dade from the Florida Keys about a year ago and is smitten with the amenities and location of her soon-to-be new digs, which includes wood flooring and upscale appliances and are close to her kids' school.
"People realize that deciding to own an apartment is different than deciding on shelter. The last cycle taught people that investments should be made for investment purposes and the shelter decision should be made independent of that," said Michael M. Adler, chairman of Miami-based Adler Group, which recently broke ground on ShoreCrest Club Apartments on the Bay at NE Bayshore Court. The joint venture with ECI Group of Atlanta calls for two 20-story towers near the western side of the 79th Street Causeway.
"Qualifying for a mortgage on a home is tough, and the younger generation is seeing what happened to their parents with housing," said developer Armando Codina, who recognized early in the housing debacle that rental demand was poised to take off and refocused from industrial and commercial projects to apartment construction. "People want to be mobile. They've seen how owning a home drags down other people from taking a job in another place," Codina said.
Signature at Doral, developed by his Coral Gables-based CC Residential in partnership with Area Property Partners, a giant New York-based real estate investment firm, began leasing in April. The 352-unit luxury apartment community at 11481 NW 41st Street in Doral, boasts a two-story fitness center, a business center, a swimming pool and lounge area overlooking a lake, and a clubhouse for games and TV.
Kitchens are outfitted with granite countertops and stainless-steel appliances.
Jack S. Lozano, a U.S. Air Force sergeant who works in Homestead, moved into a two-bedroom, two-bath apartment in August with his sons, ages 7 and 8, drawn by "the amenities and the quality of the apartment." The fourth-floor unit, which runs $1,785 a month, overlooks the lake.
"We've been leasing really quickly," said Nancy Robles, Signature's assistant property manager. "All sorts of people, and a lot of international." International renters include Brazilian, Argentine and Japanese, she said.
Codina and AREA will soon be building a second phase of another venture, Signature at Davie, located on Davie Road between SW 29th Street and SW 31st Street in Davie. In addition, his firm, Codina Partners, and J.P. Morgan recently completed two phases of an apartment community called Cordoba at 8111 and 8120 NW 53rd Street in downtown Doral. That property is now owned by a J.P. Morgan investment fund.
The tectonic shift in housing has spurred institutional investors like pension funds, insurance companies and real estate investment trusts to build up their holdings of new apartment buildings for the reliable stream of revenue. Foreign investors and wealthy families also are eager long-term owners. Banks, in turn, have been readily financing rental construction, even as they've balked at backing all but the safest of the new condo projects.
Rental apartments "are perceived by many as the safest real estate investment in the world," said Robert E. Given Jr., vice chairman in the Miami office of CBRE Inc., a large real-estate services firm. "Even if they lose their employment, people still need a place to live." Leases typically last just one year, so owners can raise or lower rents to respond to the market and keep occupancy high, he added.
The new round of rental-apartment construction comes after a long hiatus. During the last housing boom, developers focused on building condominiums—or on turning rental apartments into condominiums for quick profit. Some 35,000 apartment units were lost to condo conversion in Miami-Dade, Broward and Palm Beach counties over the prior decade, according to Given. "There has been a depletion of old inventory," he said.
With the exception of a few professionally managed rental apartment projects built during the last boom (such as One Broadway at 1451 South Miami Avenue), much of the newer rental supply currently available in South Florida is investor-owned condo units and single-family homes.
Meanwhile, homeownership has slid to 65.2 percent in the first quarter from a peak of 69.2 percent in the first quarter of 2005, according to the U.S. Census Bureau. And a delay in new household formation has created pent up demand.
After college, Hunter Carrier did what many young graduates do: He moved back in with his parents in the Coral Gables house where he grew up. After getting a job and saving money for eight months, the 23-year-old rented a high-rise unit in downtown Miami and is moving in Sept. 9 with two of his best buddies from high school.
Close to work, friends and the city lifestyle he enjoys, Carrier is a boomerang kid no more. "I'm super excited," he said.
"Rental demand is very, very high," said Michael Davalos, a Realtor with Coldwell Banker in Miami Beach. Recently, an apartment in Fort Lauderdale's Las Olas neighborhood was snapped up without being shown. "Someone rented it off of pictures on the Internet," Davalos said. A typical one-bedroom, one-bath on Miami Beach that had been $1,200 or $1,300 a year ago is now $1,500 to $1,600 a month, he said.
A rising hurdle for apartment developers is finding land in South Florida at a viable price in the face of fierce competition from condominium developers who can pay more because of the prices condos fetch.
Real estate experts predict more than a few of the new rental projects in the pipeline will end up getting converted to condominiums.
In August, the developers of EnV, a trendy apartment tower under construction above the Publix supermarket in Mary Brickell Village, announced the project will be a condominium called Nine at Mary Brickell Village. The developers, Greenwich, Conn.-based Starwood Capital Group and San Antonio-based Lynd, tapped Fortune International to market the 390-unit project that will span 34 floors.
The new rental projects range from urban towers, such as Montage at Met 3, a 462-unit luxury tower going on top of a Whole Foods Market at 200 SE Second Street in the heart of downtown Miami, to suburban communities like the 228-unit Bridges at Kendall Place at 8485 Hammocks Blvd., where 635-square-foot, one-bedroom apartments start at more than $1,200 a month.
Gregory T. West, chief development officer for ZOM Inc., a major Orlando-based rental-apartment developer that has the air rights to develop the apartment tower above MDM's grocery and parking facility at Met 3, said the new rentals have gotten fancier, with "heavy amenity packages: nice club facilities, fitness centers, and pools. And the finishes in the apartments—the tile floors, cabinetry, the countertops—would be very similar, if not the same as in condominiums."
Montage at Met 3, going up near Metrorail and Metromover, will feature a pool on top of the garage, a yoga lawn, a barbecue area, two outdoor bars, an outdoor grill and kitchen, a screening room with theater-quality sound, a community lounge, a demonstration kitchen, a full-service gym and a spa with treatment rooms.
Rents for one-bedroom units will start just over $2,000 a month and some three-bedroom apartments will lease for close to $4,000 a month.
"It will have more of the feel of a hotel than the old-school apartment building," said West.
Author: Martha Brannigan, miamiherald.com