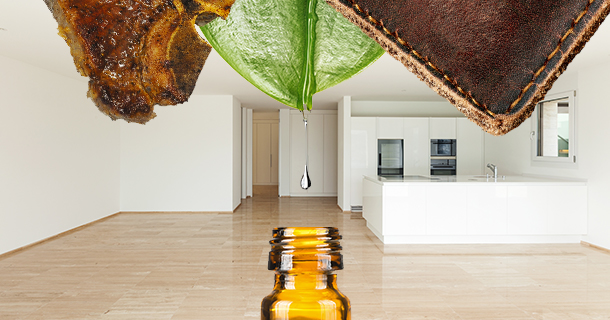 Dawn and Samantha Goldworm, founders of the country's first olfactive branding company, recently entered the multifamily realm. The 35-year-old twins, who have created brand scents for a number of high-profile clients like upscale fashion shows, Mercedes-Benz, Porsche and Thompson Hotels, lately have applied their olfactory magic to condo and apartment communities in Miami, Philadelphia, New York and the U.K.
Both have synesthesia, a neurological condition that causes one sense to overflow into another so that the stimulation of one pathway, like sight, prompts the involuntary stimulation of a second, like smell.
Dawn and Samantha have two types of synesthesia—grapheme-color synthesis and visualization-smell synesthesia, rare conditions that, for example, result in the pairing of numbers and letters with scents.
"A is red, 12 is gold. I'm not trying to decide. I just automatically see a color," said Dawn, who believes the unusual neurological condition, which some neurologists might consider a disability, is really a blessing.
She is the official "nose" for the company that the siblings founded in 2009 and named 12.29, the date of their shared birthday, their brother's birthday and their parents' anniversary. Samantha, whose strength is branding and marketing, has worked for companies like L'Oreal and Unilever, serves as 12.29's business director and is a nose-in-training.
But the twins didn't originally plan to immerse themselves in the world of fragrance.
Dawn interned at Avon's Global Fragrance Department in New York City during her sophomore year at NYU. After graduation she then went to Sotherby's Institute of Art to get a degree in art business.
She was intrigued by the art world and thought she might parlay herself into it, but as her year in London came to an end, the fragrance director of Avon invited her back and sent her to a perfumery school to have her nose tested.
"I was very nervous because what does it mean to have your nose tested? But, in fact, he wasn't testing my sense of smell. He was testing my olfactive memory to see what I could remember, take apart, and put back together to build fragrances or now build scents," said Dawn. She's since collaborated with the worlds' best perfumers to design global fragrances for celebrity, lifestyle and fashion brands including D&V Beckham, Kate Moss, Kylie Minogue, Adidas, Playboy and Lady Gaga, for whom she helped develop the scent for Fame, while working for Coty Beauty Paris, the world's largest fine fragrance manufacturer, where she was one of two in-house scent evaluators.
She told the director of the perfumery school who tested her that it seemed a little weird to have her entire life based on her nose, "but I started training in the perfumery school and I fell in love with it," said Dawn, who designed her own graduate degree at NYU, centered around the concept of olfactive branding.
"The idea of olfactive branding is that you can look beyond the traditional or conventional ideas and touch points of how to talk to a brand or product and create a more engaging and possibly more emotional remembrance with the brand or product," Dawn explained.
"The way that works is that when you smell something, the olfactive nerve stimulates the emotional cortex of your brain. And, it creates what I like to call these little scent emoticons, so you have scent and emotion linked together in your olfactive memory." And those memories are some of the most lasting, she said, because the sense of smell is the first sense a person develops. The olfactory nerves are in place at 13 weeks in utero.
Science tells us that seventy-five percent of the emotions we generate on a daily basis are affected by smell. Next to sight, it is the most important sense we have. A person is able to recognize some 10,000 different odors and, more impressively, recall smells with 65 percent accuracy after a year, in contrast to only 50 percent of visual cues after three months. So, an olfactive logo has a 65 percent chance of being remembered by a consumer, while an unscented brand has a 50 percent chance of being forgotten within the first three months.
The Aha moment
After she completed her masters degree at NYU, Dawn moved to Paris, where she contacted a friend, who owns the Parisian leather boutique Corto Moltedo, to share her insights. "I went to him and said, 'I have this crazy idea that scent can make the brand experience so much fuller.'" To test that theory, she created a scent that is a modern eau de cologne with a leather accent for his shop that was a big hit with customers.
"Customers would come into the store and say, 'Oh, I love the way it smells in here.' People felt good in the space. They were hanging out longer and they wanted to bring the scent home with them, which was the best feedback we could have," added Samantha.
Soon after, 12.29 was hired by Kate and Laura Mulleavy's creative director, Alexandre de Betak and their production team, Bureau Betak, to scent the Mulleavy's Rodarte spring/summer 2010 fashion show in the Gagosian Gallery in New York City. For the runway show that starred the sisters' tattered, post-apocalyptic-inspired designs, the theme was California condors, representing the ugly side of nature. So the Goldworms used a lot of smoky woods, animal notes and warm spices to create the scent that wafted through the show space via diffusers that were strategically placed beneath some of the seats.
"With the scent, the lighting, the music and the texture of the clothes, you really got this total experience. That was our "aha" moment," Samantha said last March.
Since then, the Goldworms have chosen a different emerging designer to collaborate with each season, including Zac Posen, Jason Wu and Thakoon Panichgul and, in 2013, they worked with Avant Garde Diaries and food architects Bompas & Parr to create air-freshener-like hangings for cars participating in the Mercedes-Benz drive-thru at London Fashion Week.
"They smelt like smoky meat, peaty whiskey, red wine tannins, cherry bubblegum and rose absolute—totally bizarre and addictive," Dawn recalled.
For Prabal Gurung's spring 2014 runway show, Dawn created a scent intended to enhance the designer's "beauty with a bite" theme—a luscious Bulgarian rose with notes of truffle and textured animal notes that wafted through the 8th Avenue Post Office's hangar-like space in New York City.
Fashion and art brands are more willing to experiment, to try new tools than more staid businesses like banks and hotels, which are a bit more nervous about introducing a new element that affect consumers so strongly. "I think we needed the credibility of such niche, luxury players to show bigger corporations that this works, people love it and it really creates this emotional bond with your consumers," said Dawn.
The scent of chairs
Their fashion show success brought the upscale customers the Goldworms hoped to attract, including Poltrona Frau a couple of years ago. In order to create a signature scent for the luxury furniture maker, Dawn visited the company's factory in Tolentino, Italy, to capture the company's essence with her nose.
"I smelled leather, when they first received it raw and at every stage of dyeing and conditioning, where I got sugary black licorice notes. I smelled the wood, beech and walnut. I smelled the stuffing—coconut and palm leaves, which have a creamy, salty scent like fresh coconut. I sniffed the twine they use to wrap around the springs, even the glue," she said.
She also asked questions about the company's culture like "If your brand could be a color, what would it be?" At Poltrona Frau, the answer was orange, adding yet another dimension to the depth of fragrance she created to scent the company's showrooms, with the help of the Parisian fragrance house that translates her ingredient ideas into a formula for the company's chemists to execute, a process that usually requires myriad iterations. Dawn went through about 100 tweaks before she was satisfied with the Poltrona Frau scent—a mix of citrus, suederal (a leathery scent) and Iso E Super, a sophisticated woody fragrance.
The Goldworms ask their clients a number of questions about their brand identities and goals in a process not unlike the process of creating a new website or logo.
"We take all of that input and we create a smell out of it. It's a process that's not subjective. It's really just translating the information that the brand gives us," said Dawn. It usually takes two to four months to create the scent, she said.
"It's a very cool process. I think it's a little magical, because, at the end of the day, our clients tell us that this is how their brand smells. It takes a little bit of time, but it's well worth the wait," Samantha said.
The duo also has developed scents for a number of retail and hospitality venues, like the Pye stores in China and Hong Kong, the Thompson Hotel Group and The Quin hotel in New York City.
The scent for Pye is composed around orris root, contrasted with dry, woody papyrus, fresh pink pepper, creamy sandalwood and fluffy musk, intended to create a sensation of comfort and structure, Dawn and Samantha explained.
For the Thompson Hotel in Chicago, 12.29 created a scent inspired by the hotel's signature colors—black and aubergine—and textures like leather and velvet.
"The vision was sinking into a worn-in leather chair in the lounge with a glass of scotch. Warm, inviting, sexy and modern," the siblings said, describing "Velvet," the fragrance that welcomes guests to the hotel.
Structured on an amber accord, the scent conveys the deepness of aubergine with hints of black leather, fresh tobacco, smokey cedarwood and deep patchouli. A spicy aromatic freshness finishes the aesthetic of casual luxury with geranium and violet leaves.
For The Quin hotel, they created "Heritage," a scent that includes notes of clean linens, earthy vetyver, fresh pepper, juicy cassis and smoky cashmeran, familiar and special.
And, early this year, 12.29 entered the multifamily residential world.
Moving into multifamily
The scenting of the uber-luxury 62-story One Thousand Museum condo community that broke ground last June in Miami represents 12.29's multifamily debut.
"Rodrigo Londono, the creative director of Catapult 13, brought 12.29 into the project," said Dawn, explaining that Catapult 13 is the creative agency that worked on the One Thousand Museum project with Zaha Hadid Architects and Louis Birdman.
12.29 designed four fragrances for the sculptural tower, which features a curved exoskeleton that allows for maximum floor space in the units that sell for between $5 million and $15 million.
"The sense of smell is something that's most memorable to people," said Louis Birdman, one of the developers, which is why the building's creators chose 12.29 to enhance the structure's beauty with fragrance.
"As part of the 12.29 proprietary creative process, we look heavily into the target market of the brand. One Thousand Museum caters to Miami and Florida locals, but also caters to a large group of international home buyers from Latin and South America. These details are very important in creating a scent that speaks to these cultures.
For the community's lavish fitness center, 12.29 created a citrus scent with notes of dark wood. The rooftop aquatic center will greet swimmers with the aroma of creamy coconut with a hint of orange flower, and tea and spice notes will waft through the spa. The fourth is the community's brand scent, "Reflexion," an organic and fluid fragrance with notes of ozone and musk, Dawn said.
It's wet and fresh with calone (an intense sea-breeze fragrance with slight floral overtones) and salty air, she said, adding that "the scent is also engaging and sensuous, with notes of juicy citrus and dry woods."
The tower is scheduled to open in 2016, when 12.29 plans to begin working with buyers on scents for individual condos.
And what were some of the challenges involved in the creation of the scents for One Thousand Museum?
"All spaces have existing scents, either manufactured or natural, including the smell of people, cleaning products, nature, building construction materials, pollution, etc.," said Dawn. "For One Thousand Museum, not being on the beach, rather than being an obstacle, gave us the opportunity to use a fresh, salty, sea breeze effect in the scent to give the relaxed feeling of spending time on the beach."
She and Samantha are fortunate, she said, that a few of their family members own property in the Miami area, allowing her to pull from her own personal olfactive experiences in the creation of the scent, such as the particular smell of Miami's beaches—the sand, the water and the sea air.
The most rewarding aspect of the project, she said, was having the opportunity to work with Zaha Hadid Architects, the company founded about 30 years ago by Zaha Hadid, winner of the Pritzger Prize for architecture and two-time winner of the Sterling Prize.
"We are humbled and inspired," they said of the experience.
The twins also recently created a brand scent that compliments the smell of a fresh ocean breeze with notes of creamy santal, woody vetyver, deep amber and sparkling bergamot, a fragrance that is elegant, modern and timeless, for The Regalia, a 47-story, luxury condo community in Miami.
And, they created a scent built around a classic orange flower accord that is wet, petally, dewy and fresh, with natural green notes, salty sea accents and sensual woods for the spa at the community that was designed by architect Bernardo Fort-Brecia of Arquitectonica and developed by Regalia Beach Developers, LLC.
The 39 one- and two-story condos in the tower that was completed last spring range in size from 5,515 sq. ft. to 7,600 sq. ft.
12.29 also has created a brand scent for 251 DeKalb, the 50-year-old, 641-unit rental property that Candlebrook Properties acquired in October 2013 with plans to renovate it to attract luxury clientele in the Philadelphia area. Pushing the boundaries of innovative design, 251 DeKalb will have an entirely black exterior with an open, continuous social space connecting the lobby, gym, lounge and green areas.
The Goldworm sisters created a scent for the community that compliments the modern, urban aesthetic with crisp green notes, juicy mandarin, cool violet leaves, and earthy woods for a natural, easy feeling that contrasts with and compliments the community's sleek, refined design.
251 DeKalb's renovation is taking place in phases and the first phase, which includes 250 apartments, was completed early last summer.