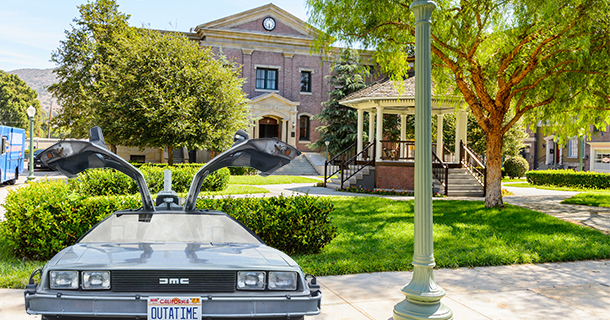 It also may have been planned perfectly that MRI Software, headquartered in Solon, Ohio, concluded its International Users Conference on October 21, 2015, a fitting end to a dynamic event for this 44-year-old company poised for growth and a future, perhaps as exciting as anything seen by Marty and Doc Brown.
CEO and ten-year MRI veteran Patrick Ghilani kicked off the event, tallying record attendance by both MRI clients and partners, with nearly 1,000 attendees. The 21st such conference, themed Breakthrough, focused on the MRI's delivery on 2015 promises including integration completions, feature enhancements, a significant shift in operational strategy, and a process that affords users more choice in implementing the software.
Big achievements
Ghilani and his executive team recapped a dynamic year of growth and product advancements including the release of its flagship, Version X; the introduction of Multifamily Connect Suite; and the acquisition of Cougar Software.
The expansion of MRI Version X is impressive. Brian Zrimsek, MRI chief products officer and former IT VP of The Irvine Company, says that over 75 percent of MRI's North American SaaS users are already live on Version X, and the on-board list is growing.
Version X's 3 most competitive features are MRI GO, an enhanced search engine that runs on an Amazon-esque user interface; browser and device freedom that support mobility; and tools that enhance connectivity. The robust, multi-directional search is a signature feature and reflects Zrimsek's catch phrase, "Start with what you know and then go."
The Multifamily Connect Suite (image, right) brings two of MRI's existing products forward with the delivery of MRI's new eLeasing product, Prospect Connect, bridging the conversion of prospect to resident. The suite provides inventory syndication via Market Connect (formerly Vaultware), online leasing via Prospect Connect, and a resident portal via Resident Connect.
MRI Investment Management, formerly Cougar Software, is financial modeling software that drives global investment management with asset, portfolio, debt, and valuations functionality. It integrates with all leading property management software systems and enables MRI to boost property-level management and accounting, long range financial modeling, and analytics for both commercial and multifamily assets.
Growing community
Within the last year, MRI has added 150 new customers, 200 additional MRI staff, and over 40 integrated partners through its MRI Partner Connect program, according to Ghilani's opening remarks at the event.
There were a number of noticeable differences at this year's users' conference including larger user attendance and an expanded "Solutions Room" with over 40 exhibiting partners, such as NWP Service Corporation, PayLease, and TransUnion. Thirty of the 40-plus partner integrations with MRI have been added just in the last 12 months, and this volume could be indicative of the new API development tool kit that now includes MRI's full library. The tool kit is also available to MRI clients to build their own APIs to non-partner applications.
"Flexibility is not a traditional value proposition of the property management software industry," says Ghilani. "MRI has made a strong commitment to change that model with its product, and every action, now and into the future. We're not afraid of an open and connected ecosystem. In fact, it makes for an exciting future."
The momentum continued from Las Vegas to San Diego at NMHC's OpTech. "We've looked forward to our prospect data coalescing with our resident data," said MRI customer Julie Smith of The Bozzuto Group headquartered in Greenbelt, Maryland, in San Diego. "I remember when MRI was the only PMS in multifamily. They've owned the space for 20 years. It's nice to see the magic is back."
Big changes
About the time the industry was gathering in Las Vegas for the National Apartment Association's annual education conference in June, MRI was finalizing its sale to San Francisco-based investment firm GI Partners.
As the first property management software for multifamily, the Ohio-based MRI has seen a few ownership changes over its 45 year history. From its original founding in 1971 by Fred Goodman and his partner, to GI Partners in June, the company has grown alongside multifamily.
"I've really seen a lot of changes in the industry since we started all those years ago with Forest City as our first client," said co-founder Fred Goodman who works at MRI still today. "The historic perspective is helpful to the MRI vision, especially in an industry that remains the backbone of the country."
If MRI's users' conference and OpTech weren't enough of an indication of the company's direction, the culture of its owners, GI Partners, sets a definite tone and expectation. The firm currently manages over $12 billion in capital commitments through private equity and real estate strategies for recognized institutional investors, including some of the largest state and sovereign pension funds across the globe. GI Partners is known for picking up assets to maximize performance, and it brings a high level of optimism about the future of MRI.
GI Partners is said to be scouting even more acquisitions to enhance the MRI position. MRI's market position is bolstered by its diverse customer base and predictable reoccurring revenue.
"We found several avenues of untapped growth potential," said GI Partners Managing Director Travis Pearson.
In addition to traditional multifamily, MRI offers solutions for commercial offices and retail on a global scale with clients in more than 40 countries.