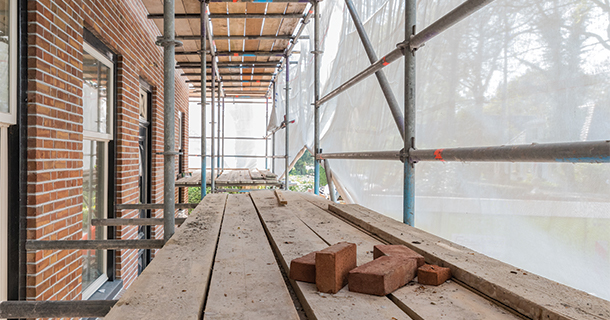 "A lot of people are coming back downtown," says Kevin Thompson, of Bell Partners, a value-added developer based in Greensboro, N.C. "That drives the ability to do value-added redevelopment—there are phenomenal pieces of older real estate, and everything around you might be new."
Older apartment buildings typically have much lower rents than new ones. Even after an extensive renovation increases those rents, older apartments typically rent for well below the price of the new, luxury towers that crowd many downtowns. Developers like Bell Partners and Waterton, another value-added developer based in Chicago, are making good business out of transforming class-B properties into class-B+.
Class-B opportunity
The percentage of apartments that were vacant at class-B and class-C communities fell to an average of 2.7 percent in the second quarter, down from 5.2 percent in 2012, according to brokerage firm Marcus and Millichap. In comparison, the percentage of apartments vacant at class-A communities grew to 6.1 percent in the second quarter, up from 5.2 percent in 2012.
"We think the rents at class-B properties will certainly outperform class-A rents," says Richard Hurd, Waterton's chief investment officer. "We are certainly focused on well-located workforce housing."
Waterton finds promising properties in a huge variety of situations. In downtown Los Angeles, Waterton converted an old Holiday Inn Suites Hotel to apartments. At a 1980s high-rise in the Buckhead neighborhood of Atlanta, it improved the common areas and apartment units. In Long Beach, Calif., Waterton converted an office building into apartments. At a new apartment community in West Miami with low occupancies, Waterton changed the appliances in the kitchens and updated other finishes that weren't right for the market. "Every one is very different," says Hurd.
Many of the properties Waterton buys are less than fully-occupied. Typically, the percentage of occupied apartments is in the 80 percent range. Value-added developers usually spend about $10,000 to $15,000 per apartment to upgrade a property.
"There is about a 20 percent internal rate of return on that investment," says Hurd. "Our minimum return is 15 percent."
Private equity investors have been eager to provide capital to buy and fix up these properties, typically holding the assets for five years before selling. The renovation typically results in an increase in the rents of $150 to $200 a month, which still makes them $300 to $600 cheaper than the rents at new luxury properties. The new rents are generally not so high that the existing residents are forced out.
"We typically don't go in to change the profile of the residents," says Hurd. Waterton's new rents are also much less than the rents at new, luxury apartment properties now opening.
Value-added developments can also offer more flexibility than new construction because the communities are often producing income. "Redevelopment is less risky than new construction. It's easier to change course, speed up and slow down," says Thompson.
What residents want
The features that new residents reward vary from market to market, though the most important feature still seems to be location near employment centers. Value-added developers also make sure their communities are ready for technology.
"They certainly want Wi-Fi and cell phone service," says Hurd. "We've gone into properties where if the Wi-Fi is not up to speed, boy you see turnover quickly."
Thompson notes though that when undertaking a redevelopment, it's important not to spend too much money on flashy new tech features, as many such features become antiquated within a matter of months.