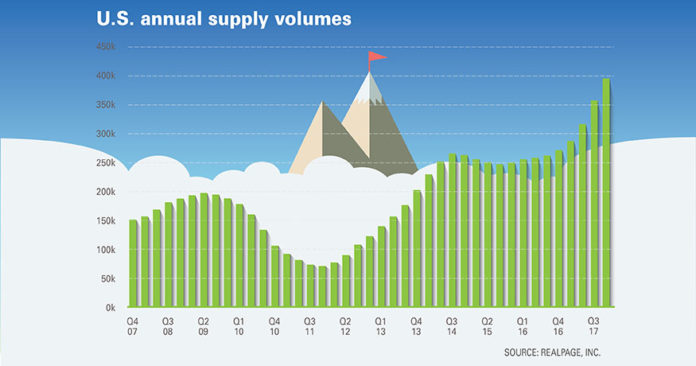 Apartment completions in the 150 largest U.S. metros spiked at 395,775 units in 2017, a volume that beats the 2016 level by a significant 46 percent and more than doubles the long-term average. Completions in the past year grew the U.S. apartment stock 2.4 percent, according to Axiometrics.
Driving the national completion volume in 2017 were the 15 metros that have led for development volumes throughout the current cycle. Those metros—where construction is particularly active in urban core areas —contributed roughly half of the nation's new units in the past year.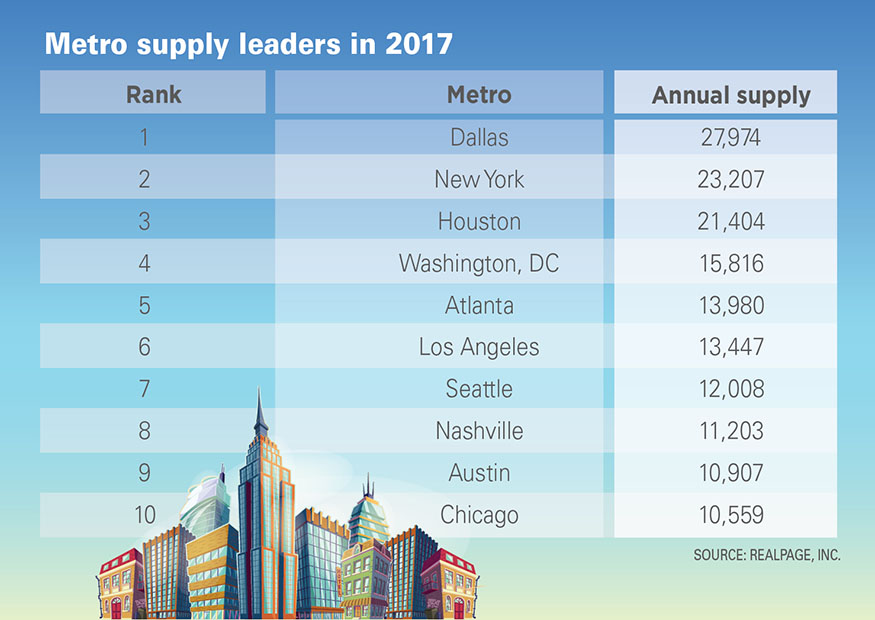 While Houston was the new supply leader just a year ago, 2017 numbers show Dallas and New York pushing ahead of the energy giant. Dallas added 27,974 units in the past year, while New York saw 23,207 completions.
Houston came in third place with 21,404 apartments built in 2017. While high by historical standards, new supply in Houston was absorbed relatively well. Absorption here was bolstered toward the end of the year by displaced residents who turned to apartments in the wake of Hurricane Harvey.
Annual completions totaled between about 12,000 and 16,000 units in the typically high-supply markets of Washington, DC, Atlanta, Los Angeles and Seattle.
Also notable was the completion volume in Nashville. There, a total of 11,203 units were delivered last year, causing a steep annual occupancy decline in 2017 as operators struggled to fill all of the new units. Rounding out the year's list of development leaders were Austin, Chicago, Denver and Northern New Jersey, with additions totaling just under the 11,000-unit mark.
Even with record-high supply volumes, absorption across the top 150 markets essentially kept pace. Despite a seasonal lull in 4th quarter 2017, apartment demand remained strong for the year, keeping occupancy levels steady at 95 percent. However, operators have reined in their pricing strategies in an effort to fill new units. For the nation overall, rent growth clocked in at 2.6 percent. That's down from the roughly 4 percent to 5 percent increase common from 2014 through 2016.
Contributing to the nation's ability to absorb so much new supply in 2017 was a reasonably healthy economy and favorable demographics, factors that are predicated to continue into the coming year.
After a period of remarkable expansion, the apartment market is expected to see supply volumes ease in 2018. Deliveries for the coming year are scheduled at around 300,000 units, down from the 2017 peak but roughly 60 percent above the historical norm. This study counts new supply as developers finish units and push them into the leasing pool, a shift from previous calculations that counted new supply when all the units in a property were completed.
Construction volumes have also dropped significantly, to 344,000 units at the end of 2017. That's down from the cycle's peak of 487,000 units a year ago, indicating that the annual completion volumes have peaked for the cycle.
Author: Kim O'Brien