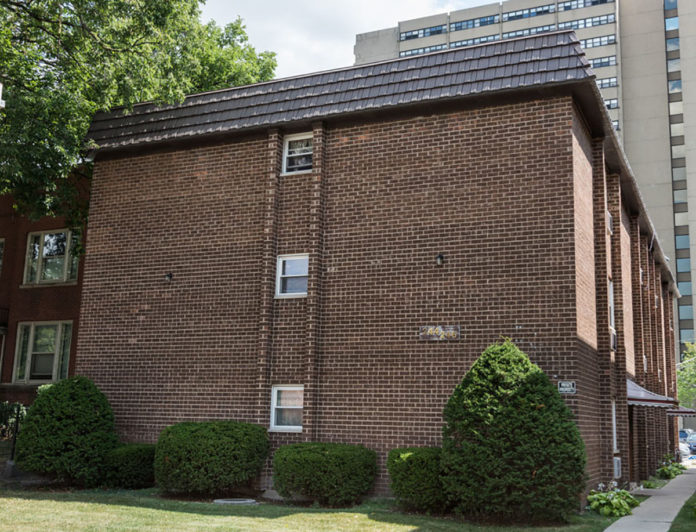 Interra Realty, a Chicago-based commercial real estate investment services firm, today announced it brokered the $1.45 million deconversion sale of 244-46 S. Marion St., a 10-unit building in Oak Park, Ill. The buyer intends to convert the property's 10 condominiums back into rentals.
Patrick Kennelly, managing partner of Interra, represented the sellers through the condominium's association and also procured the buyer. The sale price equates to an average of $145,000 per unit. The building includes six one- and four two-bedroom units, each with one bath.
"The limited inventory of apartments in the area combined with the property's ideal location close to downtown Oak Park led to multiple offers," Kennelly said. "Because of the high rental demand, buyers are increasingly open to creative deal structures. We applied best practices gained from previous deconversion sales to navigate the complexities of the transaction."
Built in the 1950s, the brown brick building includes a shared laundry room, extra storage space, ground-level heated parking garage and separate outdoor parking lot. The building, last renovated in the early 2000s, is in good condition, so the new owner only plans to replace the boiler, Kennelly said.
The property is located just a five-minute walk from both the Oak Park Metra station and the Harlem/Lake Green Line station. Also within walking distance are shops and restaurants in downtown Oak Park, as well as a public library and numerous parks.
"Over the past year, we've seen most deconversion activity concentrated in the city," said Kennelly. "A deconversion in Oak Park speaks to the growing strength of the suburban rental market, particularly in vibrant inner-ring communities like Oak Park."
---
About Interra Realty:
Founded in 2010, Interra Realty is a Chicago-based commercial real estate services firm that delivers integrated, tailored solutions through its boutique, client-focused approach and team of experienced professionals. Since its inception, the firm has closed thousands of transactions valued in excess of $1 billion spanning the multifamily, office and retail sectors, as well as loan sales. Interra's clients range from private investors and high-net-worth individuals to large financial institutions, private equity groups and hedge funds.