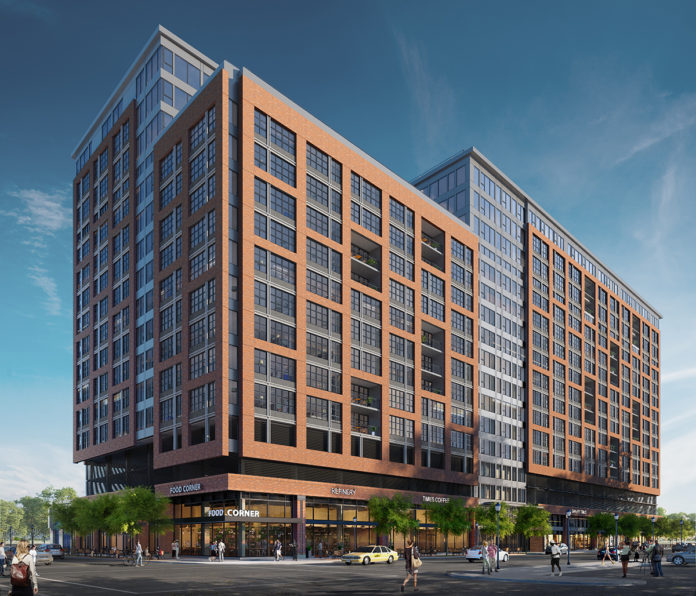 Perseus TDC and its partner Four Points LLC today announce construction has begun on the conversion of 200 Stovall St. in Alexandria, Virginia. ELV Associates, a Boston-based investment manager with a local D.C. office, is the majority equity partner. When completed, 200 Stovall will be a mixed-use project consisting of 520 apartment units and 25,000 square feet of ground-floor retail space. The first units are expected to deliver in fourth quarter 2019.
"We are excited to work on such a creative project and provide the Alexandria market with a sophisticated and amenity-rich community," said Adam Peters, Executive Vice President at Perseus TDC. "This property will bring an immediate vibrancy to what was previously a vacated government office building and provide tenants with an inclusive live/work/play lifestyle. The mix of healthy employment opportunities, amenity-rich environments, proximity to supermarkets and access to metro stations has proven to be a strong driver of residential demand in the marketplace."
At completion, the project will consist of 50 studios, 292 one-bedroom units and 178 two-bedroom units. It will feature a three-story fitness facility, sports bar, co-working lounge, and more than 10,000 square feet of rooftop amenities, including a pool, lounge, fireplace and dining area.
"Today's renters want to socialize close to home and have options to entertain friends and family," said Bob Cohen, President and CEO of Perseus TDC. "We are delivering on that demand with upscale amenity space that is unrivaled in the Washington, D.C., market. The rooftop amenities will give 200 Stovall St. a competitive advantage over other communities in the area."
Situated directly across from the Eisenhower Metro station, 200 Stovall St. is located within Hoffman Town Center, which offers a variety of restaurant, retail and entertainment options, as well as the National Science Foundation headquarters. Additionally, across the street from the project, a planned 1 million-square-foot mixed-use development is scheduled to break ground in 2019 that will include a Wegmans supermarket that will anchor further retail and residential density in the immediate area.
Cooper Carry, which is based in Atlanta but has offices in Alexandria, is the project architect, and London-based Balfour Beatty PLC is the general contractor.
---
About Perseus TDC
Perseus TDC, an affiliate of Transwestern Development Co., invests alongside its financial partners in well-located Washington, D.C., metro area properties, adding value through skilled entitlement planning, design, risk management and operations. The firm draws upon its principals' expertise in developing office, hospitality, multifamily, retail and mixed-use real estate, refined through decades of experience. Based in Washington, D.C., Perseus TDC wields the capabilities of a national firm with the dexterity of a local developer.