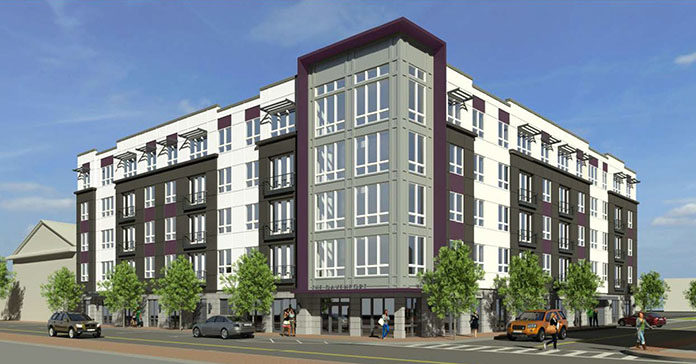 Meridian Capital Group, America's most active dealmaker, arranged $15 million in construction financing for The Davenport, a multifamily property in Somerville, NJ, on behalf of developer Robert Weiss of Weiss Properties.
Located at 21 Davenport Street in highly sought-after Somerville, NJ, The Davenport will feature four stories with 60 one- and two-bedroom luxury rental units atop a single-story 68-space parking garage. With direct access to major highways and a plethora of shopping and dining in the area, the elegant property will attract young professionals looking for a new, modern, and easily accessible place to live. Communal amenities will include a recreational area, a state-of-the-art fitness center, storage lockers, and a common-area lounge. In addition to retail shops and high-end dining, Somerville has one of the best education systems in the state, having been awarded the District of Distinction and Best Practice Award.
The 30-month construction loan features a prime-based floating rate and was provided by a regional balance sheet lender. Meridian Managing Director, Shaya Ackerman, and Senior Vice President, Shaya Sonnenschein, negotiated the financing for this transaction. Based in the company's New York City headquarters, Ackerman and Sonnenschein specialize in transitional loans across all property types with a focus on structured finance, bridge loans, and value-add business plans. This unique team has distinguished themselves advising sponsors on all aspects of a transaction's capitalization and has assembled full capital stacks for numerous complex repositioning and development plans.
"Shaya Ackerman and Shaya Sonnenschein are both professional and have a tremendous grasp of the financial market," said Robert Weiss. "I am glad we were able to continue our relationship with the financing of The Davenport."
This closing comes on the heels of another successful transaction between Weiss Properties and Ackerman and Sonnenschein, who previously arranged $46 million in construction and permanent financing for The Avery, a 450-unit apartment community in Burlington County, NJ.
Somerville is experiencing a substantial economic and population upswing, with Main Street seeing the most robust growth, as host to the area's largest concentration of retail shops, local amenities, and high-end restaurants. Downtown Somerville, named one of New Jersey's "Great Places" by the New Jersey Chapter of the American Planning Association, represents the gold standard as a place of cultural and historical interest alongside a strong community and vision for the future. Somerville is easily accessible from Manhattan via New Jersey Transit at the Somerville station, which is less than a mile from The Davenport.
---
About Meridian Capital Group
Founded in 1991, Meridian Capital Group is America's most active deal maker and one of the nation's leading commercial real estate finance and investment sales firms. In 2017, Meridian closed over 3,000 debt transactions across more than 200 unique lenders and sold nearly $1 billion in commercial property. Since inception, the company has closed more than $300 billion in financing with the full complement of capital providers, encompassing local, regional and national banks, CMBS lenders, agency lenders, mortgage REITs, life insurance companies, credit unions and private equity funds. Meridian represents many of the world's leading real estate investors and developers and the company's expansive platform has specialized practices for a broad array of property types including office, retail, multifamily, hotel, mixed-use, industrial, healthcare, student housing and self-storage properties. Meridian is headquartered in New York City with offices in New Jersey, Maryland, Illinois, Ohio, Florida and California.