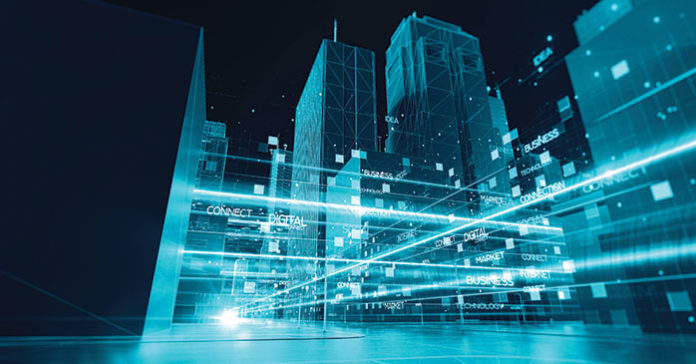 Technology is reconfiguring traditional roles and divisions of labor. City governments don't have to provide every type of application and service themselves. In fact, they can't—and this realization opens the door for other entities with capital and capabilities to step in, particularly where there may be opportunities to generate revenue. Smart cities have become more intricate ecosystems over time, with the degree and mix of private-sector participation varying from city to city.
Even if they don't become providers of systems or services, many companies will need to adapt in some way as cities become more digitally connected. Digitization has upended industry after industry—and now, as it begins to transform the environments that will be home to two-thirds of the world's population by 2030, there is good reason to brace for another wave of disruption.
Weighing the three questions below can help business leaders prepare for this shift.
How to adapt our current offering?
Companies in multiple industries are already altering their approaches in changing urban markets. Utilities are rolling out smart meters and introducing dynamic pricing schemes. Pharmacies are adding telemedicine kiosks. Real estate developers are integrating automation systems, sensors, and mobility options into their properties.
Telecom operators often provide the backbone communication networks required to run systems and applications. Now some are deepening their existing relationships with local governments and branching out into other types of smart technology implementation. Telefónica, for instance, installed 12,000 sensors in Santander, Spain, while Vodafone is supplying law enforcement authorities with body-worn cameras. Other telecoms are offering solutions such as smart parking and waste management systems.
Automakers are adding new options to their vehicle portfolios for smart urban mobility. Although it is posting explosive growth in cities worldwide, e-hailing has relatively limited penetration with certain audiences. New vehicle models could help the concept break through with them. The right kind of shared minibuses, with WiFi, folding work desks, and privacy screens or headrests, could work for business commuters, for example, while families with children and elderly or disabled riders would be more likely to take flexible vehicles with easy entry, generous storage space, and seats that can be reconfigured.
For its upcoming on-demand microtransit service Moia, Volkswagen has designed an all-new electric vehicle concept to bridge the gap between taxis, shuttle vans, and buses. Commercial trucks, too, will need to be able to tap into smart city systems such as load pooling and urban consolidation centers.
A wave of public and private investment worldwide is going into making cities smarter—but that doesn't change the fact that most municipal governments are working with serious spending constraints.
Companies that want to serve them directly often have to think outside the box when it comes to financing. Cisco, for example, has created a $1 billion program with its own capital as well as private equity and pension funds to help cities purchase Cisco solutions and complementary technology. In other cases, smart city projects present opportunities to generate advertising revenue and branding. The technology and media company Intersection builds on revenue from advertisers to offer cities free "Links" kiosks to expand public WiFi.
How will smart cities shift value?
The implications of smarter cities loom especially large for the real estate industry. As cities get smarter, the value of urban properties will shift. The availability of e-hailing, on-demand minibuses, and eventually autonomous cars could raise land values in areas that are not currently well served by conventional public transit.
New opportunities for investment and development could open up if some formerly congested, polluted, or crime-ridden areas become more livable. Buildings or areas that are hard to retrofit with smart features may become less attractive. Tech firms, including Alphabet and Huawei, are getting into real estate development, drawn by the opportunity to build smart districts from scratch.
Data—on everything from pedestrian patterns and traffic to crime, school performance, and energy use—can change the way properties are used as well as the way they are valued. The ability to use data effectively will become a source of competitive advantage, with retailers and other types of companies using this information to fine-tune their location decisions.
Smart building automation systems capture even more granular sensor data on the way people actually use interior spaces— and the combination of that data and the growth of the sharing economy can support new leasing models.
WeWork, for example, provides "space as a service" instead of providing a fixed amount of space for a fixed time. Sensor-fed software lets the company track precisely how people use desks, conference rooms, and amenities, and then use that information to maximize utilization.
Mobility is another area where smart cities are reshaping the playing field. Digital natives such as Didi and Uber are operating customer-facing mobility platforms in cities around the world. Now several major auto manufacturers, including Ford, are launching their own on-demand services using custom-designed fleets of minibuses.
To complement the city's existing transit network, Berlin's public transportation provider is piloting its own ride-sharing van service through a public-private partnership. When autonomous transportation services eventually break through, automakers will face a choice: whether to make and sell the required fleets, operate them as a service for other companies and cities, or run their own mobility platforms.
How to become a provider?
It used to be that serving a city meant selling a product or service directly to city governments. But now the range of possibilities has gotten bigger, and B2C or even B2G2C business models are growing more common.
At the same time, the expectations of municipal governments and of urban residents themselves have gotten higher. Cities have many vocal constituencies and stakeholders. Members of the broader public, whether direct customers or not, can be affected by a company's offerings. They, and the officials who represent them, often have a great deal to say about smart solutions that shape their environment, such as peer-to-peer accommodations and bike- or scooter-sharing services.
All of this raises the bar for how companies conduct public interactions. Companies have to understand the complexities of each city's context intimately, including how the local government makes decisions and what the regulatory landscape looks like. They also need to engage thoughtfully with city leaders over the longer term about how to meet their city's needs.
Most companies lack these types of capabilities in their existing sales teams, so they may need to add urban planners, sociologists, designers, and other specialists to broaden their thinking. At its Center of Competence for Cities, in London, Siemens employs a diverse set of experts, from architects and urban planners to public finance specialists.
In forming new multidisciplinary teams, some larger companies may fail to coordinate their go-to-market approaches—and, as a consequence, different business divisions of the same company may approach cities with uncoordinated pitches. Getting this right involves an often-painful process of enforcing guidelines about mandates and responsibilities. It also requires setting up aligned incentives between city teams and business divisions.
The need to tailor solutions to each city's context, combined with the unwieldiness of dealing with multiple stakeholders and agencies, has made it challenging for many providers to crack the smart city market and do so in a profitable way.
For companies, the trick will be balancing each city's desire for custom solutions with their own need for scale. Forming alliances and working cooperatively with other providers to set industry standards and shift toward open interfaces may help the entire industry move forward—while simultaneously addressing a common worry among city governments about being locked into certain technology solutions and vendors.
Companies have to consider not only how their offerings perform but also how they affect the public sphere in order to win a mandate to operate. That mandate is worth keeping. After all, some of the world's urban markets are larger than entire nations.
Authors: Jonathan Woetzel and Jaana Remes are both with the McKinsey Global Institute