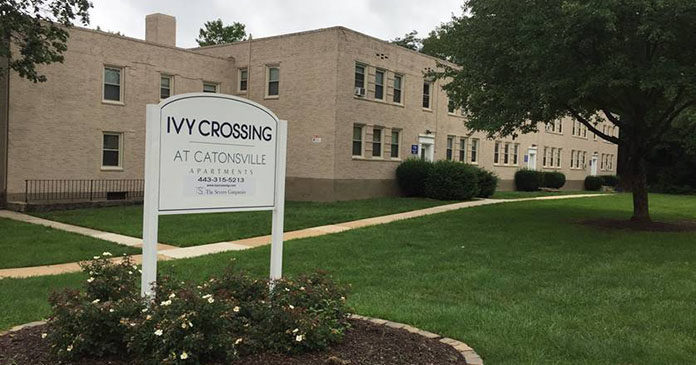 Maryland-based The Severn Companies and nationally recognized Enterprise Community Investment Inc. (Enterprise) have partnered to acquire Ivy Crossing, a 99-unit multifamily property in Catonsville, MD. Ivy Crossing, built in 1947, provides vital affordable workforce housing to its residents.
"Making significant investment in older multifamily properties like Ivy Crossing is not common," said Alexander Rouse, chief operations officer of The Severn Companies. "We realized this was a rare opportunity to make much-needed improvements while keeping these homes affordable for working families. We are dedicated to collaborating with Ivy Crossing residents as we bring this property up to modern standards and ensure residents enjoy a stable, thriving community for years to come."
The Severn Companies' renovation program for Ivy Crossing will include extensive exterior and interior work, covering everything from select roof, parking lot, exterior brick, sidewalk and grounds repairs to unit renovations, including refinishing hardwood floors and kitchen and bathroom updates. Renovations at the property have already begun.
Enterprise is making this work possible by providing $3,065,000 in equity. Financing the preservation of Ivy Crossing is another example of Enterprise's role as a national leader in socially driven capital investment. It pioneers new financial tools that match investors with opportunities that yield economic returns alongside intentional and measurable impact for communities.
"We're excited that our partnership with The Severn Companies will simultaneously improve and keep affordable nearly 100 homes for working families," said Chris Herrmann, vice president of conventional equity at Enterprise.  "Severn's experience and thoughtful, long-term approach will make these homes even more livable, and residents can stay where they've put down roots and remain connected to the opportunity this area offers."
Ivy Crossing (128 Nunnery Lane, Catonsville, MD) is well-located in a suburb of Baltimore with proximity to numerous jobs and transportation options throughout the Baltimore Metro area. The surrounding community features abundant shopping, dining, and entertainment. Catonsville is also home to the University of Maryland Baltimore County, a public research university with close to 14,000 students.
---
About The Severn Companies
Based in Annapolis, MD, The Severn Companies, a fully integrated family of related real estate companies, are dedicated to providing high-quality, affordable housing tailored to meet the needs of communities, families and elderly residents. The Severn Companies currently operates over 60 multifamily rental communities totaling over 3800 residences in Delaware, Maryland, Pennsylvania and Virginia.