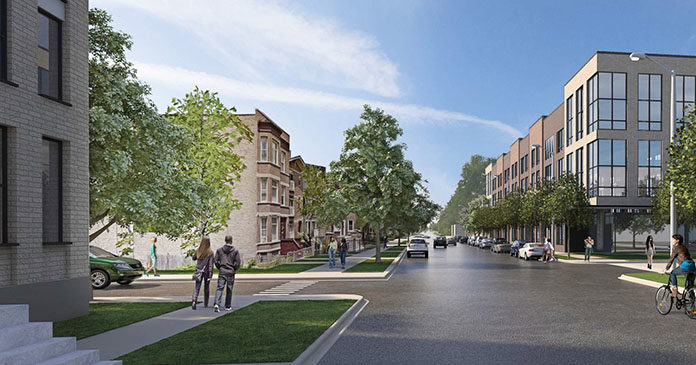 Chicago-based The Habitat Company, a leading U.S. multifamily developer and property manager, today announced it received approval from the city's Planning Commission to move forward with plans for a $200 million 10-acre mixed-use project in Chicago's North Lawndale neighborhood to be developed in partnership with the Chicago Housing Authority (CHA), Sinai Health System, Cinespace Chicago Film Studios and the city of Chicago. Known as Ogden Commons, the development will offer mixed-income rental housing, retail and commercial space.
Bordered by Ogden Avenue to the south, Fairfield Avenue to the west and Rockwell Street to the east, Ogden Commons will be located on the former site of the Chicago Housing Authority's Lawndale development. The mixed-use project will transform 10 acres of mostly vacant property near Douglas Park into 120,000 square feet of commercial and retail space plus hundreds of mixed-income housing units. According to Matt Fiascone, president of The Habitat Company, Ogden Commons will help serve as an economic catalyst for the area, which is already home to Cinespace Chicago Film Studios and Sinai Health System.
"The Habitat Company is proud to lead this public-private partnership to bring not only much-needed quality housing to the North Lawndale neighborhood, but also commercial and retail spaces that will help expand employment opportunities and health services in this area," said Fiascone. "Ogden Commons is more than just a group of buildings – it's about a commitment by each partner to help enhance an historic community that will serve the residents and businesses of North Lawndale and the greater Chicago area for years to come."
Ogden Commons will be developed in multiple phases, with the first phase comprised of 45,000 square feet of commercial space, 15,000 square feet of retail space and a portion of the planned residences. Construction on the commercial space is expected to begin during second quarter 2019 with the residential work to follow. The entire development is projected for completion in 2021, at which time Cinespace and Sinai will occupy a significant portion of the commercial space, expanding on their current locations on Ogden Avenue across from the Ogden Commons site.
"Ogden Commons is taking vacant land and transforming it into a mixed-use project that includes commercial, retail and housing units for residents," said Chicago Mayor Rahm Emanuel. "This builds on the City's effort to redevelop North Lawndale and further helps expand jobs and services for our residents."
"We are pleased to see this mixed-use development move forward because we know it will bring a new vibrancy to this historic community and serve as an example of what partnerships can do to improve not just one neighborhood, but the city as a whole," said Eugene E. Jones, Jr., CEO, Chicago Housing Authority.
Cinespace Chicago Film Studios occupies 1.45 million square feet of what used to be the Ryerson Steel Company, and specializes in the development, management and operation of studio facilities. Its additional space at Ogden Commons will allow the growing film studio – home to a number of TV shows and movies, such as Empire, Chicago Fire and Divergent – to expand its services. Cinespace has created more than 15,000 film-related jobs and has generated over $5 billion in revenue for the city and the state.
"Cinespace is proud to partner with Sinai Health System and The Habitat Company on such an exciting mixed-use community development project," said Alex Pissios, president of Cinespace Chicago Film Studios. "Ogden Commons will allow us to expand our job creation, while developing new mixed-income housing along with much needed retail stores that currently do not exist in this community."
Sinai Health System has had a presence in North Lawndale for nearly 100 years with its Mount Sinai Hospital, along with Schwab Rehabilitation Hospital and Sinai Community Institute, all located along Ogden Avenue. Its new space at Ogden Commons will enable Sinai to continue providing quality care in new modern healthcare spaces for outpatient services. 
"The Ogden Commons project is a cornerstone opportunity to invest in our community and its future," said Karen Teitelbaum, president and CEO, Sinai Health System. "It is an extension of the work we've been doing for decades to reach beyond our own walls and find innovative and impactful ways to fulfill our core mission to improve the lives of those we serve." 
In addition to providing newly constructed mixed-income apartments for employees of Cinespace and Sinai, Ogden Commons will serve as a convenient housing option for employees of other key North Lawndale businesses such as Lagunitas Brewing Company.
"Since 1971, Habitat has spearheaded projects nationwide in developing nearly 8,000 new mixed-income housing units, so we're proud to make Ogden Commons our latest development in furthering our strong commitment to revitalizing urban communities." said Fiascone.
Fiascone noted the development team will work closely with the city of Chicago to implement extensive streetscape enhancements along Ogden Avenue, including decorative lighting, special pavers, landscaping and benches to enhance the area's pedestrian environment and commercial viability.
Ogden Commons is expected to be funded by a number of public and private funding sources typically available to support the development of mixed-use, mixed-income housing developments like this one.
---
About The Habitat Company
Founded in 1971, The Habitat Company is a full-service residential real estate company specializing in property management, acquisitions and development. One of the largest residential property developers and managers in the United States, with over $3 billion in assets and more than 22,000 units under management across six states, the company's portfolio spans a range of property types, from mid- and high-rise condominium, apartment and adaptive reuse developments to senior and affordable housing communities. Headquartered in Chicago, with more than 800 employees throughout the United States, Habitat is dedicated to improving the communities it serves through innovation and a commitment to excellence.
About Chicago Housing Authority
The Chicago Housing Authority (CHA) helps build vibrant communities across the city. By using housing as a platform, the agency works with a host of key stakeholders to sustain strong neighborhoods to best prepare CHA residents for the global economy on their road toward self-sufficiency. CHA also provides stable, decent, safe and affordable housing to more than 62,000 low-income families and individuals, while supporting healthy communities in neighborhoods throughout Chicago.
About Cinespace Chicago Film Studios
Cinespace Chicago Film Studios occupies 1.45 million square feet of what use to be the old Ryerson Steel Company. Cinespace Chicago specializes in the development, management and operation of studio facilities for the film, television, and digital media production industry.
About Sinai Health System
Located on the West and Southwest sides of Chicago, Sinai Health System is comprised of Mount Sinai Hospital, Holy Cross Hospital, Sinai Children's Hospital, Schwab Rehabilitation Hospital, Sinai Medical Group, Sinai Community Institute and Sinai Urban Health Institute. Sinai Health System collectively delivers a full range of high-quality outpatient and inpatient services, as well as a large number of innovative community-based health, research, and social service programs. Sinai focuses its collective depth of expertise and passion to improve the health of the 1.5 million people who live in its diverse service area.