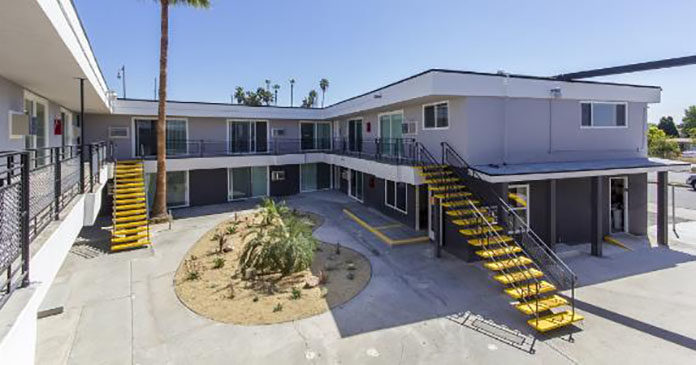 Trion Properties, a private equity real estate firm that specializes in multifamily investments, has sold Willow Glen Apartments, a 97-unit multifamily community located in the rapidly growing Rolando/College Area submarket of San Diego, California, for $17.9 million.
Trion purchased the property in June 2015 for $9.6 million. After implementing $2.2 million in capital improvements and rebranding the community, the firm nearly doubled the asset's value and tripled the net operating income within the first 18 months of ownership, according to Max Sharkansky, Managing Partner of Trion Properties.
"When we acquired this asset less than four years ago, we recognized the opportunity to drive significant value through strategic renovations and upgrades, as well as improve operational efficiencies through our vertically-integrated property management platform," explains Sharkansky. "Through repositioning, hands-on management, and aggressive lease-ups, we transformed Willow Glen into a strong, cash-flowing asset, successfully stabilizing the property and increasing the occupancy to 97 percent. This has ultimately allowed us to achieve a 37.23 percent return to our investors."
Sharkansky notes that the property was acquired in one of the lowest price-per-unit multifamily sales in San Diego in 2015, allowing Trion to invest more equity in its redevelopment, which also included improving the overall design of the community.
Renovations completed by the firm include the installation of quartz countertops, stainless-steel appliances, and new cabinetry in each of the units. Exterior upgrades include a complete revamping of the façade with new paint, as well as the integration of low-water and drought-tolerant landscaping to minimize operating costs and improve the sustainability of the property.
According to Sharkansky, Trion recognized that San Diego State University students would be a large prospective resident demographic, due to the community's close proximity to the school. With this in mind, the firm contracted bulk high-speed Internet and offered free Wi-Fi, which proved to be highly popular and boosted leasing.
The Rolando/College Area of San Diego offers extremely tight multifamily vacancy of 1.3% and lower rents than nearby comparables. The submarket also boasts numerous schools, community parks, and retail amenities.
Willow Glen Apartments also offered the buyer, Bernard Xavier, with a rare opportunity to purchase a well-maintained 97-unit property in a market with such strong demand, Sharkansky notes.
"As San Diego as a whole and the College Area submarket in particular continues to generate increasing multifamily demand and investor interest, we strategically determined that now was the right time for us to sell this asset," continues Sharkansky. "The property presents the buyer with additional value-add opportunity and continued runway for growth."
The asset, situated in a primarily single-family-home residential community, provides convenient access to Interstate 94, Interstate 8, and employment centers throughout San Diego.
Willow Glen Apartments is located at 3635 College Avenue in San Diego, California.
Peter Scepanovic and Corey McHenry of Colliers International represented Trion Properties as the seller in this transaction.
---
About Trion Properties
Founded in 2005 and headquartered in Los Angeles, Trion Properties is a private equity real estate firm that invests in value-add multifamily throughout the west coast. Trion has completed more than $300 million in transactions, with a portfolio of over $315 million in assets, generating an average internal rate of return in excess of 30 percent. With its fully built-out operator platform, Trion has repositioned and stabilized undervalued assets, leveraging its expertise in real estate finance and renovation of multifamily properties to drive returns for its investors.
Since its inception, Trion has acquired the fee interest—or in certain instances the debt secured by the fee interest—of over 2,450 multifamily units. To date, Trion has successfully repositioned and resold over 1,150 units and over 180,000 square feet of commercial real estate space.
The principals of Trion Properties are Max Sharkansky and Mitch Paskover, two real estate professionals with over 30 years of combined experience in finance, acquisitions, management and redevelopment.