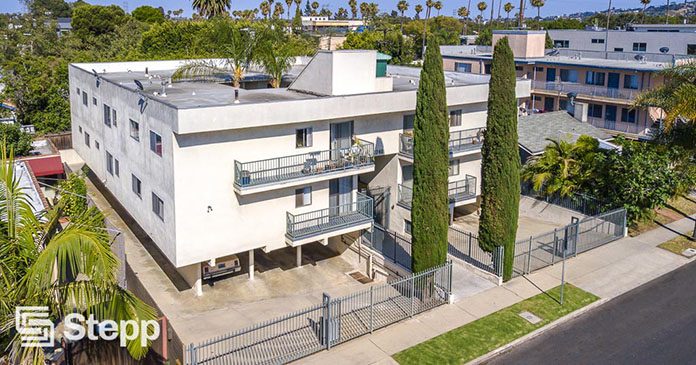 Stepp Commercial, a leading multifamily brokerage firm in the Los Angeles market, has completed the approximately $4.44 million sale of a 14-unit apartment property located at 3240 Fay Avenue in Los Angeles. The asset is within the Arts District neighborhood just steps from downtown Culver City with proximity to the 10 freeway.
Senior Vice President Mark Ventre of Stepp Commercial represented the seller, a Los Angeles-based private investor. Ventre also represented the buyer, a San Francisco-based investment firm. The price per unit was just under $317,000.
Built in 1963, the pride-of-ownership two-story courtyard-style property includes an advantageous unit mix of six two-bedroom units, four one-bedroom units and four studios.  The property features spacious floor plans, private balconies or patios in the majority of units, and 14 gated parking spaces.
"This property is in an ideal location blocks from downtown Culver City with all its new developments, entertainment and creative companies including HBO, Amazon and Apple's new office location that will open early next year," said Ventre.
Ventre added, "In addition to the coveted location, there were five vacant units when the asset sold, providing the buyer with an immediate opportunity to reposition 30 percent of the building. Additionally, the buyer plans to make façade and common area upgrades to the living space for a more appealing environment commensurate to the tenant base renting in this area."
---
About Stepp Commercial
Stepp Commercial is a brokerage firm specializing in the multifamily property sector. Stepp Commercial's mission is to provide apartment owners with a fully integrated sales platform that includes comprehensive market knowledge and local real estate expertise to successfully complete any type of multifamily transaction.