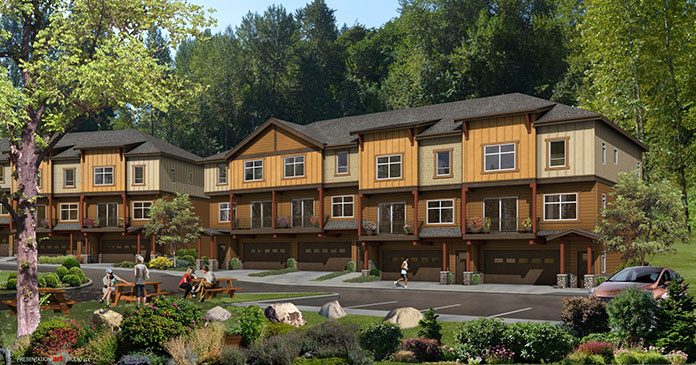 PCCP, LLC announced today it has formed a joint venture with Intracorp for the ground-up development of two, for-sale townhouse projects totaling 129 units within the Puget Sound region. The portfolio includes Kelkari, a 71-unit community located in the eastside city of Issaquah, WA; and Cloverdale, a 58-unit community located in the South Beacon Hill neighborhood of Seattle. With this joint venture, ground is now being broken on each of the sites which are development ready, with all entitlements, building permits, and contracts in place.
"This is PCCP's first joint venture with Intracorp and we are pleased to be an equity partner with this experienced, local developer. Our venture aims to deliver well-located, high-quality, housing product within one of the strongest and fastest growing regional economies in the country," said Dorian Farhang vice president with PCCP.
The new home market in the Puget Sound region over the past five years has been very active, and inventory levels have fallen creating a demand for for-sale residential product. Following are details on each project:
Kelkari: Located in Issaquah just one-mile south of downtown Issaquah, the Kelkari project will consist of 71, three-story townhome units with a mix of three and four bedrooms with an average size of approximately 2,000  square feet. All units will feature upgraded finishes including polished quartz countertops, tile flooring, and gas range stoves and will have two-car side by side garages. The project is within an affluent suburb 15 miles east-southeast of Seattle and along Interstate 90. Its neighboring cities are Bellevue to the west and Sammamish to the north. Issaquah is known for its excellent quality of life and easy access to parks, hiking and biking trails, and skiing. Issaquah is home to a number of large corporate tenants, namely Microsoft and Costco, which has its headquarters along I-90. Additionally, the site is within a scenic setting located in the desirable Eastside/I-90 corridor and within the well regarded Issaquah School district.
Cloverdale: Located within the City of Seattle in the neighborhood of South Beacon Hill, Cloverdale will include two and three-bedroom homes with an average size of 1,570 square feet and will include row houses, paired homes, townhomes, and single-family detached homes and will feature quality interior finishes. The site is on four separate blocks and will have a master-planned look and feel offering residents a quiet, community atmosphere. The single family homes and the row houses will have a detached parking garage and the remaining units will have attached parking garages. The location is .3 miles from the Rainier Beach Light Rail Station and is 2.5 miles from Interstate 5 offering a 10-minute drive into downtown Seattle. In 2012, the City of Seattle up-zoned South Beacon Hill as part of an initiative to promote an economic uptick via denser housing.
---
About Intracorp
Established in 1994, Intracorp is a full-service multifamily and residential development company that has delivered more than 23,000 homes across 170 communities. Intracorp is run by an experienced team of developers with offices in Vancouver, Seattle, Newport Beach, Toronto, and Austin, and is very active in a number of markets including southern California, Seattle, Austin, and Vancouver. Intracorp has local teams that oversee the land acquisition, development, marketing, and sales for each of its projects. In Seattle alone, Intracorp has completed 40 separate mid-rise condominium, townhome, or apartment communities.
About PCCP, LLC
PCCP, LLC is a real estate finance and investment management firm focused on commercial real estate debt and equity investments. PCCP has $9.4 billion in assets under management on behalf of institutional investors. With offices in New York, San Francisco, Atlanta, and Los Angeles, PCCP has a 21-year track record of providing real estate owners and investors with a broad range of funding options to meet capital requirements. PCCP underwrites the entire capital stack to exploit inefficiencies in the market and provide investors with attractive risk-adjusted returns. Since its inception in 1998, PCCP has successfully committed $19.8 billion of capital through a series of investment vehicles including private equity funds, separate accounts and joint ventures. PCCP continues to seek investment opportunities with experienced operators seeking fast and reliable capital.