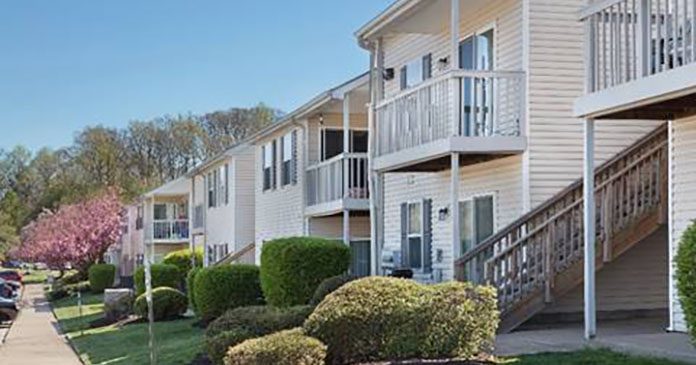 Transwestern Commercial Services (TCS) announced it has brokered the sale of Misty Ridge, a 409-unit apartment community at 1989 Delaware Drive in Woodbridge, Virginia. TCS Executive Vice Presidents Dean Sigmon and Robin Williams and Vice President Justin Shay represented the seller, Castle Lanterra. The buyer, Capital Square 1031, acquired the 328,066-square-foot building for $80.5 million, or nearly $200,000 per unit.
"Misty Ridge was a unique opportunity that attracted a significant number of local and institutional investors looking to acquire a value-add property in a strong Northern Virginia market," said Sigmon. "It provides the buyer with the potential to raise rental rates by improving several amenity areas and upgrading existing units while benefitting from strong in-place cash flow."
The garden-style community has been well-maintained, with nearly $5 million invested in renovations since 2013. By enhancing the remaining 144 units, the upgrades will provide impactful income growth with premiums ranging from $150 to $200 per month per unit.
According to Delta Associates' Second Quarter 2019 Mid-Atlantic Class A Apartment Market Report, vacancy remains low at 4.7 percent in east Prince William County as a significant amount of new supply has been absorbed in recent years. Rent growth is reported to be 4.3 percent in the 12 months ending June 2019.
Misty Ridge, located in Prince William County, the second-largest county in Northern Virginia, is less than 25 miles from downtown Washington, D.C. It is located strategically near US Route 1 with easy access to Interstate 95 express lanes and the Rippon Station VRE commuter rail. By connecting to the Franconia-Springfield Metro Station and AMTRAK's Northeast Regional line at Woodbridge Station, commuters will benefit from easy connectivity to employment centers in Fairfax County, Alexandria, Arlington and Washington, D.C.
The TCS Mid-Atlantic Multifamily group provides a full range of Investment Sales Services throughout Washington, D.C., Northern Virginia, Richmond, Baltimore, Philadelphia, and Delaware. The group's recent client roster includes Sentinel Real Estate, Federal Capital Partners, Foulger Pratt with DLJ, Hampshire Properties, Aimco, Avalon Bay, Equity Residential, The Bozzuto Group, Fannie Mae, AIG Investment, Morgan Properties, Goldman Sachs, JP Morgan and Angelo Gordon.
---
About Transwestern Commercial Services
Transwestern Commercial Services (TCS) is a privately held real estate firm of collaborative entrepreneurs who deliver a higher level of personalized service and innovative client solutions. Applying a consultative approach to Agency Leasing, Asset Services, Occupier Solutions, Capital Markets and Research, our fully integrated global organization adds value for investors, owners and occupiers of all commercial property types. We leverage market insight and operational expertise from across the Transwestern enterprise, which includes firms specializing in development and real estate investment management. TCS has 34 U.S. offices and assists clients from more than 200 offices in 37 countries through strategic alliances with France-based BNP Paribas Real Estate and Canada-based Devencore.