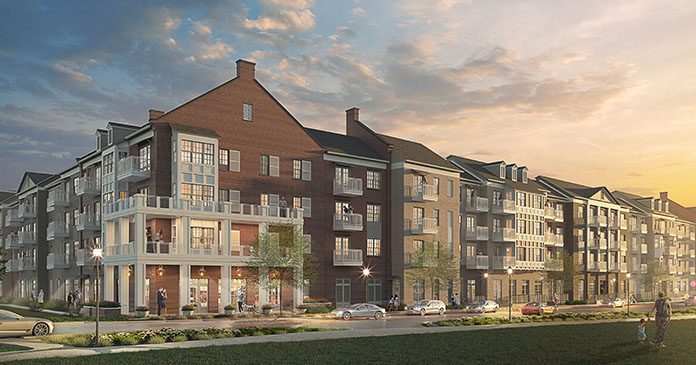 StreetLights Residential recently broke ground on the third phase of their residential project within The Canals at Grand Park. The four-story development, The Margo, will bring 358 new residences to this fast-growing neighborhood in Frisco. Apartment homes range in size from 505 to 2,000 square-feet, and are offered in studio, one-, two- and three-bedroom floor plans as well as townhomes.
The Margo combines exceptional design with ultimate convenience, providing easy access to the downtown Frisco area, as well as Legacy West. Residents can take a leisurely walk down the paseos on their way to the courtyard that provides an open gathering area complete with grill stations a fire pit, lounge seating and TV's.
The Margo is steps away from Founders Hall, a spacious community center offering indoor and outdoor activities for the entire south side of The Canals at Grand Park. Residents can gather with friends and relax by the two pools, entertain on the lawn with outdoor games, access the state-of-the-art athletic club and relax in the game or theater room. Additionally, The Margo offers co-working spaces, a creative makers space with a chef's kitchen, potting shed area for gardening and private lounge.
"Our tenants tend to be very active—walkability and accessibility to neighborhood amenities are pivotal—they are looking for a great mix of features complete with modern touches," said StreetLights CEO Doug Chesnut. "The Margo continues the StreetLights vision and core design philosophy—it is built for longevity and provides a contemporary comfortable lifestyle set in a booming and highly desired north Texas community."
The Margo showcases classic style architecture designed by architects LRK and Streetlights Creative Studio. Ink + Oro designed the leasing and amenity spaces.
Other StreetLights' Frisco developments include phase one and two of the three-phase, 1,050-unit master planned community, The Kathryn – The Canals at Grand Park and The Maxwell, both now open; StreetLights' Dallas developments include The Christopher, a 23-story residential high-rise comprised of 309 units, located in Victory Park, now leasing; The Hamilton, a 26-story residential high-rise in Dallas' historic Deep Ellum neighborhood, which will soon be pre-leasing; and, The McKenzie, a 22-story residential high-rise in the Knox-Henderson neighborhood, recently completed and now leasing.
---
About StreetLights Residential
StreetLights Residential specializes in new urbanist apartment homes and mixed-use developments. With in-house development, design, and construction expertise, the StreetLights team focuses on custom luxury communities which rival the experience, lifestyle and amenities of living in an urban boutique hotel. StreetLights has numerous urban infill projects throughout the country with more than 9,400 multifamily units completed, in progress or projected in 11 cities across five states. Since StreetLights' inception in 2011, the company has grown to more than 150 employees in its development and construction companies and has offices in Dallas, Atlanta, Orlando, Phoenix and San Diego. For more information, visit www.streetlightsres.com.
About SLR Construction
SLR Texas Construction was formed in 2011, with regional offices in Dallas, Phoenix, Atlanta and Houston. The core leadership of SLR Texas Construction has worked together for 20+ years and has completed several thousand multifamily units ranging in product type from suburban stick to luxury high-rise. The group prides itself on being able to successfully implement complicated urban, high density projects.