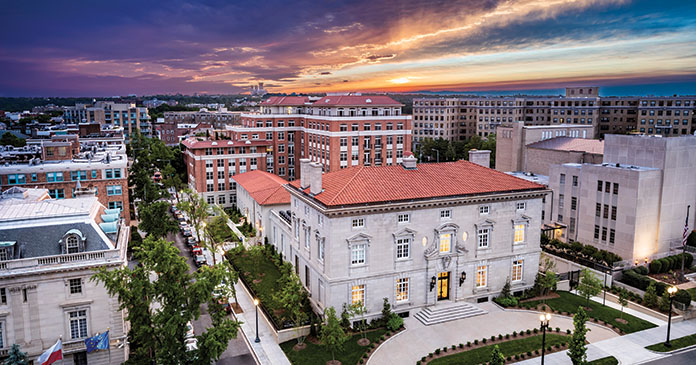 The winners of top honors in the National Association of Home Builders' 2019 Pillars of the Industry competition are providing new housing for military service personnel and university students, affordable apartments for low-income residents and preserving historic buildings, while enhancing the neighborhoods they embellish from the Atlantic to the Pacific.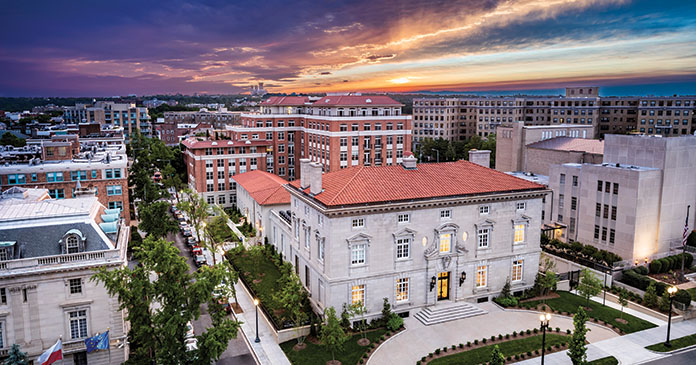 Modera Sedici
The 134-unit Modera Sedici, which won the prize for the Best Adaptive Reuse of a non-residential product, and also won the title of Pillars Multifamily Community of the Year, is located on the grounds of the former Italian embassy in Washington, D.C. The neo-renaissance-style building was originally designed by Whitney Warren and Charles Wetmore in 1925. It was adapted to provide 22 apartments. The other 112 apartments that make up the community are housed in a new nine-story building that is linked to and complements the historic structure.
Boca Raton, Fla.-based Mill Creek Residential Trust renovated the deteriorating building preserving many of the historic elements of the structure, including the parquet and travertine marble flooring. Amenities include a reimagined grand ballroom adorned by crown molding and parquet flooring, a resident lounge with fireplaces and original millwork, a rooftop terrace, a historical courtyard and a fitness facility outfitted with equipment imported from Italy.
The community was designed by Tysons, Va.-based architectural firm DSC Design and built by general contractor Mill Creek Mid-Atlantic Construction LLC.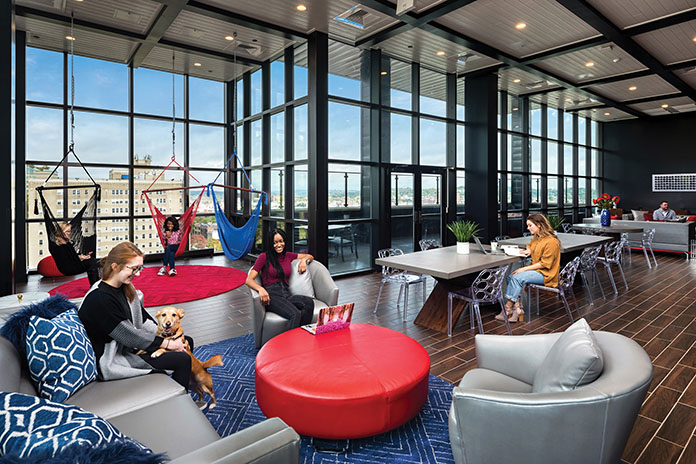 One on Centre
One on Centre, is the winner of the Pillars award for the Best Student Housing Rental Apartment Community. The 17-story, 329-unit community is located in Pittsburgh, Penn. It was constructed on a former parking lot, within walking distance of both the University of Pittsburgh and of Carnegie Mellon University.
The 723-bed community was designed by Humphreys and Partners Architects of Dallas, Texas. It includes studio, one-, two- and three-bedroom apartments and is comprised of six levels of parking and 14 stories of student housing that rise above 9,000 sq. ft. of ground-floor retail space.
One on Centre's residents enjoy expanded HD cable and high-speed internet, a swimming pool and hot tub, a dog spa, a theater and an outdoor party and pool deck on the seventh floor. Other community amenities include a computer lab, a fitness center with yoga studio and saunas, a PGA Golf Simulator, bike storage, a business center, a lounge and a multi-use room.
The apartments feature individual locking bedrooms and private bathrooms. The kitchens include dishwashers, ice makers, and stainless steel appliances in the kitchens while the living spaces include carpet and vinyl flooring, walk-in and linen closets, double-paned windows and window coverings.
The project was developed by New York City-based Park7 Group and Memphis, Tenn.-based Education Realty. It was built by Pittsburgh-based general contractor Massaro Corporation.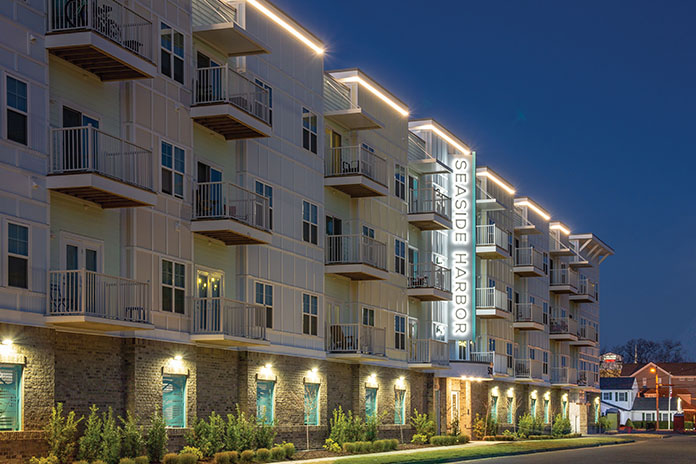 Seaside Harbor Apartments
Seaside Harbor Apartments, winner of the award for the Best Affordable Apartment Community of 100 units or less, is located in the ViBe Creative District, a cultural arts enclave in Virginia Beach, Va.
The community was co-developed by Virginia Beach-headquartered The Lawson Companies and Samaritan House, which provides housing, support services and community outreach to victims of violence and homeless families in the Hampton Roads region.
The 76-unit community replaced 39 units in two 1960s-era complexes owned by Samaritan House. The apartments include 19 fully-accessible units for low-income residents and 11 units reserved for residents with developmental disabilities capable of independent living. They were 100 percent occupied within 40 days after receiving a certificate of occupancy.
The three-story, energy-efficient EarthCraft-certified community rises above ground-level parking just three blocks from the ocean. It houses one-, two- and three-bedroom apartments that include chef's kitchens with dishwashers, washer and dryer connections, bathrooms with double sinks and balconies. Community amenities include a clubhouse, a fitness center, bike racks, controlled access, covered parking and a laundry facility.
Chesapeake, Va.-based architectural firm Retnauer Baynes Associates designed the apartments. They were built by The R.A. Lawson Corporation.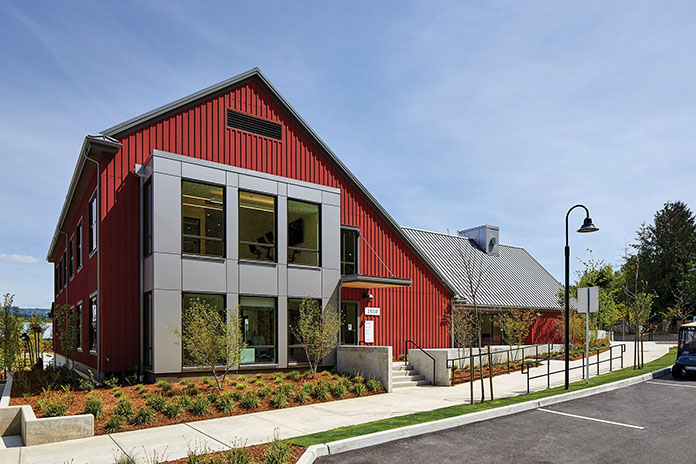 Anthology
The 398-unit Anthology apartments, which captured the Pillars award for the Best Garden Apartment Community, is located in the Seattle suburb of Issaquah, Wash. Issaquah has seen substantial population growth since 2000, nearly quadrupling its population to just under 40,000 people.
Developed by Scottsdale, Ariz.,-based The Wolff Company, the community includes studio, one-, two- and three-bedroom units. The apartments are located between Bellevue, Lake Sammamish and various nature reserves. A nearby interstate highway gives residents easy access to employers like Microsoft, Amazon, and Costco Wholesale, all of which are currently expanding.
Anthology offers community amenities that include the two-story Red Barn clubhouse with a game room, shuffleboard, billiards, a conference room, a fireplace lounge and a community kitchen. It also features a fitness center with a yoga studio and a bike room, an outdoor pool with BBQs, bicycle storage and repair station, a park with patio seating and easy access to nature trails.
Individual apartments include stainless steel appliances, marbled quartz countertops, wood-style plank flooring, washers and dryers and balconies and decks.
The community was designed by VIA Architecture, with offices in Vancouver, Seattle and Oakland, Calif., and built by general contractor Exxel Pacific, which maintains three offices in Washington.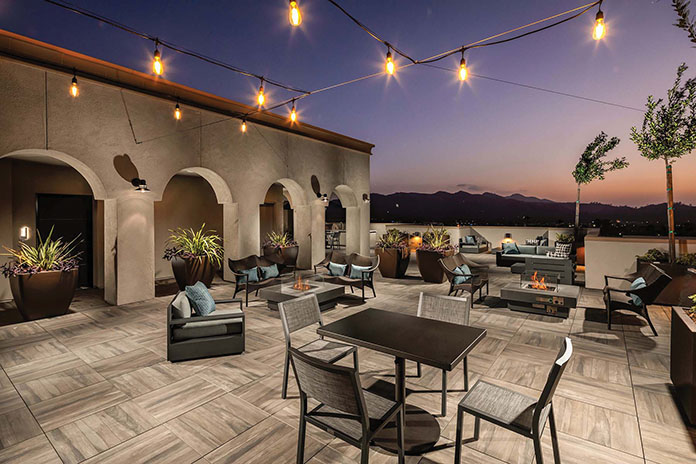 The Harrison Glendale
The 167-unit The Harrison Glendale, which won the title of Best Mid-Rise Apartment Community of six to nine stories was developed by the Las Vegas, Nev.-based Molasky Group of Companies. It is located about eight miles north of downtown Los Angeles.
The six-story, podium-style development is focused on sustainability, meeting California's Cal-Green regulations for water conservation and earning LEED Gold certification. Recycled or reclaimed materials were used during construction and much of the construction waste was processed at on-site recycling facilities.
Sustainable community features include drought tolerant landscaping, a drip irrigation system and preferred parking for electric vehicles. The apartments feature water and energy-saving elements including water efficient fixtures, programmable thermostats, high-efficiency lighting and HVAC systems and large, double-pane windows that provide natural light.
The Harrison's studio, one- and two-bedroom apartments are housed in two buildings that are connected by a second-story courtyard and separated by a central alley. The alley provides drive-through access for the CVS Pharmacy that occupies the entire 15,100 sq. ft. of the community's first-floor retail space.
The apartments include washers and dryers, stainless steel appliances, quartz kitchen countertops, faux wood floors in the living areas and carpet in the bedrooms and USB charging ports in the kitchens and bedrooms.
The community was designed by Humphreys and Partners Architects and was built by Adolfson & Peterson Construction of Minneapolis, Minn.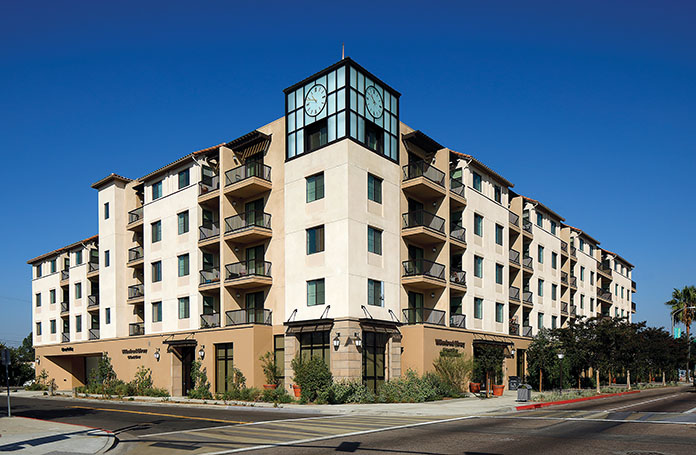 The Gateway at Willowbrook
The Gateway at Willowbrook, winner of the Pillars award for the Best Affordable Community of 100 units or more, is located just 12 miles south of downtown Los Angeles. The mixed-use community was developed by Los Angeles-based Thomas Safran & Associates.
The community includes 105 one- and two-bedroom units on four floors. Apartments feature wall-to-wall carpeting and vinyl flooring and high-speed internet access. The units are reserved for low-income and formerly homeless seniors 62 years and older.
The building's ground floor is occupied by the new 8,000 sq. ft. Willowbook Public Library that replaces Willowbrook's much smaller 30-year-old library. In addition to books, the library includes reading areas, a workforce center, family areas and public access computers that make it a true community service.
"The Gateway at Willowbrook marked the first time Los Angeles County has partnered with the private sector to provide not only housing, but also a library. This is the epitome of what high-quality and affordable development and services can and should look like," said County Supervisor Mark Ridley-Thomas when the community opened on Feb. 1, 2019.
The community was designed by Withee Malcolm Architects LLP of Torrance, Calif. and was built by KPRS Construction Services, Inc., of Brea, Calif.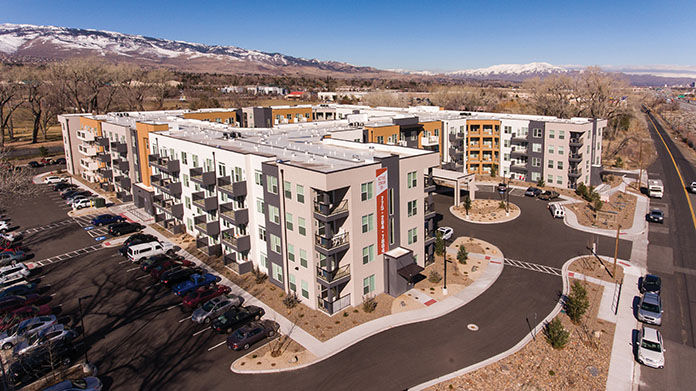 Vintage at the Crossings
Vintage at the Crossings won the award for the Best 55+ Multifamily Community. The four-story apartment complex was developed by a partnership of Reno-based Greenstreet Companies and Vintage Housing, an affordable housing developer based in Newport Beach, Calif. It represents a much-needed addition to the limited affordable senior housing offerings in South Reno.
The community is located on five acres across the street from the South Towne Crossing shopping center. It was made possible by the combined efforts of the City of Reno, the Washoe County HOME Consortium and the state of Nevada housing agencies. It is the first large-scale affordable housing project built in Reno since 2004.
The community offers dramatic views of the Sierra Nevada mountains from the one- and two-bedroom units. In-unit amenities include washers and dryers, patios and balconies, pantries and granite countertops. In order to meet the needs of residents with disabilities, all units include low-pile carpeting and large, accessible bathrooms.
Community features include a community room with a kitchen, a sun room, a formal dining room, an arts and crafts room, a billiards room, a business center, a fitness center, a cinema room with movie theater seating and walking trails.
The community was designed by Humphreys and Partners Architects and Built by Anchorage, Alaska-based Neeser Construction, Inc.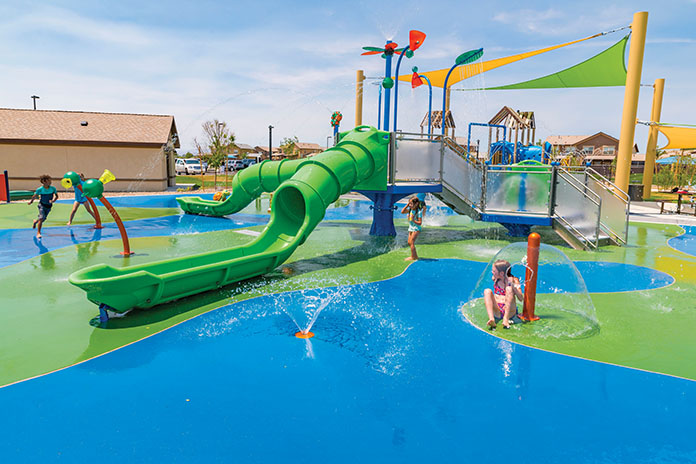 Naval Air Station Fallon
A residential development by San Diego-based Clark Realty Capital at NAS Fallon in Nevada won the Pillars award for the Best Military Housing. It is part of a multi-phase effort to improve and expand housing options for service men and women there.
Conceived as a 103-unit project when started in 2016, high demand for convenient off-base housing prompted the addition of another 36 units to the development. The as-built project includes 63 duplexes and 13 single-family homes. It is located seven miles south of the city of Fallon, just half a mile from the base gates, minimizing commuting time and allowing service members to spend more time with their families.
The new homes were built with sustainability in mind. Designed to achieve U.S. Green Building Council certification, the community features eco-friendly construction products including heat-reflective roof shingles, low emissivity windows, thickened exterior walls and insulation that exceeds state-mandated green building requirements to protect the dwellings from the extreme desert climate.
Community amenities include interconnected walkways, shade structures, sports courts, tot lots, a splash pad, a dog park and a 5,500 sq. ft. clubhouse with a gym, multiple lounges and seating areas, a water park and a playroom. A park features ramps, hills and tunnels of various sizes and a central playground includes additional shade features and eco-friendly lights that turn on at dusk.
The project was designed by architect Torti Gallas + Partners of Los Angeles and built by Arlington, Va.-based CBG Building Company.
Other Pillars award winners were featured in the November-December issue of Multihousing Pro Magazine. They include The Residences at Pacific City, Best Low-Rise Apartment Community; F1rst Residences, Best Mixed-Use Community; Anaha, Best Condo Community, and Waterline Square, Best High-Rise Community.