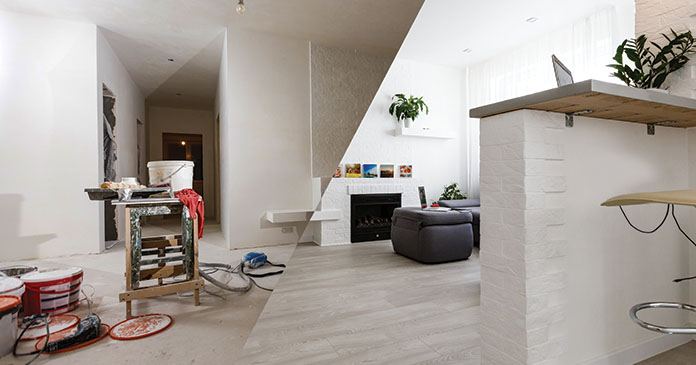 While investors remain bullish on value-add multifamily properties, people making such a financial commitment have at the same time been forced to readjust their sights (not to mention their expectations) in recent years, in the wake of the Great Recession of 2007-08. Gone are the days when it was simply a matter of scooping up a distressed property, making a few repairs, raising the rent and realizing a handsome profit.
Today investors are finding just as much value in newer properties, but it's a matter of where those properties are, and what improvements are made to the property itself, as well as to its management.
Investors have made the most of their opportunities. In 2018, some $32 billion in value-add apartments were sold in the U.S., accounting for 16 percent of the nation's transactions in that sector. The year prior: Value-add investments accounted for 40 percent of the real estate capital raised by private equity firms.
This trend, fueled by governmental policy changes and new employment opportunities in certain submarkets across the nation, is expected to continue for the foreseeable future, especially in areas undergoing job and population growth. Chicago, which has become a tech hotbed, is very much in that mix. There exists a demand for downtown apartments, especially the Class A units favored by millennials and empty-nesters.
Staying ahead of the trends
Susan Tjarksen, managing director of Cushman & Wakefield's Strategic Capital Markets Group, said that such options such as co-living will remain popular with those seeking affordable options in the best neighborhoods—a trend also noted by investors. Short-term rentals are also a viable alternative. "The data show they are poised for continued growth. We're also going to see the continued evolution of affordable housing in Chicago as demand leads a variety of private and public partners to join forces to solve the workforce housing crisis," Tjarksen said.
Amenities will always be crucial to the value-add equation, and property owners are becoming increasingly inventive along those lines, providing green spaces like the two-acre park completed by the firm Lendlease along the Chicago River and artwork like the Kiwi sculpture erected at Optima Signature's luxury high rise.
Seeking new opportunities
It is also expected that in the years ahead, such things as de-conversions—transitioning condos into rentals—will gain traction, as will flexible amenity spaces, since renters' needs are ever-changing. At present, however, in-unit upgrades are as desirable as any. That was the conclusion shared by two Chicago-area real estate professionals, Evergreen Real Estate Group president Steve Rappin and Habitat Co. vice president of acquisitions and investments Bryan Sullivan, in a recent interview.
Rappin believes improvements made to kitchens and bathrooms offer the best ROI, as do things like updated windows and HVAC units. Derrick Hawthorne, vice president of asset management and acquisitions at another Chicago firm, Draper and Kramer, likewise believes that it is important to hit the mark with residents, but mentioned doing so in a grander way—with something like a clubhouse.
Carlos Vaz, CEO, and co-founder of the Conti Organization in Dallas, said that, in his estimation, there are four tiers of renovations for a value-add property, giving renters greater flexibility and affordability:
Complete renovation.
Partial renovation.
Minimal upgrades: new appliances.
Painting, some landscaping.
Property owners should also look to eliminate management inefficiencies. A re-brand is not the worst idea. A revamped color scheme and new signage can go a long way toward eliminating whatever stigma might have been attached to the community in the past.
Selecting a focus
Properties 15 years old or older represent the most desirable value-add opportunities. Those properties needing even small upgrades can make a considerable difference, even as the focus shifts to newer properties. Greg Willett, chief economist for RealPage Inc. in Richardson, Texas, said that there is a vast difference between construction completed in 2010 and those properties completed more recently.
Product has gone "more and more upscale very quickly," said Willett
No matter the property's age, the goal remains the same. And the ancient real estate aphorism about location continues to hold true.
Private equity firm Trion Properties recently purchased 11 apartment communities in Portland, Ore. as a value-add deal. Trion CEO, Max Sharkansky, noted that there remain promising opportunities in cities like Salt Lake City, Denver—even the Dallas-Fort Worth metroplex, where investment groups came together to acquire four multifamily communities totaling nearly 800 units in the mid-2010s.
Adapt to prosper
The value-add challenge has only increased since then. Yet investors have been able to adapt while preparing themselves for a future that promises to bring more change.
---
Author Michael Zaransky, MZ Capital Partners