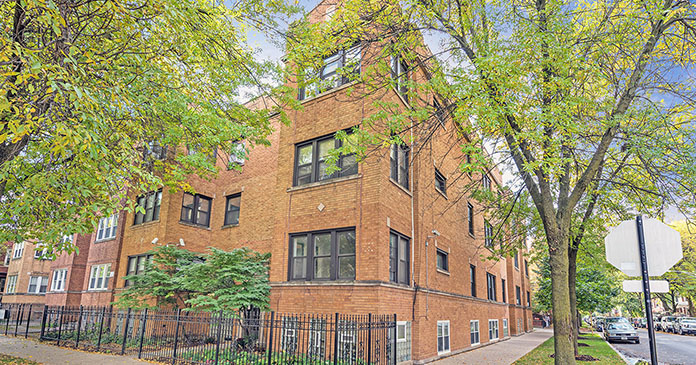 Interra Realty, a Chicago-based commercial real estate investment services firm, announced it brokered the $2.075 million sale of 3821-23 W. Wrightwood Ave., a 13-unit multifamily building in Chicago's Logan Square neighborhood. The price per unit was $159,615.
Senior Managing Partner Joe Smazal represented both the private seller and buyer, who acquired the property as part of a 1031 exchange. Originally scheduled to close in April, the sale was canceled in March due to the COVID-19 pandemic. After the property and market performed well in the months that followed, the deal was reinstated at the original price and terms in late June.
"The buyer owns properties throughout the city and knows Logan Square is increasingly drawing renters willing to pay higher prices for quality residences," said Smazal. "Although the deal initially went off the track when the pandemic hit, the buyer knew the building was a good long-term investment and came back to the table with equity from the sale of a Lakeview property. Middle-market multifamily remains strong in Chicago heading into the fourth quarter, and we continue to help investors—including 1031 buyers—find the best opportunities in the current landscape."
Built in 1924, 3821-23 W. Wrightwood includes one one-bedroom, five two-bedroom and seven three-bedroom units. The building was 92 percent occupied at the time of the sale.
The property offers proximity to shopping, dining and nightlife throughout Logan Square, as well as several CTA bus routes, the Logan Square Blue Line stop and Healy Metra station.