It doesn't get bigger than this. The National Association of Home Builders, one of the largest and most influential trade associations in the country, has grown alongside the nation and its housing providers for eight decades. NAHB's Multifamily Pillars of the Industry Awards celebrates the best and the brightest in multifamily housing with today's winners adding their achievements to the legacy of accomplishment of those who came before.
Housing providers are an intrinsic part of the American fabric and its rich and great history. Few other sectors are so closely intertwined with the nation's economic growth, prosperity or enduring work ethic.
80 years building a nation
From its inception in 1942, NAHB almost immediately stepped into a position far beyond that of other associations.
Few events were as significant as the return of nearly 16 million U.S. veterans at the end of World War II. The majority of those returning would be unemployed and untrained, potentially bringing economic instability, perhaps even triggering another depression.
On Jan. 10, 1944, Congress passed what is now considered the most transformative piece of legislation ever produced—the Serviceman's Readjustment Act of 1944. It was signed into law June 22, a little over two weeks after the Allied invasion of Normandy. It would later become known as the GI Bill of Rights because it offered federal aid to veterans to buy homes, get jobs and pursue educations. The intent was to smooth their reentry to civilian life.
The result was great growth to the country, and NAHB was there from the beginning. As veterans returned, got married and started families, the need for housing grew.
The mass production of affordable homes and the employment of countless veterans, alerted lawmakers to the importance of the housing industry, setting NAHB on its way.
Today, NAHB represents over a third of all home builders and remodelers across single- and multifamily development and is housing's most powerful advocate on Capitol Hill, providing expertise on the economy, the housing market and more. NAHB's long and rich history is a critical resource of knowledge and historical precedent in guiding the nation's future housing direction.
The housing market has always been driven, first and primarily, by the residents and their present-day needs. This understanding continues to fuel NAHB and its members' success.
The next historic milestone
The last year was anything but business as usual. As COVID rules and regulations shifted, supply chains tightened and the economy staggered. Residents' lives and preferences altered as work from home changed everything about apartment living.
In all market condition, developers have proven an exceptional ability to adapt. Today, health and wellness has risen on the list of design priorities and this is particularly evident in this year's Multifamily Pillars' winners.
Outdoor spaces for gathering and exercise, more storage for bulk shopping, and low maintenance finishes to simplify cleaning are just a few of the notable changes. Home office space has risen to become a must-have as work from home continues to change the use and purpose of today's apartment.
Now, on to the best of the best. The envelope please.
---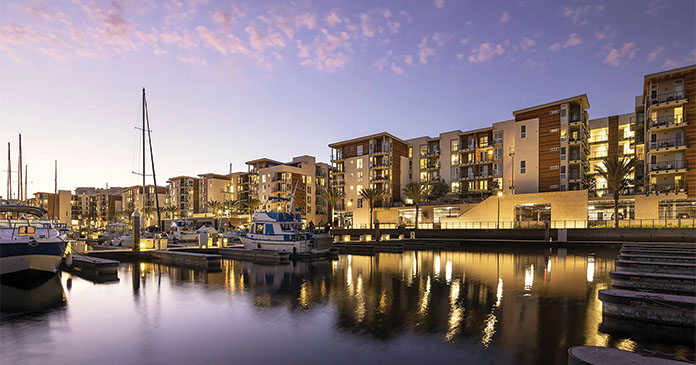 MULTIFAMILY COMMUNITY OF THE YEAR
BEST LOW-RISE APARTMENT COMMUNITY (NON-GARDEN, 5 STORIES OR LESS)
AMLI Marina Del Rey
Location: Marina Del Rey, Calif.
Developer: AMLI Residential
Architect: TCA Architects
GC: Western National Builders
Interior Design: H. Hendy Associates
Construct: 585 units, 6 buildings, mixed use, studios, 1, 2, 3-bdrm. plans, 594 to 1,778 sq. ft.
Just on the marina's edge, exteriors are designed to look like a boathouse, following the nautical theme. The property centers on experiencing the sea and saltwater air. Outdoor gathering spaces include two pools, fireplaces, monument walls, trellises, plazas and promenades.
A LEED Silver certification gives residents a head start on lowering their utility bills and living in a built space designed from the ground up with health in mind.
---
BEST LOW-RISE APARTMENT COMMUNITY (NON-GARDEN, 5 STORIES OR LESS)
Residences at Escaya
Location: Chula Vista, Calif.
Developer: Home Fed Corporation
Architect: AO
GC: ReyLenn Construction Co.
Interior Design: Design Tech Commercial
Construct: 272 units, 3 stories, 1, 2, 3-bdrm. plans, 789 to 1,560 sq. ft.
Part of the master planned community of Otay Ranch, Residences at Escaya are designed around a main street experience. A central village green is flanked by boutique shops, community retail and sidewalk cafes, with pedestrian walkways and diagonal and parallel parking to further emulate a main street. The pedestrian experience is further enhanced with a series of outdoor plazas, parks and multi-level landscaping.
The resident demographic spans multicultural millennial couples to large families. The architecture responds with several smaller, customized buildings to meet the unique site geometry while delivering a broad range of building and unit plans that cater to the dynamic market.
---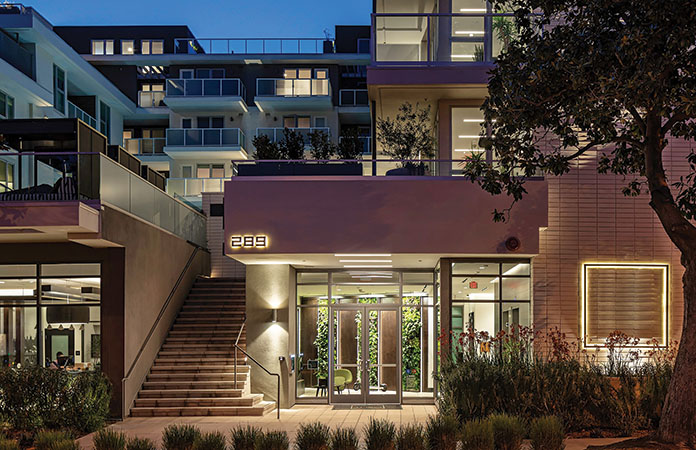 BEST MID-RISE APARTMENT COMMUNITY (6 TO 9 STORIES)
THEO
Location: Pasadena, Calif.
Developer: Summerhill Apartment Communities
Architect: KTGY
GC: Crane Development
Interior Design: Ryan Young Interiors
Construct: 105 units, 3-6 stories, 1, 2 bdrm. plans, 671 to 1,363 sq. ft.
THEO is designed in a modern, mid-twentieth-century aesthetic to match the character of the surrounding neighborhood. Design elements include large flat monochromatic wall planes and floor-to-ceiling windows to provide direct connection with the outdoors.
The project design was adapted to save a 75-foot deodar cedar tree at the northeast corner of the site and to create a 30-foot-wide publicly accessible pocket park where residents and locals alike can sit and enjoy the tranquil surroundings.
The building includes rooftop terraces, which include observation decks, sun lounges, a pool deck, outdoor dining and pet areas. The outdoor spaces allow residents to connect with nature and stunning mountain vistas. These areas are perfect for social engagement, exercise, and quiet contemplation.
---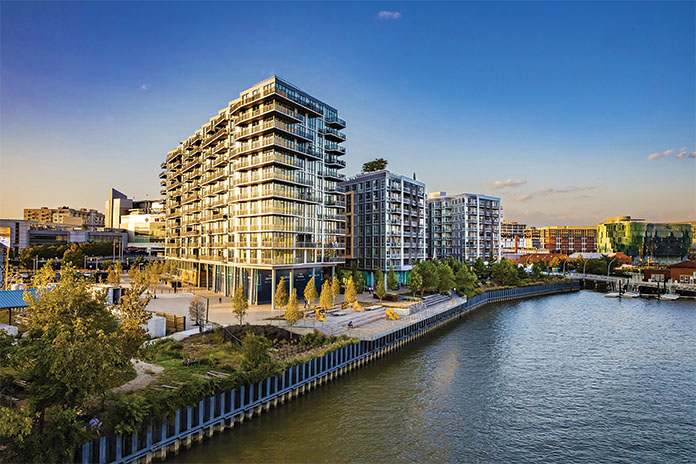 BEST HIGH-RISE APARTMENT COMMUNITY (10 PLUS STORIES)
The Maren
Location: Washington, D.C.
Developer: MRP Realty
Architect: SK+I Architecture
GC: Paradigm Contractors
Interior Design: Carlyn & Co. Interiors+Design
Construct: 300 units, 12-story, mixed use over retail Studio, 1, 2, 3-bedroom plans, 409 to 1,618 sq. ft.
The Maren includes multifamily housing over 10,000 sq. ft. of ground-level retail located on the Anacostia River in Washington, D.C., and just south of the Nationals baseball stadium.
Units include upscale finishes such as Brizo plumbing fixtures with touch faucets, smart thermostats and LATCH unit smart locks. Community amenities include a roof deck with swimming pool, fitness center and lounge with fully equipped bar. A flexible workspace managed by MakeOffice is located on the second level.
The property provides secure garage parking and a 6,500-sq.-ft., double-height event space adjacent to the ground-floor lobby.
The community is convenient to waterfront dining and drinking options and to nearby Dock 79.
---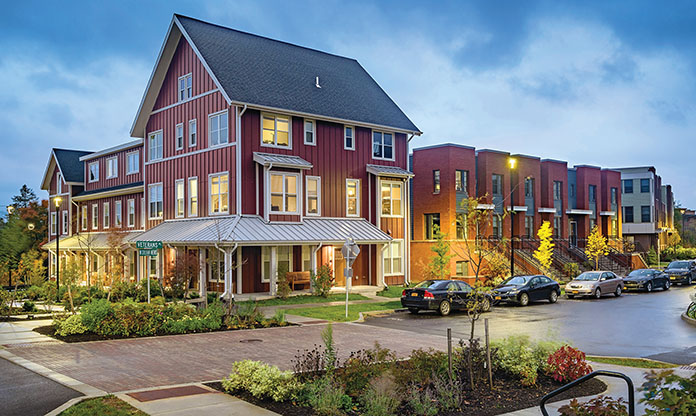 BEST STUDENT HOUSING RENTAL APARTMENT COMMUNITY
MAPLEWOOD
Location: Ithaca, N.Y.
Architect: Torti Gallas and Partners
Construct: 872 beds, 4 and 5-stories, 100 townhouses, 10 stacked flat buildings
Maplewood is a direct response to Cornell University's need for affordable housing for its graduate students. In addition to housing, the property includes a 7,700 sq. ft. community center and neighborhood retail. The community is designed with a sensitivity to the town and university, diversity of building types and architectural character, and integrates sustainability in significant way.
The Maplewood neighborhood links Cornell University housing to the Town of Ithaca with a visual ease.
---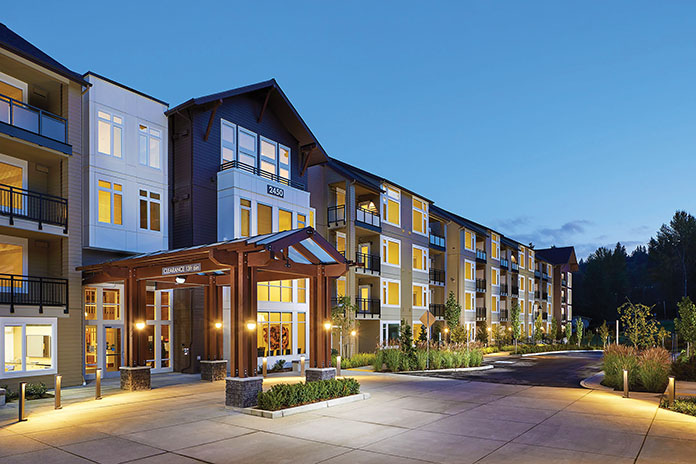 BEST 55+ MULTIFAMILY DEVELOPMENT
Revel Issaquah
Location: Issaquah, Washington
Developer: The Wolff Company
Architect: VIA Architecture
GC: Exxel Pacific
Interior Design: Private Label International
Construct: 146 units, 5-story building on 6 acres 1, 2-bdrm. plans, 670 to 750 sq. ft.
Revel Issaquah is a new senior housing community in the rapidly growing city of Issaquah, Washington. Issaquah is part of the Seattle metropolitan area, bordered by the Sammamish Plateau and the Issaquah Alps. Most notably, the town is headquarters to the multinational retail company, Costco.
Revel is Class A independent senior housing with mountain and Lake Sammamish views. It is situated along a slope that extends from the road above to the nearby Schneider Creek. The creek and surrounding protected wetlands have been restored with enhanced landscaping buffers and connections to a neighboring multifamily community, Anthology, giving the larger development a truly multi-generation feel.
The building includes two wings with axes running parallel to the site contours, stepping down with the slope.
The north wing is four stories of multifamily residential over single-story parking and indoor heated, saltwater pool and spa. The south wing is five stories of senior residential. Both wings are connected by a lobby, restaurant, fitness room, salon, and theater.
Revel uses sustainable strategies that focus on the area's woods and wetlands. The site incorporates significant restoration with native plants along the creek, incorporating native, drought tolerant and adaptive species, trees and bulbs, and provides seasonal interest though foliage variations.
---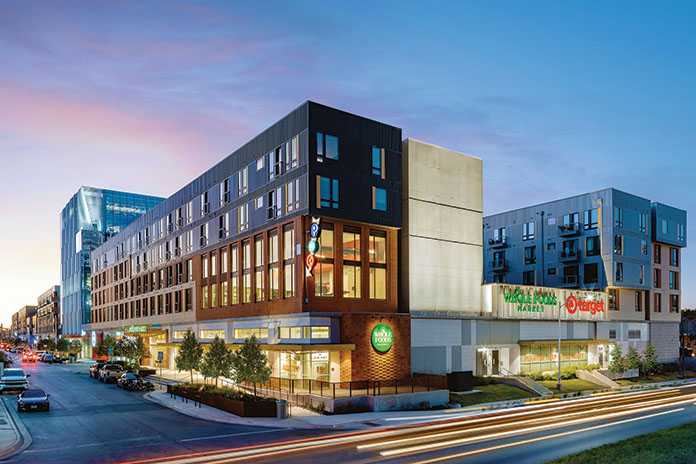 BEST MIXED-USE COMMUNITY
Plaza Saltillo
Location: Austin, Texas
Developer: Endeavor Real Estate Group/Columbus Realty
Architect: JHP Architecture/Urban Design
GC: Rogers-O'Brien Construction
Interior Design: Keaton Interiors
Construct: 800 units, 20% low income, 140,000 sq. ft. office, 110,000 sq. ft. retail Studio, 1, 2-bdrm. plans, 324 to 1,199 sq. ft.
Plaza Saltillo has created a new form of urbanism in downtown Austin. Located in the heart of downtown, this mixed-use, transit-oriented development is located on four city blocks. Included in the development are a variety of restaurants and personal services, as well as a large grocer and retailer, alongside office and multifamily buildings. The entire community is woven together with green space.
Currently, Google, Whole Foods Market, Target, and other global brands anchor the development alongside popular local businesses. The need for density, transportation solutions, and affordable housing in Austin have grown dramatically as the city has matured and grown in population. Work on the site began in June of 2017 and took about 3 years, two site plans, and nine building permits for the project to come to fruition.
---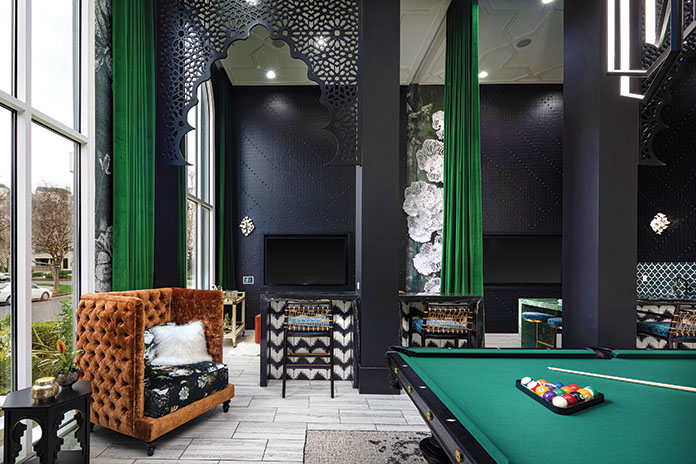 BEST REPOSITIONING/REDEVELOPMENT OF A MULTIFAMILY COMMUNITY
Reveal Playa Vista
Location: Los Angeles, California
Developer: YBR
Architect: TCA Architects
GC: Streamline Builders
Interior Design: H. Hendy Associates
Construct: 214 units, 4-story, 1, 2-bdrm., penthouses 775 to 1,281 sq. ft
Located in the heart of Silicon Beach, a growing neighborhood of high-tech companies including Google, Microsoft, YouTube and Facebook, as well as myriad digital start-ups. The goal: to reinvent this multifamily community, and stand out from the numerous other apartment living options.
Reveal provides unique appeal with an incomparable and rich design, one-of-a-kind amenity spaces and a strong sense of culture.
Spaces are decorated in a Spanish Revival style and Kasbah Moroccan twist. This theme is woven throughout all living spaces, exterior architecture and communal spaces. Showcasing intricate textures; patterns-on-patterns; mosaic tiling; dark, moody hues juxtaposed against pops of color; dramatic lighting fixtures; floor-to-ceiling velvet draping; and curated artwork. Reveal is a modern story with worldly touches and resort-style living.
The new design set out to improve residents' use of previously idle spaces improving overall functionality of space, and aesthetic focal points.
New amenities foster collaboration and community, including a library, an additional coworking area, a multi-purpose lobby and a two-story clubroom.
---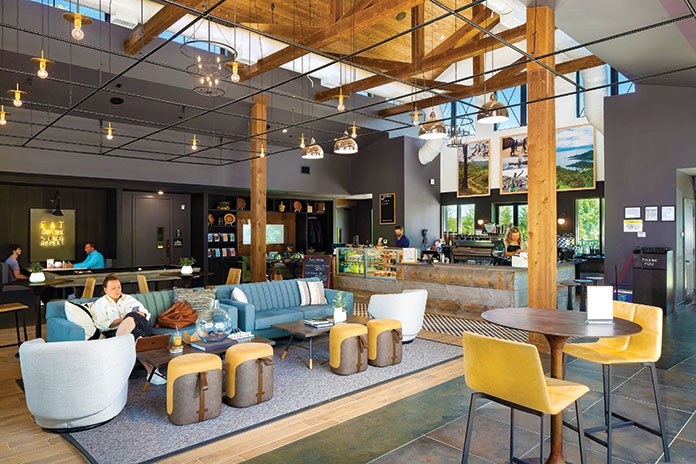 BEST COMMUNITY AMENITIES
Novel West Nashville
Location: Nashville, Tennessee
Developer: Crescent Communities
Architect: Dwell Design Studio
GC: Summit Contracting
Interior Design: CID Design Group
Construct: 435 units, mixed use Studio, 1, 2, 3-bdrm. 537 to 1,376 sq. ft
Just a short drive from the heart of Music City is Novel West Nashville. This community is vibrant and welcoming by design. Common spaces promote social interaction and human engagement, which are encouraged by regular events at the sand volleyball court, through the social club and more.
Novel has expertly programmed a community where residents feel surrounded by friends and the best activities Nashville has to offer. Residents enjoy an easy urban lifestyle with meaningful experiences built into every moment.
Adjacent to the Novel residences, the property includes 2,000 sq. ft. of retail and restaurants, called Charlotte Pike. It's convenient and walkable.
At the hill's crest is a circular resort-style pool, centered by a gas fire pit. Then there's a game room, professional fitness center and a number of social areas, all with fire pits.
Novel West Nashville was sold to Cortland in October of 2021.
---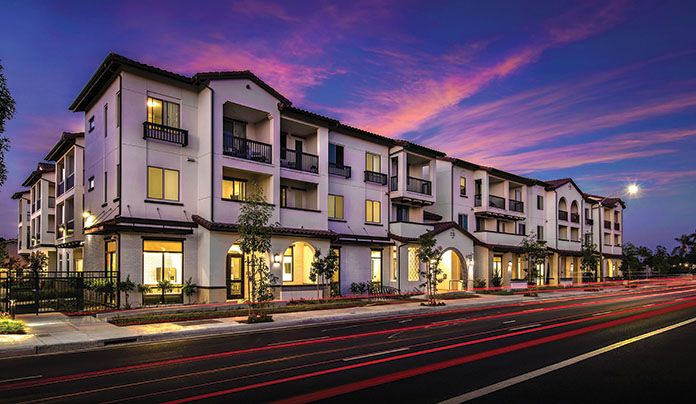 BEST AFFORDABLE DEVELOPMENT (UP TO 100 UNITS)
Heroes Landing
Location: Santa Ana, California
Developer: Jamboree Housing Corp.
Architect: Architecture Design Collaborative
GC: Jamboree's Quality Development and Construction
Interior Design: Ryan Young Interiors
Construct: 76 units Fully-furnished 1, 2-bdrm.
For years, the need for housing for military veterans in Orange County has been unmet, especially for those veterans who are homeless and struggling to survive on the streets. In collaboration with the City of Santa Ana, the Veterans Administration (VA) and four other leading veterans service organizations, nonprofit developer-built Heroes Landing has created the largest permanent supportive housing for veterans in Orange County.
Heroes Landing is a new construction, permanent supportive housing community for 75 homeless veterans and their families. This development is a "a sanctuary of stability and a hub of hope" for some of Orange County's most vulnerable veterans.
The property is a U-shaped, three-story building designed around a central courtyard. Seventy-six fully furnished one- and two-bedroom apartments each include a private open space by way of a balcony. Interior design of common areas feature large murals in the lobby and community room, commissioned and designed by a local artist, dedicated to the branches of the U.S. armed forces and the history of Santa Ana.
Residential space opens onto nearly 10,000 sq. ft. of open courtyard, including a community garden and reflection walk. A 4,500-sq.-ft. community center is home to a veterans' services collaborative, where residents are offered counseling and therapeutic services that address mental health and substance abuse issues, as well as general support for daily living, employment services, and legal assistance.
The construction and opening of Heroes Landing was managed in the middle of the COVID-19 pandemic, safely moving 75 homeless veterans from the street into new, full-furnished affordable apartment homes.
---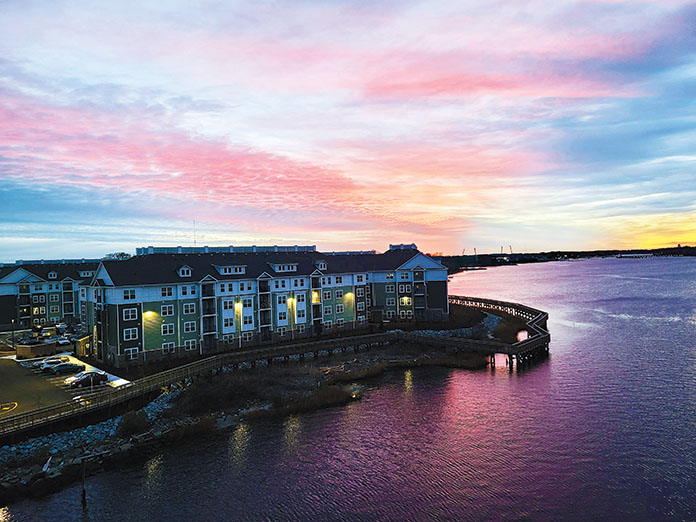 BEST AFFORDABLE DEVELOPMENT (OVER 100 UNITS)
The Retreat at Harbor Pointe
Location: Norkolk, Virginia
Developer: Lawson
Architect: TS3 Architects
GC: The R.A. Lawson Corp.
Interior Design: Define Design
Construct: 246 units, 4 stories, 892 average sq. ft. 100% LIHTC (Low Income Housing Tax Credit) 2, 3-bdrm. 50 Section 8 vouchers, 13 ADA-compliant
The Retreat is a modern riverfront community featuring EarthCraft Certified energy-efficient construction and high-end amenities, including a resort-style pool with pergola, sundeck and river views, clubhouse, state-of-the-art fitness center, elevators, modern kitchens, energy-efficient appliances, granite countertops, LVT flooring, water-conserving fixtures, and a patio or balcony.
Many apartments have views of the river and Norfolk skyline.
Active lifestyles are encouraged with an accessible playground for residents with disabilities, bicycle storage, and direct access to an elevated riverfront boardwalk with handicapped access.
Proximity to buses and The Tide light rail makes downtown Norfolk, shopping, dining, culture, entertainment, MacAuthur Center, The Waterside District, Norfolk State University, Norfolk Scope Arena, Chrysler Hall and employment within easy access.
The Retreat is eco-friendly, replacing non-native plants with salt-tolerant native reeds, adding riprap for erosion prevention, and oyster castles under the boardwalk to help naturally clean the river. Cleanup projects organized by Lawson removed over 3,400 pounds of trash and debris from the riverbank. Conservation efforts resulted in The Retreat being recognized as an Elizabeth River Project 2021 River Star Business.
---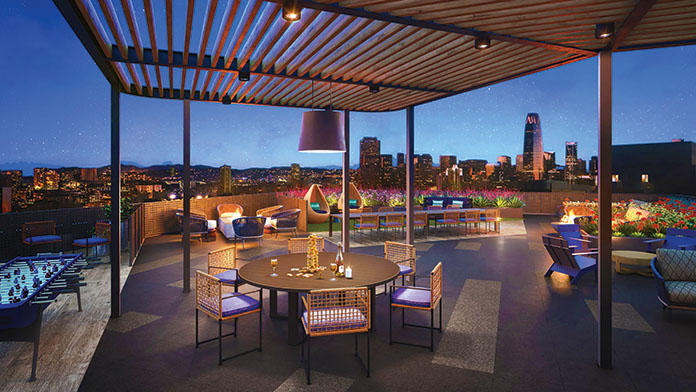 BEST INTERIOR MERCHANDISING OF A COMMON AREA
Astella
Location: San Francisco, California
Developer: Trammell Crow Residential
Architect: KTGY Architecture + Planning
GC: Trammell Crow Residential
Interior Design: CDC Designs
Website: astellaapts.com
---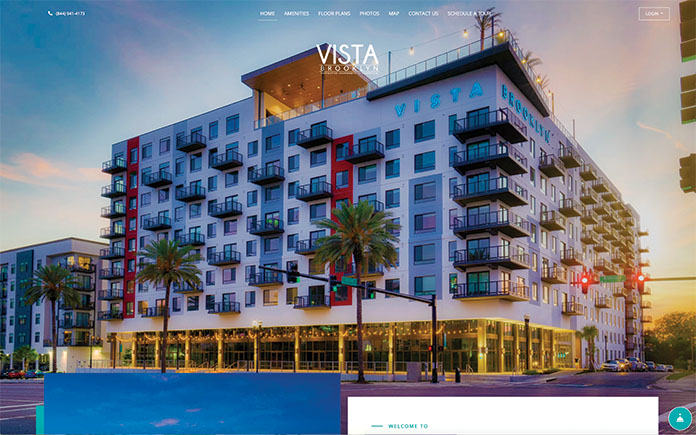 BEST PROPERTY WEBSITE
VISTA BROOKLYN
Location: Franklin, Tennessee
Developer: Bristol Development Group
Architect: J Davis
GC: Brasfield & Gorrie
Interior Design: Moore Design Group
Website: vistabrooklyn.com
---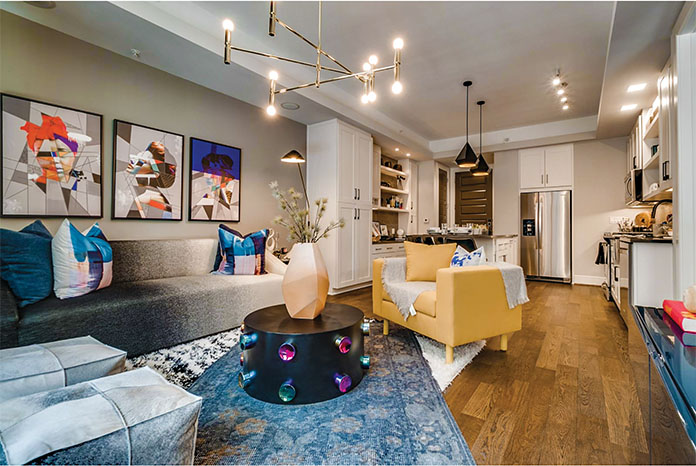 BEST INTERIOR MERCHANDISING OF A MODEL UNIT
The Hamilton at the Epic
Location: Dallas, Texas
Developer: StreetLights Residential
Architect: LRK
GC: SLR Construction
Interior Design: Ink + Oro Creatives
---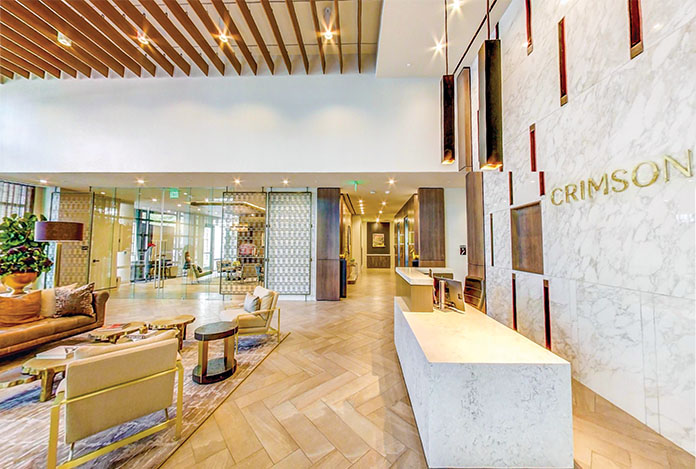 BEST INTERIOR MERCHANDISING OF A LEASING OR SALES CENTER
Crimson
Location: Atlanta, Georgia
Developer: Gables Residential Trust
Architect: Ziegler Cooper Architects
GC: JE Dunn Construction
Interior Design: Ziegler Cooper Architects
Website: crimsonliving.com
---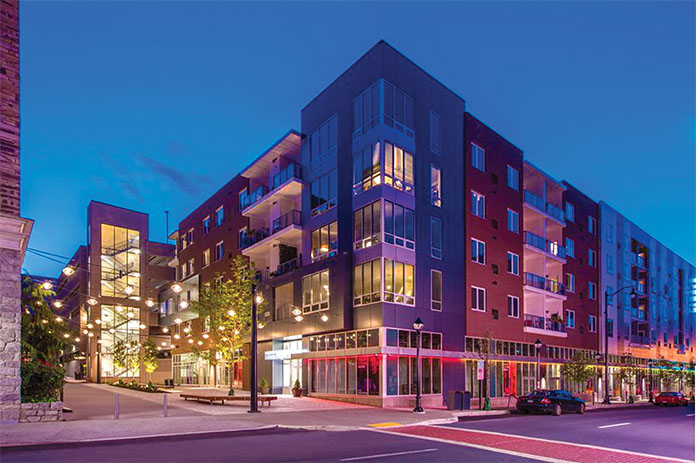 MULTIFAMILY BUILDER OF THE YEAR
Harkins Builders
Location: Columbia, Maryland
CEO/Principle: Gary Garofalo
Website: harkinsbuilders.com
---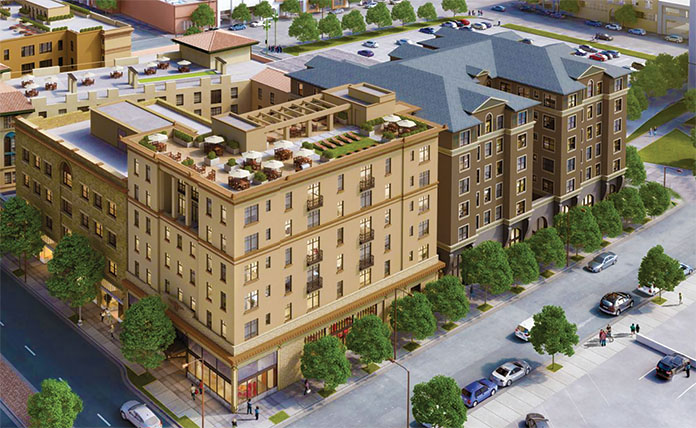 PROPERTY MANAGEMENT FIRM OF THE YEAR
Mill Creek Residential Trust
Location: Boca Raton, Florida
CEO/Principle: William McDonald
Website: millcreekplaces.com
---
MULTIFAMILY DEVELOPMENT FIRM OF THE YEAR
Rangewater Real Estate
Location: Atlanta, Georgia
CEO/Principle: Steven Shores
Website: liverangewater.com
---
Author Bill Johnson