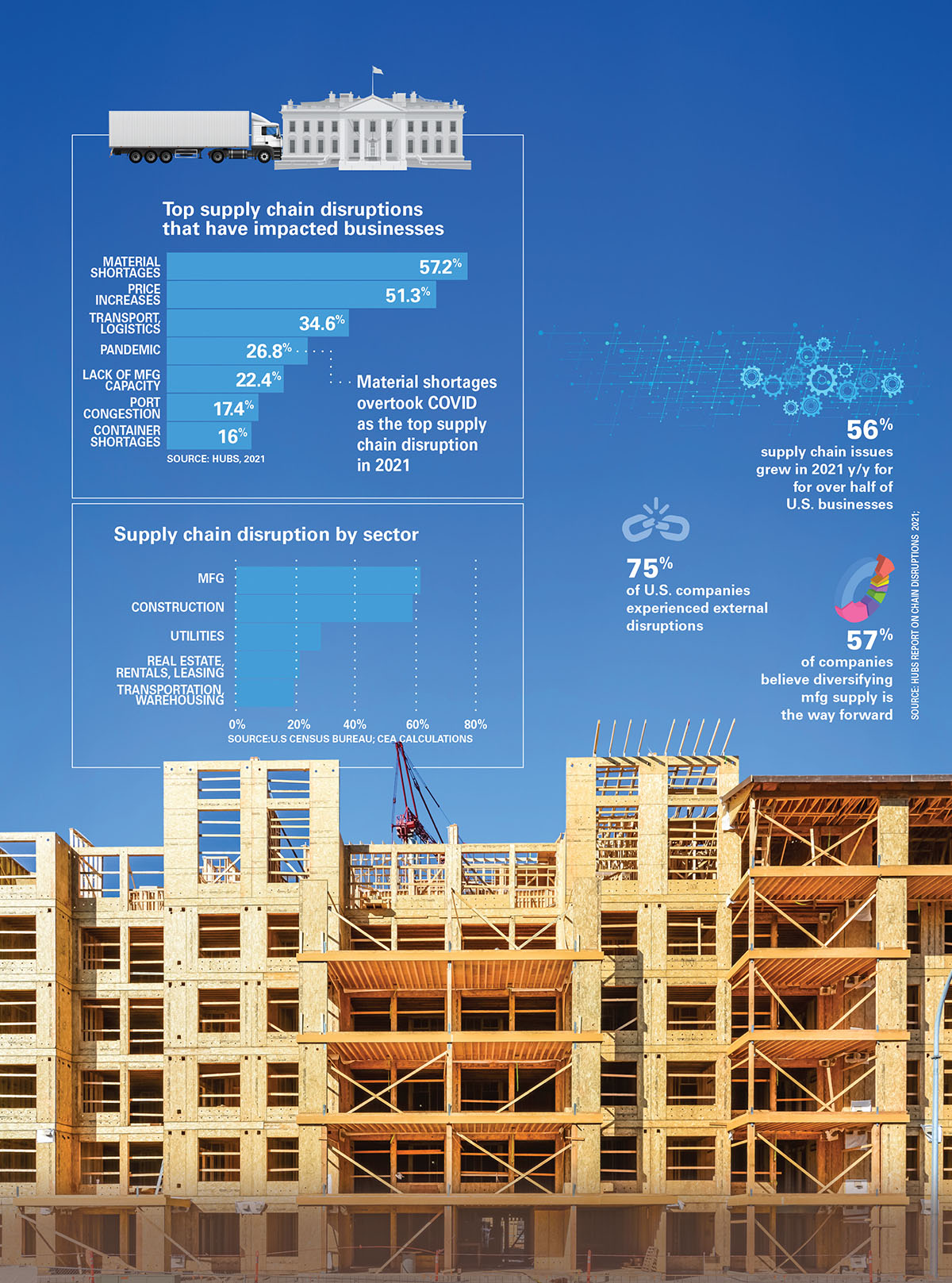 As the construction industry struggles under the burden of material cost increases, supply chain disruptions and labor shortages, demand for single and multifamily homes remains strong. A confluence of conflicting trends that intensified during the pandemic has delayed projects across all real estate building sectors and pushed multifamily developers to look for creative ways to ease the pressure on completion schedules and bottom lines.
Battle of Canadian soft lumber
Soft lumber is a necessity in home building and in low- and mid-rise apartment projects, and, since American builders and developers source at least a quarter of their soft lumber from Canadian mills, it has been a leader in price increases.
The cost of soft lumber from Canada more than doubled over the past year, increasing 142 percent to a record $1,733 per thousand board feet in May, then fell by 75 percent to just $425, before rallying to $800 per thousand board feet at the end of the year, about double the 2019 price. Pundits expect prices to continue increasing well into 2022.
The 24 percent tariff on Canadian soft lumber imposed by President Donald Trump in 2017 was the catalyst for skyrocketing prices. But, even after the duty was reduced to nine percent in December 2020, the price of Canadian lumber remained inflated. Pandemic-caused closures and production stoppages at a number of sawmills added to price hikes and the ensuing supply crunch, as producers scrambled to keep up with demand from the construction industry and homeowners who used their time during lockdowns to remodel their own homes.
Chuck Fowke, Chairman of the National Association of Home Builders (NAHB), testifying in front of Congress on October 20, 2021 on behalf of his organization's more than 140,000 members, acknowledged that systemic weaknesses in the housing industry's building supplies chain had existed for some time, particularly where lumber is concerned, and that the COVID-19 pandemic merely exposed structural weaknesses.
He told Congress that the NAHB estimated in May 2021 that the higher cost of lumber since the previous spring was adding nearly $36,000 to the price of a new single-family home and nearly $13,000 to the cost of a new multifamily unit.
"This is particularly concerning for new and first-generation homebuyers, as NAHB research shows that more than 150,000 households are priced out of the market for every $1,000 increase in the price of a new home," he said, calling on Congress to temporarily suspend tariffs (at least until a longer-term solution could be reached) on materials, ranging from Canadian softwood lumber to steel and aluminum, and to explore solutions to port congestion and persistent delays in truck and rail transportation.
But instead of scaling back import taxes, as Fowke implored Congress in October, the Biden Administration responded the day before Thanksgiving with the announcement of a 17.9 percent increase to the Canadian lumber tariff, while rolling back steel and aluminum tariffs on the European Union.
Construction industry officials believe Biden's plan to double tariffs on Canadian lumber and leave other onerous import taxes in place will undermine industry efforts to meet the nation's high demand for housing.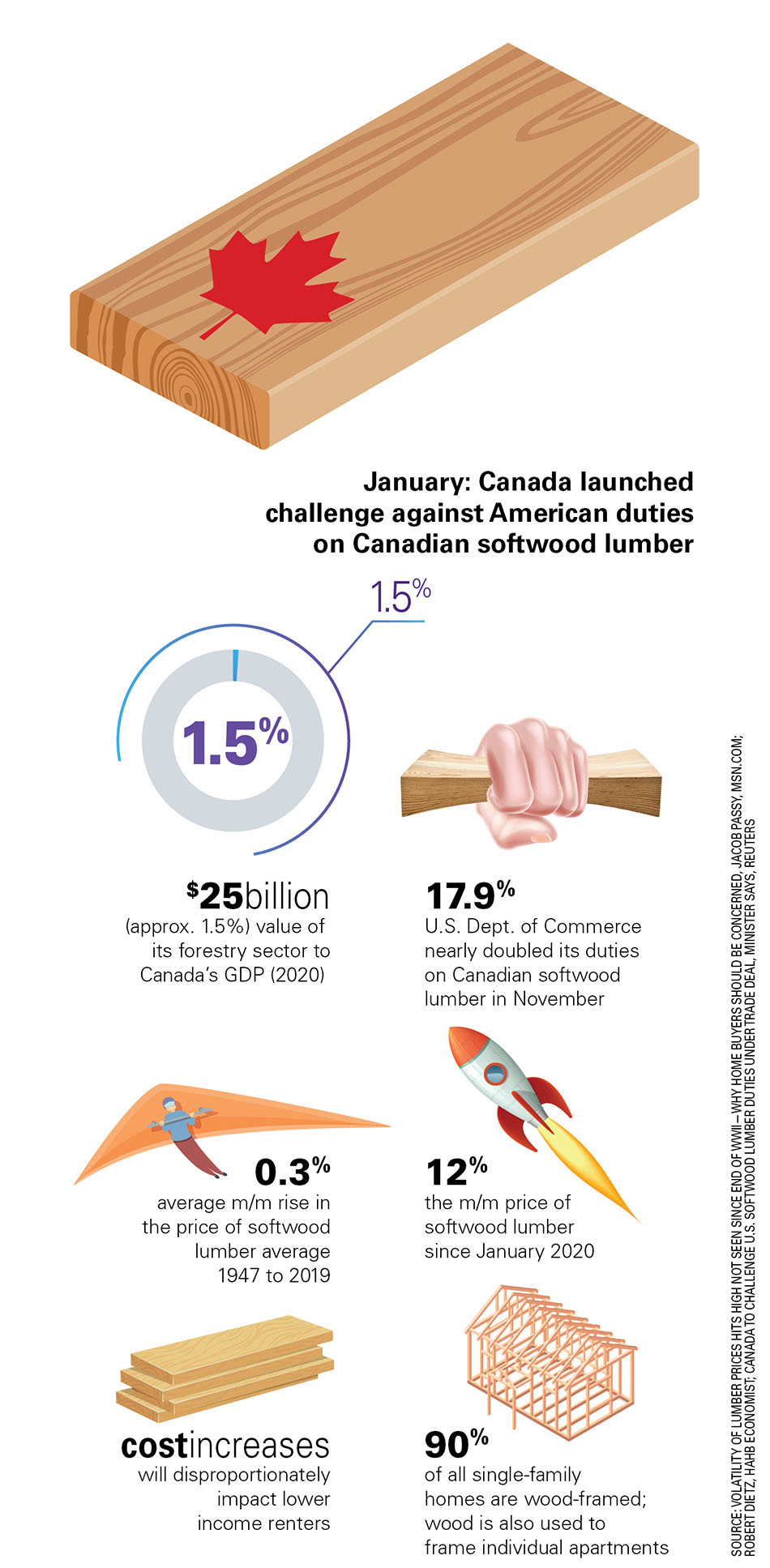 Wood alternatives
High construction costs in the single-family market could represent a silver lining for the apartment sector, albeit a thin one. Throughout the pandemic, many contractors bore the brunt of cost increases in order to keep business flowing. But eventually the problems with material sourcing and the higher costs of the materials themselves will be passed on to the builder and reflect in the higher costs of homes, which Fowke notes, will drive many first-time buyers out of the single-family market and into the renter pool.
Meanwhile, apartment developers are facing their own supply chain and cost inflation problems. Some developers are modifying delivery schedules, ordering in advance and stockpiling in response to these challenges that Caitlin Walter, VP of research with NMHC, expects to persist as long as demand for multifamily remains high. She suggests developers also substitute materials whenever possible as a short-term solution.
Sometimes there are few or no alternatives, but where they do exist, some developers are willing to pay higher prices for available alternative materials in order to avoid delays and reap the inherent benefits these materials offer.
For years, insulated concrete form (ICF) has existed as an alternative to wood framing, but only since the price of wood skyrocketed has it been considered for use in multifamily. An ICF wall system, where a concrete interior is encapsulated in panels of exterior insulated foam, is fire and wind resistant and reduces sound by more than 50 percent compared with insulated wood walls, say manufacturers.
Another alternative to wood framing is cold-formed steel, which has the highest strength-to-weight ratio of any construction material and is more durable and moisture and mold resistant than wood. Steel is one of the most recycled materials in the world and, because it is fire-proof, using it as a substitute for wood framing in multifamily construction could help reduce insurance premiums.
Fortress delivers alternatives
Developers are successfully substituting steel for wood in decking, railing and pergolas and enjoying the perks of less maintenance and a longer lasting product.
Garland, Texas-based Fortress Building Products manufactures a wide range of wood alternative building materials for the multifamily industry—including steel deck framing, capped bamboo-PVC composite decking and cladding, cable, steel, glass and aluminum railing and steel, aluminum and composite fencing.
Jeff Schulz, the company's VP of channel sales, points out the benefits of these wood alternatives.
"Wood must be treated with chemicals and needs constant maintenance—sealing, painting and the replacement of rotted and warped boards. If I am building a rental property, I want to create an environment that attracts residents with the quality of a single-family home. If an (apartment hunter) drives by and sees a wood fence that after a year is starting to deteriorate, needs stain and maintenance, subconsciously they may question the quality of the community," he said.
Steel offers strength, longevity and aesthetics and is impervious to cracking, warping, pests and mold, requiring very little maintenance. Its more expensive than wood, even with recent cost inflation, but when amortized over five to 10 years, the increase is minimal and pays for itself, said Schulz. Wood, on the other hand, is susceptible to just about everything, meaning great short-term savings could turn into serious repair expenses long term, according to construction experts.
When used as perimeter fencing, steel can stand alone or be combined with any filler product, including actual wood boards or Fortress' bamboo-composite planks and post caps that combine bamboo and recycled plastic (Infinity) or its higher-end Apex product that combines bamboo with PVC, said Schulz.
Bamboo is a fast-growing grass, making it a very green material. It affords a rich, wood look when used as decking that can be matched to accent cladding that also serves as a rain screen on the side of buildings.
All Fortress' products can be mixed and matched and tied to other elements of the property for an appealing contiguous look. When combined with steel in Fortress' "Estate" style fencing, Infinity and Apex products provide perimeter privacy and can be used as a structure to hide pool pumps and dumpsters. The company offers a prepackaged "Estate" dumpster kit that comes ready to assemble for a single or double trash enclosure, Schulz explained.
Steel often is utilized as railings on stairs and patios. Fortress' Fe26 PLUS steel railing system, which won a Product Innovation Award from Architectural Products last year, is a pre-welded, easily customized alternative to traditional wrought iron. The highly modular railing system can be adapted to numerous applications.
"It can be matched for aesthetics with our steel deck frames and what we are most excited about this year—steel pergolas," said Schulz.
"When people come out of lockdown, they look for communal spaces that still offer safety. Pergolas around pools or on rooftops can house outdoor community kitchens and barbecue areas and offer spaces for people to be together outside," he said.
Rooftop decks are a growing trend, especially in dense city locations and high-rise construction that provides little area for outdoor spaces.
Fortress recently completed a rooftop deck for the 47-unit, 14 N. Peoria St. Lofts in Chicago, where designers utilized several wood-alternative building products from Fortress, specifically for their fire-resistant qualities, that meet recently upgraded Windy City building codes.
They include Fortress' Evolution steel deck framing and a compatible Evolution steel stair system. Evolution steel profiles were used to assemble a large pergola and Apex-capped bamboo PVC composite cladding boards were used to create a makeshift privacy fence.
NAHB is offering a number of webinars to help builders and other industry professionals navigate supply chain challenges while lumber costs remain volatile.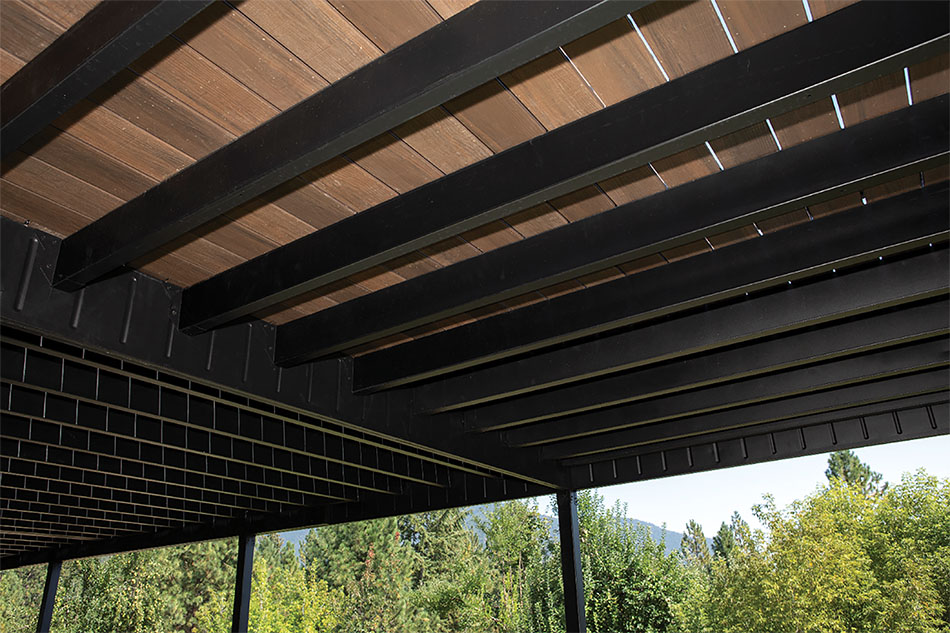 Labor impacts
Some industry players believe the current shortage of labor could be a bigger hindrance to construction growth than materials costs. Apartment REIT Avalon Bay (AVB) cited the cost and availability of labor as a greater concern than inflated lumber prices in its Q1 2021 earnings call.
Matthew Birenbaum, AVB chief investment officer, explained that around 15 to 20 cents of every dollar of the REIT's total development budget, which includes everything in the pipeline, is spent on land, another 15 to 20 cents on soft costs, like permits and architectural fees, and around 60 to 65 cents is directly related to construction hard costs. Only a third of those costs is driven by materials like lumber, while two thirds is attributable to labor.
"And on the materials, when you peel it back further, it's not just an appliance you're buying. It's a roof truss, which is lumber, but it's also labor to put the roof truss together, so the key is the pressure on labor costs. That's what would really move the equation," he said.
And, while rising lumber costs could impact AVB's returns by 25 to 30 basis points, how long they continue to be an issue will be the main driver of the REITs decision to focus on either development or acquisitions going forward, said analysts.
---
Author Wendy Broffman