Interra Realty, a Chicago-based commercial real estate investment services firm, announced it brokered the sale of two multifamily properties on Chicago's South Side: 5124-32 S. Kimbark Ave., a 44-unit condo deconversion in Hyde Park; and 7820 S. South Shore Drive, a 24-unit rental building in the city's South Shore neighborhood.
"With the strong pipeline of new development in the surrounding area—such as the start of construction on the Obama Presidential Center last fall—submarkets on Chicago's South Side continue to be healthy and attract strong interest from a variety of investors, including out-of-state buyers looking to enter the Chicago market," said Interra Managing Partner Lucas Fryman. "These two deals also demonstrate the ongoing interest in multifamily properties requiring some level of renovation, which when complete, translates to higher rents and increased return on investment."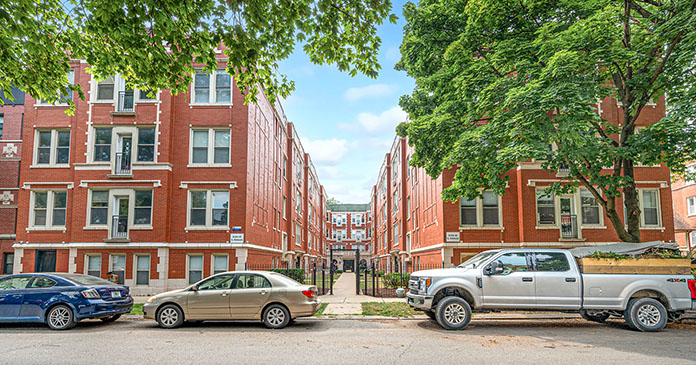 5124-32 S. Kimbark Ave. – $8.71 million
Fryman along with Interra Managing Partner Patrick Kennelly and Director Paul Waterloo represented both the private buyer and sellers in the deconversion sale of 5124-32 S. Kimbark Ave., which sold for $8.71 million, or $198,000 per unit. In facilitating the transaction, Interra helped the building's association navigate the deconversion process, through which condominiums are sold to a single buyer and converted to rentals.
"Despite Chicago's increased threshold of required ownership approval for deconversions, which makes these deals more difficult, there's still a strong appetite for them among both sellers and investors when they offer a good value proposition," said Fryman. "Our team is extremely well-versed in the nuances of deconversions, having closed over a dozen that together total more than $100 million in sales volume, so we were able to help both sides anticipate the hurdles that would be involved and ensure a successful close."
The property's 44 units, which include a mix of one-, two- and three-bedroom apartments, all feature granite countertops, exposed brick, in-unit laundry and individual HVAC. The buyer plans to make updates to the building's common areas.
Less than a mile from Harold Washington Park, 5124-32 S. Kimbark Ave. is also near the 51st/53rd Street station along the Metra Electric District Line.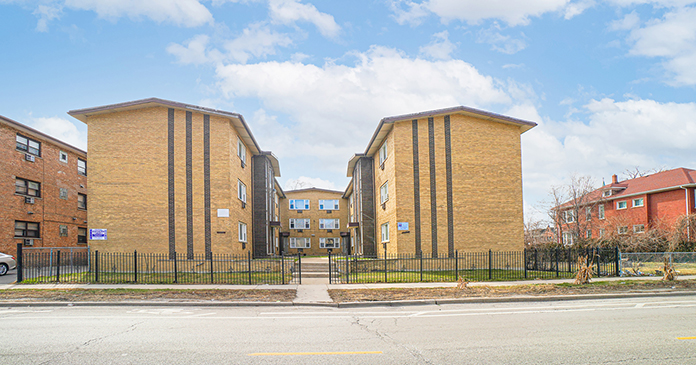 7820 S. South Shore Drive – $1.51 million
Fryman, Kennelly and Waterloo also represented the private buyer and seller in the sale of 7820 S. South Shore Drive, which traded for $1.51 million, or $63,125 per unit.
"Since acquiring this property in 2019, the seller undertook a number of capital improvements—including replacing the roof and windows and addressing a foundation issue—which made this an attractive investment as a value-add opportunity requiring only in-unit updates," said Fryman. "Leveraging Interra's vast network, we were able to quickly source an out-of-state buyer that made a non-contingent offer so the deal could close quickly."
Built in 1966, the property includes 19 one-bedroom apartments and five two-bedroom units. It is close to Rainbow Beach and Rainbow Beach Park, and just over a half-mile from the Windsor Park station along Metra's Electric District Line.