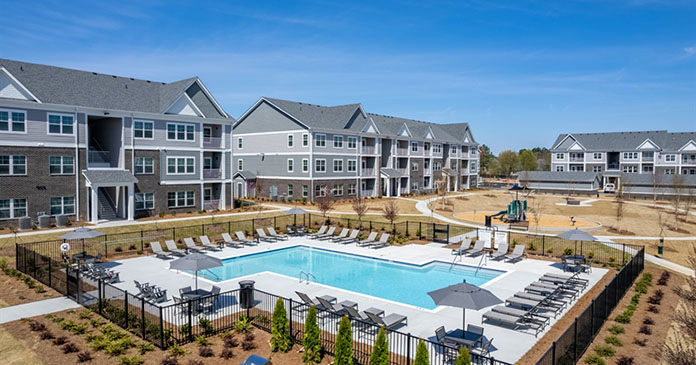 Cushman & Wakefield announced that the commercial real estate services firm arranged the sale of Emblem Grayson, a newly built 344-unit multifamily community in the Loganville submarket of Atlanta.
Cushman & Wakefield's Robert Stickel and Alex Brown represented the sellers, Quarterra & the Real Estate business within Goldman Sachs Asset Management (Goldman Sachs), in the transaction. The multifamily community was acquired by TitanCorp & InvestCorp.
"Quarterra Multifamily (formerly LMC) and Goldman Sachs saw a need to deliver high-quality garden product in Atlanta's suburbs and were able to successfully navigate the barriers to entry in Grayson," said Stickel, Executive Vice Chair at Cushman & Wakefield.
Built in 2022, Emblem Grayson is an institutional quality garden asset with a thoughtful site plan, spacious floorplans, and expansive amenities. The community's unique suburban location provides direct access to Atlanta's sprawling Interstate 85 industrial corridor, as well as prominent intown job centers, such as the Center for Disease Control's headquarters and Emory University.
"TitanCorp and InvestCorp saw an opportunity to realize stable cashflow in this underserved Atlanta submarket and felt like the future growth would be buoyed by the strong lease-up and award-winning school district," added Brown, Executive Managing Director at Cushman & Wakefield.