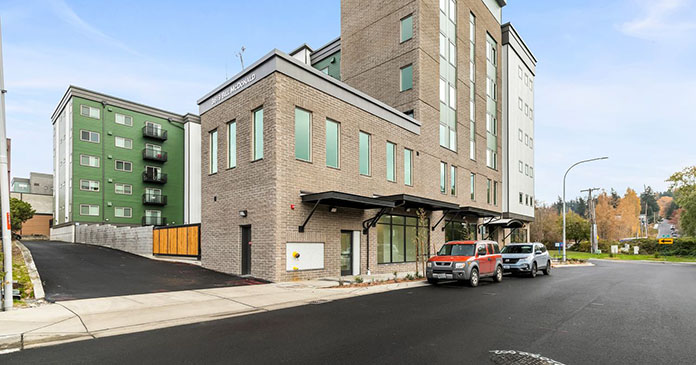 The Mogharebi Group (TMG) has arranged the $18.365 million sale of the 66-unit Samish Station 3, the third and final phase of Samish Station, a 119-unit multifamily community in the Puget Sound city of Bellingham, Wash. The buyer, a local family investment partnership, acquired the first two phases of the development earlier this year for $17.6 million.
"We achieved top pricing for Samish Station through our ability to source strong local connections and relationships," said Mogharebi Group's Ryan Kidwell, who teamed with fellow Senior Vice President Robert Parmar in representing the Bellingham-based developer-seller. "That came despite the substantial complexities involved with this property and the overall challenging capital markets environment. We came to an agreement early on in the process but had to creatively structure things given that the final phase wasn't completed at the time. We were able to successfully steward the deal to completion."
Samish Station offers a range of one- to four-bedroom units in three five-story apartment buildings on an 0.90-acre site at 109 N. Samish Way. Community amenities include a resident clubhouse with kitchen, a fitness center, a patio and grill area, study and lounge spaces, and game rooms.
"The supply and demand dynamics are very favorable for Samish Station, and it's evident in the tight market vacancy of 1.5 percent and 5 percent year-over-year rent growth with only 3.5 percent of existing inventory under construction," added Parmar. "In addition, the property benefits from its proximity to Western Washington University and the need for quality and affordable student housing."
Western Washington University, which has an enrollment of more than 15,000 students, is only three minutes away from Samish Station. Community residents also enjoy very easy access to Interstate 5 and downtown Bellingham, which offers a wealth of restaurants and breweries, as well as a thriving arts scene. In addition to Bellingham Bay, other recreational destinations close to Samish Station include the 180-acre Sehome Hill Arboretum and the 240-acre Whatcom Falls Park.
TMG arranged the sale of Samish Station 1 and Samish Station 2 in the second quarter for a total of $17.635 million. The $332,735 per unit price in that transaction was the highest in Whatcom County history.