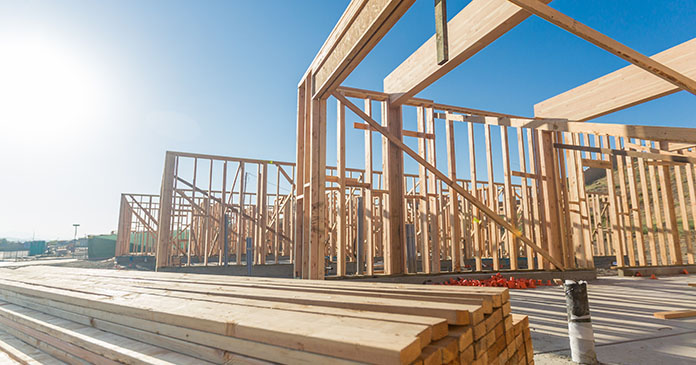 A lack of existing inventory and solid demand helped offset rising mortgage rates and push single-family production higher in July, even as builders continue to grapple with elevated construction and financing costs as well as a lack of skilled labor.
Overall housing starts increased 3.9 percent in July to a seasonally adjusted annual rate of 1.45 million units, according to a report from the U.S. Department of Housing and Urban Development and the U.S. Census Bureau.
The July reading of 1.45 million starts is the number of housing units builders would begin if development kept this pace for the next 12 months. Within this overall number, single-family starts increased 6.7 percent to a 983,000 seasonally adjusted annual rate. Single-family starts are also 9.5 percent higher than a year ago. The multifamily sector, which includes apartment buildings and condos, decreased 1.7 percent to an annualized 469,000 pace.
"With many home owners choosing to stay in their existing home to preserve their low mortgage rate, demand for new home construction pushed up single-family starts in July even as builders continue to struggle with increased uncertainty stemming from rising rates," said Alicia Huey, chairman of the National Association of Home Builders (NAHB) and a custom home builder and developer from Birmingham, Ala. "Builder sentiment has shown that higher mortgage rates are contributing to a decline in buyer traffic, and rates need to stabilize to prevent the housing market from slowing."
"Total permits declined 13 percent compared to a year ago, indicating that builders are slowing construction activity as housing costs rise," said Danushka Nanayakkara-Skillington, NAHB's assistant vice president for forecasting and analysis. "In fact, multifamily permits are at their lowest three-month moving average since December 2020, another sign that the market is cooling. In order to bring down shelter inflation, which accounted for 90 percent of the overall inflation rate last month, we need to enact policies that will allow builders to boost the nation's housing supply."
The number of single-family units under construction is down 16.9 percent compared to a year ago at 678,000. Meanwhile, the number of apartments under construction increased to 1 million, the highest total on record.
On a regional and year-to-date basis, combined single-family and multifamily starts are 17.6 percent lower in the Northeast, 13.8 percent lower in the Midwest, 9.4 percent lower in the South and 16.7 percent lower in the West.
Overall permits increased 0.1 percent to a 1.44 million unit annualized rate in July. Single-family permits increased 0.6 percent to a 930,000 unit rate. Single-family permits are also up 1.3 percent compared to a year ago. Multifamily permits decreased 1 percent to an annualized 512,000 pace, the lowest level since October 2020.
Looking at regional permit data on a year-to-date basis, permits are 24.2 percent lower in the Northeast, 20.3 percent lower in the Midwest, 15.4 percent lower in the South and 21.6 percent lower in the West.