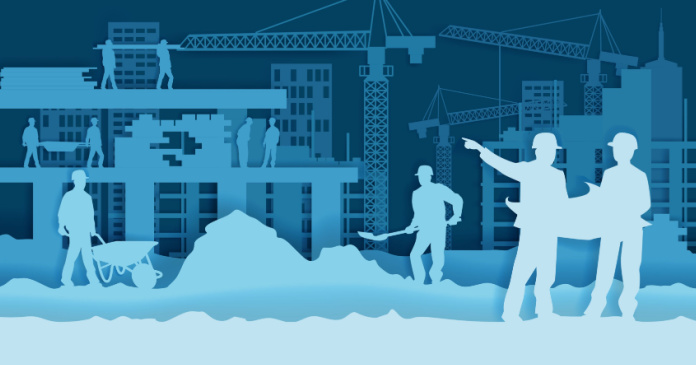 The balance of power in the apartment market has finally shifted, giving renters a lot more options, suggests a Q3 market report from RealPage Analytics. This shift is due to a deluge of supply over the past 18 months that flipped the rental market story from record-low vacancy and record-high rent growth to normalizing demand and flat to falling rents.
Operators are responding by prioritizing occupancy over pricing in order to protect cashflow. Their strategy is paying off. Occupancy in September increased 10 basis points, landing close to the long-term average at 94.4 percent by the end of the quarter.
While 128,000 units were completed during Q3, the highest number of quarterly deliveries in more than 30 years, 90,827 units were absorbed, the largest quarterly absorption tally in two years.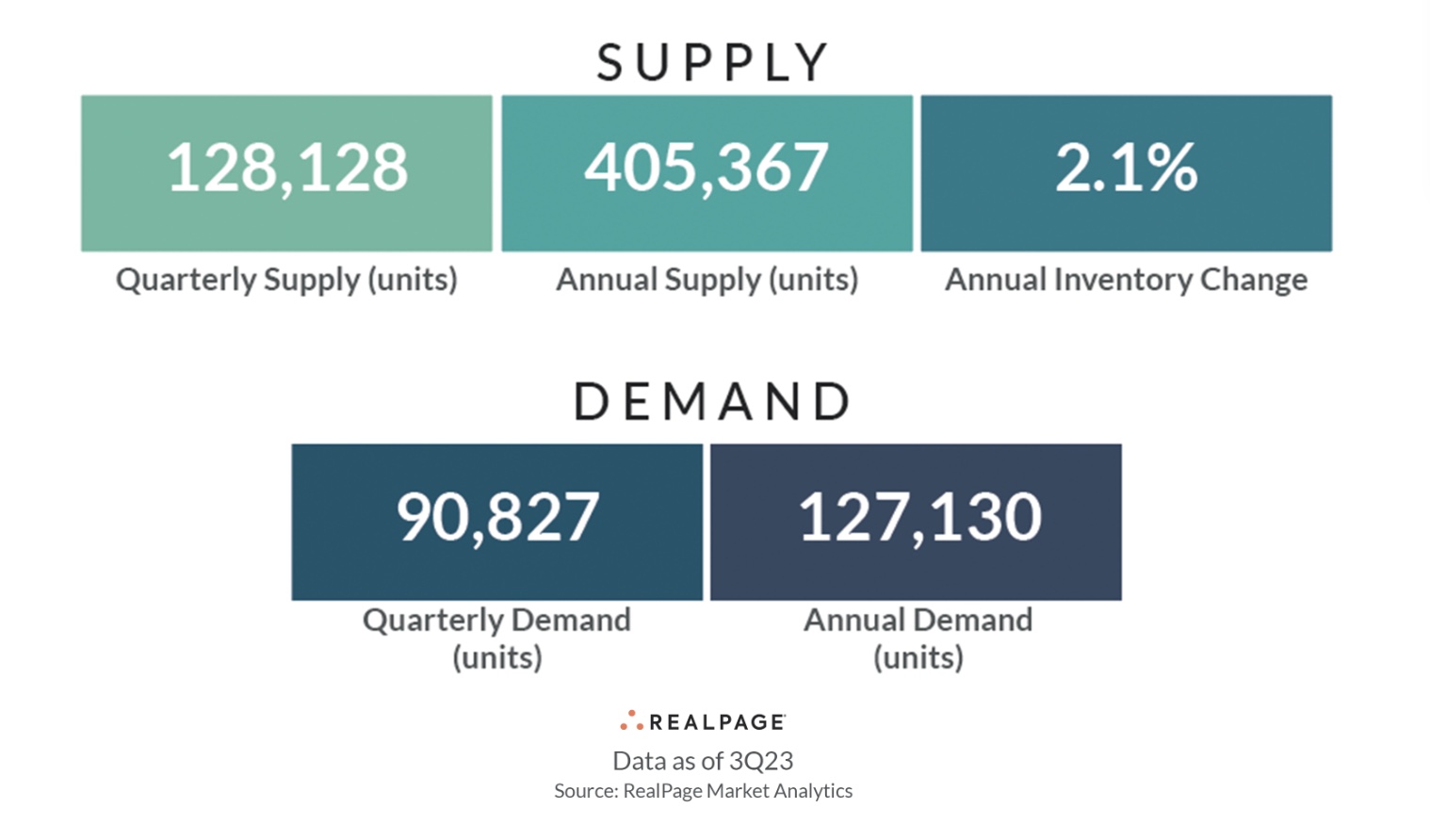 Rents, on the other hand, are on the verge of turning negative, with a mere 0.1 percent year-over-year growth as of the end of September 2023, with some markets already in the red, according to RealPage Analytics.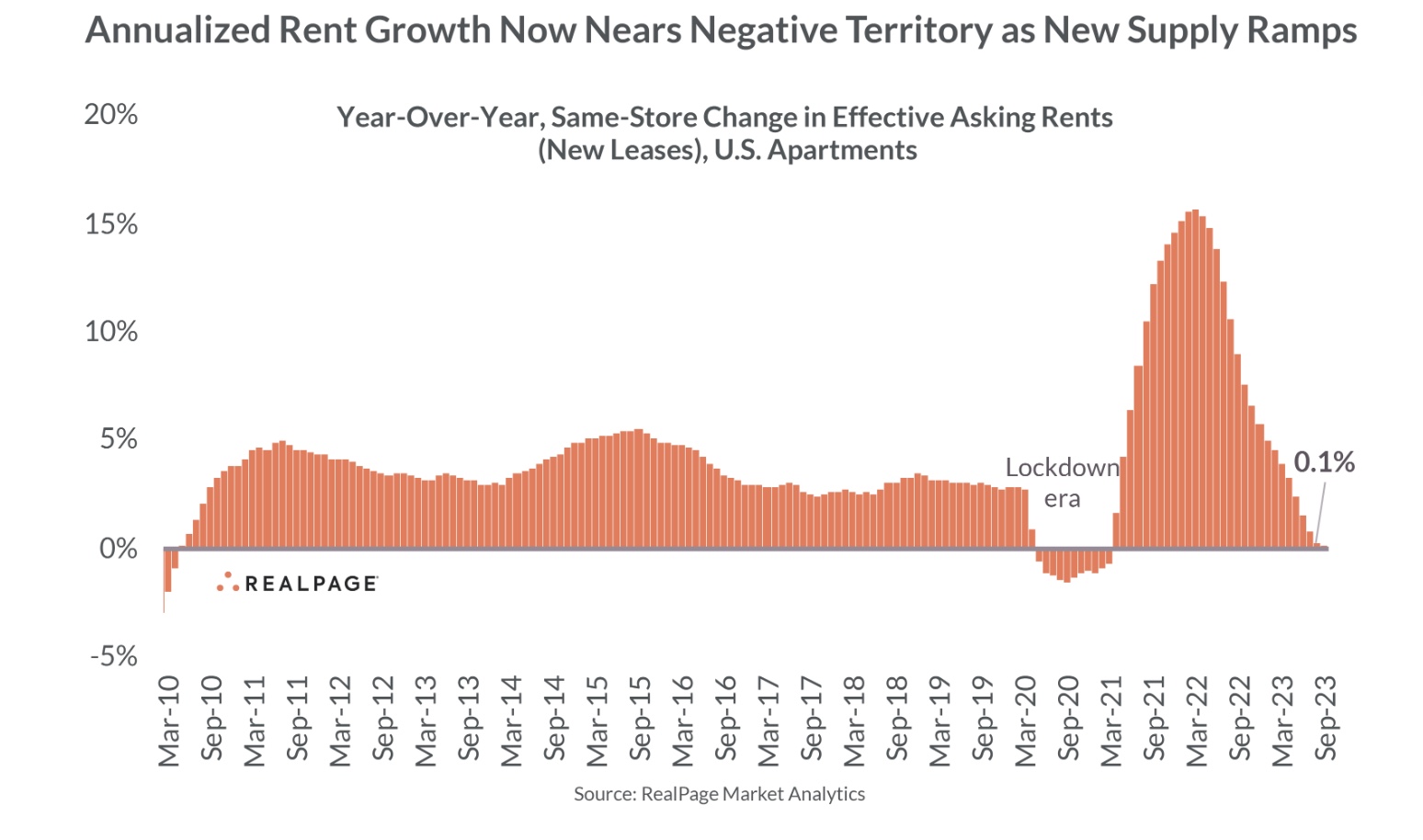 Rapidly cooling rent growth despite strong demand is unprecedented in recent decades. RealPage data suggests it has nothing to do with demand fundamentals and everything to do with the record number of deliveries, combined with expense pressures and the recent spike in interest rates.
"It's not a demand issue or an affordability issue (at a macro level). It's a supply issue, and property operators are competing to lure in renters. It's the "heads-in-beds" strategy. Operators are willingly giving on rents to protect occupancy and cash flow right now," said RealPage rental housing economist Jay Parsons, adding that operators don't make money on vacant units.
Today's demand is roughly in line with long-term seasonal norms, but is no comparison to the historically high demand of 2021, he said.

Parsons also notes that demand is following supply in Q3—mostly to the Sun Belt, but also to some markets in the Northeast.

He sees the current situation as a short-term supply imbalance rather than oversupply, which he says erroneously denotes a structural problem.

"We're still structurally undersupplied on housing, but it's just incredibly tough to absorb this much supply in such a short period of time, even with healthy demand drivers in place," he said.

RealPage predicts net-effective rents will remain fairly flat through 2024. Starts have fallen off precipitously this year and as apartment construction continues to slow, concession burn-off should follow, along with a rebound in net effective rents in 2025/26, assuming the economy is in good shape.