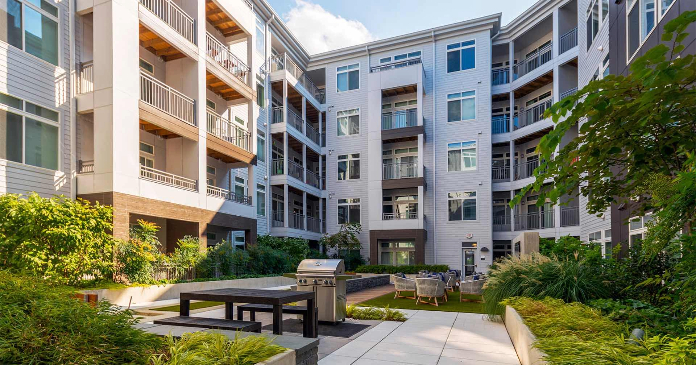 Toll Brothers, the nation's leading builder of luxury homes, through its Toll Brothers Campus Living student housing rental division, and Boston-based real estate investment, development and management firm The Davis Companies, announced a new joint venture to develop Aperture, a 680-bed (204-unit), two-building, five-story multifamily rental community in Orlando, Florida adjacent to the University of Central Florida. The project is being financed through a $50 million construction loan facility from TD Bank. The equity and debt were arranged by Toll Brothers' in-house Finance Department.
UCF has the second largest on-campus enrollment of any public university in the U.S. with almost 70,000 students enrolled in the 2022 – 2023 academic year. The university has consistently grown over the past 10 years, supported by strong population growth in Florida and increased recognition of its academic and athletic programs. It is ranked 64th among the "Top Public Universities" and 14th for "Most Innovative Schools" in the nation according to U.S. News & World Report.
Toll Brothers Campus Living develops communities that combine modern amenities and strategic community design to fit the needs and lifestyle of students. Toll Brothers Campus Living will manage the property's development, construction, and asset management, as well as handle marketing and leasing in partnership with Davis.
John McCullough, President of Toll Brothers Apartment Living, said, "We are excited to expand our student housing presence in Florida with the development of Aperture near the University of Central Florida. Ideally situated near one of the largest public universities in the country, Aperture will help meet the growing need for high quality student housing options at UCF. We look forward to welcoming students to this incredible community in the fall of 2025."
"Demand for elevated student housing continues to rise across the country as highly-amenitized offerings gain prevalence in the market, especially in the Sun Belt region," said Jerry Murphy, Managing Director, Investments at Davis. "We are confident that our expanding portfolio of student housing developments will provide key value for our investors and are glad to continue our long-term partnership with Toll Brothers through the delivery of this best-in-class student residence."
Aperture is the second Toll Brothers multifamily project in Florida and joins the growing Toll Brothers Campus Living student housing portfolio nationwide. Previous developments include Lapis at Florida International University (FIU), which opened in 2023, The Yards at Old State at The Pennsylvania State University, which opened in 2020, Canvas at Arizona State University, which opened in 2021 and was sold in 2023, and Terrapin Row at the University of Maryland, which opened in 2016 and was sold in 2017. In 2024, Toll Brothers Campus Living anticipates the opening of The 87 at the University of Notre Dame and Kinetic at the Georgia Institute of Technology."
This joint venture represents the latest project in Davis' growing student housing portfolio as colleges and universities seek to meet the demand of increased student populations. Other student housing projects in Davis' portfolio include The Lex at the University of Kentucky and William at the University of Georgia.
Fred Cooper, Senior Vice President, Finance and Investor Relations for Toll Brothers, said, "We are thrilled to launch our eighth development joint venture with Davis consisting of projects totaling over $625 million in total capitalization located in urban and suburban markets across the U.S. We are also excited to have the support of TD Bank, with whom we have had a multi-faceted relationship for many years."