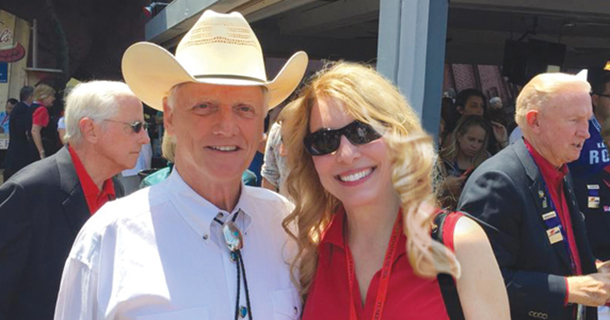 (photo) Former Oklahoma Governor Frank Keating and MHP Publisher Linda Hoffman at Tusker's Roadhouse in Cleveland, Ohio, in July. Keating sits on the executive committee of the Ronald J. Terwilliger Foundation for Housing America's Families. (see MHP story in July August edition of MHP)
Whether apartments or life, all is rooted in the economy: jobs, wages, taxes, household formations.
The growth that once propelled America and generated expansion, upward mobility and a pervasive prosperity is now the weakest in at least seven decades.
So we're anxious.
Still, there are points of light like consumer spending, some job growth and definitely apartment demand. At present, the demand for apartments remains stronger than supply, but even that is uneven.
New Class A product is seeing concessions while Class B are fully occupied with waiting lists. Affordable housing? Well, that's our next looming crisis.
In July, the national average rent rose another $4 to $1,217, according to Yardi Matrix. Overall demand is strong and vacancies remain low. Apartment stock continues to be outstripped by demand and slow-growing wages are creating further tension in sectors already struggling.
NMHC, NAA and other multifamily leaders remain determined advocates for multifamily and focused on helping legislatures find a balance for America's housing.
As recent as July 29, President Obama signed into law, "The Housing Opportunity through Modernization Act," a work product of NMHC and NAA. These new reforms help housing providers and low- and moderate-income families by reducing the length of time apartments are vacant and limiting move-in delays for Section 8 voucher holders.
Congratulations NMHC, NAA and those representatives who worked on these reforms: Representatives Blaine Luetkemeyer (R-MO) and Emanuel Clever (D-MO), and Senators Bob Menendez (D-NJ), Tim Scott (R-SC), Roy Blunt (R-MO) and Chris Coons (D-DE).
With the challenges at hand, history may be our greatest teacher. It certainly provides the perspective necessary to navigate the here and now.
Byron Reese, futurist, high-tech entrepreneur and author, spoke at an executive track at RealWorld in Las Vegas in July.
Reese recounted the many times throughout history that people and jobs have been displaced and societies have shifted. At the session and in his book, Infinite Progress: How the Internet and Technology Will End Ignorance, Disease, Poverty, Hunger And War, he delivers a case for welcoming technological advancements. After all we've survived, even thrived by them in the past.
Still, with the state of the economy, and growing social divisions, Reese contends that it is the optimist who gets things done, and quotes Nicholas Murray Butler who said, "Optimism is the foundation of courage." Fear and pessimism should be rejected since they kill the possibility for a positive outcome.
It's interesting to correlate technological advancement with an optimistic future. We all need a healthy dose of optimism and courage to see the bright future technology may provide in spite of today's economic challenges. You'll find plenty in this issue.