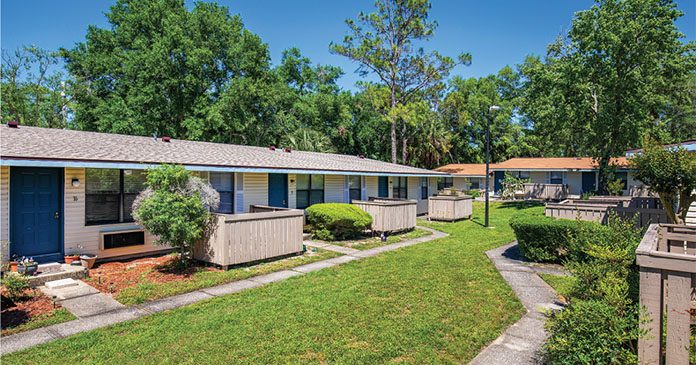 Cushman & Wakefield has arranged the sale of Orlando Sky Apartments, a 140-unit, garden-style rental property in West Orlando. The asset sold for $11.2 million, or $80,000 per unit.
Executive Director Mike Donaldson and Executive Director Nick Meoli with Cushman & Wakefield's Florida Multifamily Investment Sales Team, represented Lohman Apartments out of Ormond Beach, Florida, in the disposition. The buyer is Troy Lawson of Orlando Sky Management, LLC.
At 4990 North Lane, Orlando Sky Apartments is a one-story, modular-built property situated on approximately 8.4 acres. Its units range from studios to two-bedroom, two-bathroom residences with an average size of 527 square feet. The property was 94 percent occupied at time of sale, and the average market rent is $759.
Built in 1986, the property presents strong upside potential through the opportunity to renovate unit interiors.
"Orlando Sky was an offering that presented an opportunity to acquire a modular-built 'cardinal' community in one of the fastest growing markets in the nation," said Donaldson. "Our team generated 250 registered buyers that were attracted to the value-add opportunity to raise rents almost $200 per unit through mostly interior upgrades."
Meoli added, "With significant demand and a lack of affordable housing, we will continue to see interest in workforce housing and neighborhoods that are experiencing outsized rent growth, which in the case of this submarket, was 6.7 percent year-over-year."
Cushman & Wakefield's Florida Multifamily Team is directed by Robert Given and includes Donaldson and Meoli as well as Luis Elorza and Brad Capas in West-Central Florida; Jay Ballard and Ken Delvillar in Central Florida; and Zachary Sackley, Troy Ballard, Calum Weaver, Errol Blumer, Neal Victor, James Quinn and Perry Synanidis in South Florida. Robert Kaplan, Chris Lentz and Mark Rutherford facilitate debt, equity and structured finance for the team throughout Florida.
---
About Cushman & Wakefield
Cushman & Wakefield is a leading global real estate services firm that delivers exceptional value for real estate occupiers and owners. Cushman & Wakefield is among the largest real estate services firms with approximately 51,000 employees in 400 offices and 70 countries. In 2018, the firm had revenue of $8.2 billion across core services of property, facilities and project management, leasing, capital markets, valuation and other services.