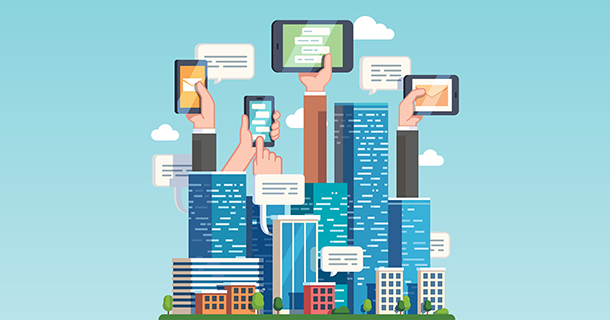 As smartphones and other mobile devices overtake the desktop computer in popularity, apps for anything and everything abound, from ordering a pizza or Uber car, booking a hotel, or signing documents. Start-ups continue to launch across a multitude of industries, but multifamily has been slow to catch on.
One such product in the apartment space is poised to shake up the multifamily business and disrupt and redefine the role of the leasing agent.
LeaseHawk has introduced a mobile Customer Relationship Management (CRM) app that helps leasing agents manage the full lifecycle of customer relationships, from lead to applicant to resident and beyond, and personalize the experience—all on the fly.
The CRM is the brainchild of tech innovator Michael Mueller, who purchased CallSource in 2012 with plans to merge its telephony piece to create the first true CRM program that works on a desktop or mobile device, "because our industry does a terrible job of managing the relationship with prospects," said Mueller.
Mueller and his team changed the company name to LeaseHawk and went about creating the CRM and ACE, the automated conversational assistant, that, together with the telephony piece, form a powerful platform of tools that includes dynamic analytics for multifamily operators. Operators can now identify the best and worst performing ad sources and gain insight into their leasing team's conversion rates and call performance.
"Using the LeaseHawk CRM, our staff responded to leads 68 percent faster," said Michael Harger, VP of marketing and development at Houston-based Adara Communities, which manages 70 apartment properties across seven states and 12 MSAs. Harger and Adara's leasing agents have been using the app since October 2014. "It has changed our world in how we've been able to interface with our customers 24 hours a day," he said.
Leasing agents armed with the CRM are no longer tied to a desk and a telephone in an office and can handle all communications anywhere from their mobile device.
The CRM automatically logs every inbound and outbound voice call, text and email and consolidates them into one interface so agents can view an entire sales pipeline on one screen and instantly know where they stand in the leasing process.
The leasing pipeline gives managers and leasing agents total visibility into all active contacts based on their relationship status, such as lead, prospect or resident, and conveniently groups communications that need attention, so that follow-ups can be prioritized easily.
The timeline displays a contact's entire communication history in one place where the leasing agent can personalize communications based on notes and previous conversations and select the contact's preferred communication method, whether it's email, phone or text.
Agents simply click the hawk icon on the mobile device or desktop to start responding to everything that needs attention while notifications from new leads and existing contacts make instant follow-up a snap.
"I like businesses that are disruptive in the sense that you build it once and scale it for a whole industry and it's easy to adopt. In other words, the beauty of our CRM is you can go to the app store and download it and you are in business," said Mueller.
The CRM is available as a bundle with LeaseHawk's communication suite—including the call tracking numbers, LeadScore and Telephone Performance Analysis (TPA)—for one monthly fee per property, no matter how many leasing agents will be using it.
"Every leasing agent using the CRM will see what's going on with each other and who is closing the most leases," explained Mueller, adding that the CRM will continue to get better over time.
"LeaseHawk is creating business rules around actions that need to take place around managing a relationship from the beginning when it is a lead to when it converts to a resident. So there are things that need to happen along that lifecycle journey of becoming a resident and we are building rules or business processes into that."
"For instance, if the agent doesn't follow up within X amount of time, they are going to get notified. If they didn't send out the rental application there will be a reminder. So we are building triggers into the workflow process to help automate every leasing task," he said.
He also believes that technology holds overreaching consequences for multifamily management and the future role of the leasing agent.
"Do they need to be at the property if they have this app? If a leasing agent had this app, they could potentially work from home or manage and lease apartments remotely for five properties," said Mueller.
Residents can already pay rent, submit maintenance requests and handle package pick-up without the help of a leasing agent and the list of tasks residents can perform online is growing.
"An operator might not even need five leasing agents at a property when they could get by with two or three. This has huge ramifications for owners because they can now reduce costs, thanks to improved efficiencies and automation," Mueller said.
Mueller is already working with a group of consultants to create a white paper that will help the industry better understand how the CRM and ACE, the conversational assistant, are changing the leasing process in real time. "We now have enough data and are starting to see the measureable improvement on leasing," said Mueller.