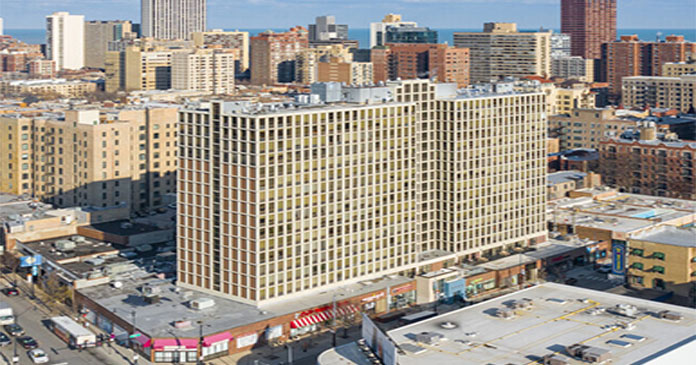 Avanath Capital Management LLC, a multifamily owner and operator that primarily focuses on affordable and workforce housing, announces that it has acquired Lincoln Park Plaza, a 256-unit mixed-use, mixed-income multifamily community with ground-floor retail, located in the Lakeview submarket of Chicago, Illinois, for a total consideration of $119 million.
The purchase of the 100 percent-occupied property, which will be managed internally by Avanath, advances the firm in its commitment to preserving quality and affordability in underserved areas, especially as the availability of attainable housing in many markets throughout the country remains low, according to Avanath's Founder, Chairman and CEO Daryl Carter.
"With limited new construction and skyrocketing housing costs, Redfin has named Chicago as one of the top home-price markets in the country for 2023, increasing demand for affordable housing in the city," explains Carter. "Because Lincoln Park Plaza features 147 affordable units protected by a renewable HAP contract that provides Section 8 rental subsidy to 57 percent of the total residential units, this transaction enables us to continue offering attractive and affordable apartment homes to qualified Chicago residents in a high-rent area."
According to Yardi Matrix, Chicago's multifamily market recorded rent growth through November 2022 that remained 20 basis points ahead of the national rate. That figure, combined with a labor-pool expansion in the market that grew by 4.4 percent—also 20 basis points higher than the national rate—is increasing pressure on affordable apartment unit demand throughout the market.
Lincoln Park Plaza represents Avanath's sixth acquisition in Illinois, its fourth in Chicago, and its second mixed-income, mixed-use asset in the city, notes John R. Williams, President and CIO at Avanath Capital Management.
"The acquisition of Lincoln Park Plaza allows Avanath to expand our Chicago portfolio to a total of 557 units and our portfolio in the state of Illinois to 1,319 units, while leveraging operational efficiencies in the market," says Williams. "We have identified an opportunity to own and manage a community that is consistently above 97 percent occupied, performed well throughout the COVID-19 pandemic, and has a lengthy interest list of prospective residents, in addition to providing attainable housing to renters in this trendy downtown Chicago enclave."
Keith Harris, Executive Vice President of Investments for Avanath, adds: "Our team has secured an asset that offers an elevated quality of life for residents of a variety of income levels. With a high Walk Score rating of 96, Lincoln Park Plaza provides a plethora of dining, entertainment, and retail options within walking distance and convenient access to jobs and public transportation. The community's world-class location, first-rate amenities, and numerous quality retail tenants make it one of the most desirable mixed-use assets in the market."
Avanath will implement its proven improvement strategy at the property, including updating the parking garage and upgrading key systems, building systems, and structural elements. The firm will also address sustainability at the community, including upgrading the property with a high-efficiency boiler system, installing LED lights and low-flow faucet aerators, showerheads and toilets and upgrading appliances with Energy Star-rated substitutes to align with environmental objectives; establishing social services, residential activities, and other appropriate social programs; and operating the property in a transparent manner governed by leadership-approved policies and procedures. In addition, the firm's Compliance Team will ensure that Lincoln Park Plaza operates within the guidelines created by the various affordable governmental agencies.
Carter confirms: "ESG principles are critically important to Avanath's corporate mission and the performance of our investments. Along with ensuring our properties are managed in an environmentally and socially sustainable manner, we are committed to fostering, cultivating, and preserving a culture of diversity, equity, and inclusion in all we do."
Built in 1981, Lincoln Park Plaza consists of one 17-story building with 190,950 square feet of residential space and 26,287 square feet of retail space. In-unit amenities include new cabinets and granite countertops, along with stainless-steel fixtures and finishes. Common amenities include a bike room, laundry room, fitness center, business center, and several ground-floor restaurant and retail tenants. The property also features a three-story parking garage consisting of 198 parking spaces and access to Zipcar via the rideshare platform's app.
Lincoln Park Plaza is located at 600 West Diversey Parkway, Chicago, Illinois 60614.